The 12 Best Eyeshadows for Brown Eyes in 2023
Alexa, play "Brown Eyed Girl."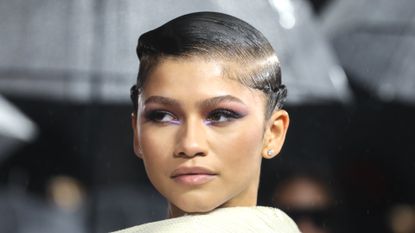 (Image credit: Lia Toby/Getty Images)
Brown may be the most common eye color of the bunch, but don't you dare call brown eyes boring. What many fail to realize is that there are so many shades of brown eyes: amber, chestnut, chocolate, honey, I could go on. And when the sunlight hits those golden-flecked peepers, boy, do they sparkle. While brown eyes are a sight to behold on their own, there's nothing like some amazing eyeshadow to make them pop from a mile away.
Luckily, brown-eyed babes can pretty much run the gamut of eyeshadow shades. According to celebrity makeup artist Zara Kaplan, "Brown eyes are actually extremely versatile when it comes to color pairings." Of course, some shades are undeniably more flattering than others, but the shade range is extensive in comparison to other eye colors.
To help all of the brown-eyed beauties out there, we've put together this guide to the best eyeshadows that make brown eyes pop. Below, you'll find exactly which shades to reach for courtesy of Kaplan, as well as a few of her pro-approved picks. From drugstore eyeshadows to creamy eyeshadow sticks from luxury brands, these palettes, liquids, sticks, and powders don't skip out on color or staying power.
What to Look For in Eyeshadow for Brown Eyes
There's a wide range of options when it comes to eyeshadow shades for brown eyes, but neutral colors and warm tones make brown eyes stand out the most, according to Kaplan. "I always seem to gravitate towards gorgeous copper tones and rich bronze shades to really enhance brown eyes," she says."Something about a slightly orangey bronze tone on a brown eye just really makes them pop."
That being said, don't be afraid to reach for more colorful options. Brown eyes are extremely versatile, so you can easily amp up your look with a fun shade. Kaplan specifically recommends leaning into greens, adding, "Olive green looks unbelievable on brown eyes," as well as blues, purples, and pinks. These shades actually have some scientific backing to them, too. If you think back to grade school art class, colors opposite of each other on the color wheel contrast the most and therefore stand out. Brown is technically a much darker shade of orange, which sits opposite blue and purple.
The right eyeshadow texture boils down to personal preference, but different finishes can have different effects on brown eyes. Typically, deeper matte shades are used to define the eye shape, while lighter shimmery shades are used to highlight it. Of course, you can mix and match finishes to create your desired eye makeup look, but keep in mind that Kaplan says shades with a little shimmer makes brown eyes especially pop.
Best Eyeshadows for Brown Eyes
Best Overall Eyeshadow for Brown Eyes
Natasha Denona Bronze Eyeshadow Palette
While we admit this eyeshadow is on the pricier side, it does contain every single color Kaplan mentioned to flatter brown eyes. Plus, Natasha Denona does not miss when it comes to eyeshadows, so this palette is a big winner in our book. Filled with bronzes, warm-toned neutrals, rosy shades, and even a fun purple color, you can create so many different looks with this one palette. Each shade has a one-swipe color payoff and will stay put the entire day.
Pros: Highly pigmented; Includes a mix of shimmery, metallic, and matte shades; Long-wearing; Blendable; Goes on smoothly; Includes 15 shades.
Cons: A few colors are very similar to each other.
Best Matte Eyeshadow for Brown Eyes
Makeup by Mario Master Mattes Eyeshadow Palette
"One of my most used palettes at the moment is the Makeup by Mario Master Mattes eyeshadow palette," says Kaplan. "It's great because it's got all of your essential neutral colors in there." That it does: This 12-pan palette is filled with timeless shades inspired by a range of skin tones that you can use for day-to-night looks. These creamy shades blend together beautifully for an easy multi-dimensional look, or they even work alone as an eyeshadow base."
Pros: Pro-approved; Highly pigmented; Long-wearing; Blendable; Includes over 10 shades; Goes on smoothly.
Cons: Only includes matte shades.
Best Luxury Eyeshadow for Brown Eyes
Dior Backstage Eyeshadow Palette in Amber Neutrals
Kaplan names Dior's Backstage palette as another great pick for brown eyes because it has "such amazing color choice with a mix of shimmers and mattes." We're inclined to agree. These neutral shades would look great on anyone with brown eyes, but especially those with gold flecks or reddish-brown shades because of this palette's warm tones. This one also includes an eye primer to ensure your eye makeup is extra pigmented and stays all night.
Pros: Pro-approved; Highly pigmented; Blendable; Includes eye primer; Includes a mix of matte and shimmery shades.
Cons: Reviewers note the matte shades feel a bit chalky.
Best Eyeshadow Stick for Brown Eyes
Charlotte Tilbury Colour Chameleon Eye Shadow Pencil in Dark Pearl
For those that are a little eyeshadow-challenged, eyeshadow sticks are going to be your best friend. I can personally attest to just how smooth and creamy this Charlotte Tilbury pencil glides across the skin, making any eye makeup look a breeze to achieve. These shadow sticks are specifically formulated to make eye colors pop—the shade for brown eyes is a shimmery brown grey that can be worn from day to night. Use it along the lash line for a daytime look, then smudge it out for a sultry smokey eye.
Pros: Goes on smoothly; Blendable; Highly pigmented; Long-wearing; Editor-approved; Multi-use; Waterproof.
Cons: Over $25 for a single shade; May smear with oily eyelids.
Best Purple Eyeshadow for Brown Eyes
Colourpop All Amethyst Pressed Powder Palette
Purple and blue eyeshadows are the shades to grab when you're looking to amp up your brown eyes in a big way. This under-$15 palette will be your next go-to for a night out. With a mix of light lilacs, vibrant purples, and matte neutrals, any color combination you choose is going to pop against your brown eyes. Some reviewers do note that the shimmery shades need to be built up, but that just makes it easier not to go overboard on one shade.
Pros: Under $15; Goes on smoothly; Long-wearing; Includes a mix of matte and shimmery shades.
Cons: Lighter colors are less pigmented than darker shades.
Best Green Eyeshadow for Brown Eyes
Melt Cosmetics Gemini Eyeshadow Palette 1
According to Kaplan, olive tones are especially gorgeous on brown eyes, and after seeing a few brown-eyed beauties use this palette, we definitely have to agree. This palette by Melt Cosmetics has every shade you need to rock a green-focused look with some of the prettiest green shades I've ever seen. Along with the olive shades, you get five warm-toned neutrals that pair beautifully, plus a solid black to add the drama. You'll also love how pigmented and buttery smooth each of these 10 shades is.
Pros: Highly pigmented; Includes a mix of matte and metallic shades; Goes on smoothly; Blendable;
Cons: Over $50.
Best Warm-Toned Eyeshadow Palette for Brown Eyes
Urban Decay Naked Heat Palette
Way back when I was in middle school, I got my hands on the original Urban Decay Naked palette and I've been a fan of the brand's eyeshadows ever since. While the universally-flattering original Naked palette is no longer with us (RIP), the color story of the Naked Heat Palette is a great second option for brown eyes. With a range of neutral and bright colors, each shade is a lovely amber tone, which would make light brown and hazel-tinted eyes especially stand out. I also love how this palette comes with a double-sided brush and mirror.
Pros: Highly pigmented; Long-wearing; Includes a mix of shimmery and matte shades; Includes a double-sided brush and mirror; Goes on smoothly; Blendable;
Cons: Over $50
Best Drugstore Eyeshadow for Brown Eyes
Milani Bold Obsessions Eyeshadow Palette
This may look like your run-of-the-mill neutral eyeshadow palette, but each of these shades is going to look amazing next to brown eyes. If you look closely, each column gives off a different color story, meaning the range of looks you can create is nearly endless. For daytime, brown-eyed babes can stick to the lighter matte and shimmery shades, then use the darker matte and metallic to amp up the look for the night. This is also a great option if you're on a tighter budget, too.
Pros: Includes a mix of shimmery, matte, and metallic shades; Long-wearing; Great value; Blendable; Highly pigmented; Goes on smoothly.
Cons: Some shades have fallout.
Best Bright Eyeshadow for Brown Eyes
Makeup Revolution Reloaded Palette in Euphoria
People with brown eyes are so lucky in that they really can have fun with colorful options, since they don't have to worry about shades competing with their natural eye color. Extra bright shades, like the ones in this Makeup Revolution palette, are going to look even more vivid when paired with brown eyes. This one includes the pinks, purples, blues, and greens Kaplan recommends and is one of her favorite drugstore palettes that "deliver really high-quality eyeshadows with rich pigments and great blendability."
Pros: Pro-approved; Blendable; Highly pigmented; Comes with a mix of matte and shimmer shades; Comes with 15 shades; Good value; Vegan.
Cons: Reviewers note this palette can break easily.
Best Variety Eyeshadow for Brown Eyes
Huda Beauty Wild Obsessions Eyeshadow Palette in Chameleon
With warm-toned reds and pinks, plus a vibrant gold and purple, Huda Beauty's palette would make a great addition to your LBD on a night out. While this 12-pan palette may look like a hodge-podge of bright colors at first glance, these shades blend together beautifully to create a range of looks. Use the mattes as transition and crease shades, then apply the metallic colors all across the lid for an easy, vibrant look.
Pros: Includes a mix of matte, shimmy, and metallic shades; Long-wearing; Highly pigmented.
Cons: Shimmery shades need to be built up.
Best Pink Eyeshadow for Brown Eyes
Juvia's Place The Berries Eyeshadow Palette
For those of us who are not quite ready to give up the Barbiecore trend and have brown eyes, this palette is for you. This 6-pan palette of mauves, deep pinks, and berry hues work together to create stunning Barbie-inspired eye looks. Each shade is extra pigmented and easy to blend, making this a great palette to pick up if you're a beginner. This brand is also female- and POC-founded, and with most of their products coming in at under $20, what's not to love?
Pros: Highly pigmented; Blendable; Good value; Includes a mix of shimmery and matte shades.
Cons: Shimmery shades need to be built up.
Best Budget Eyeshadow for Brown Eyes
e.l.f. Cosmetics Liquid Glitter Eyeshadow in Ocean Eyes
Liquid eyeshadow is a great option for those that can't be bothered to blend and layer shadows for more than a few minutes. Simply swipe one over the lid for an easy one-and-done look or dip an eyeliner brush to use along the lash line. This mega-watt glitter eyeshadow would look electrifying against brown eyes, especially darker shades. But if this blue is too "out there" for you, might we suggest the coppery Flirty Bird and the rose gold Pinky Swear for a more subdued look?
Pros: Highly pigmented; Long-wearing; Under $10; Blendable; Vegan.
Cons: Takes longer to dry; Lighter colors need to be built up.
Meet the Expert
Zara Kaplan is a British celebrity Makeup Artist currently living in Los Angeles. Having started her career in 2012, Kaplan has since gone on to work with globally renowned brands such as Chanel, La Mer, Louis Vuitton, Kosas Cosmetics, and many more.
Zara's work has caught the eye of celebrity clients such as Alessia Cara, Stephanie Sheperd, Iskra Lawrence, Peyton List, Taylour Paige, Tylynn Nguyen, Raveena Aurora, and Ally Brooke to name a few, and her work has been recognized in leading publications such as Vogue, Harper's Bazaar, ID Magazine, Dazed Magazine, InStyle Magazine and Vanity Fair Italia.
Known for her 'less is more' approach when it comes to complexion makeup, she truly believes in enhancing ones beauty rather than masking it and is known for creating beautiful, breathable makeup looks, taking any opportunity to add fun pops of color or accents to any makeup look she creates.
Brooke Knappenberger is the Editorial Fellow at Marie Claire, where she writes across the board from fashion and beauty to books and celebrities. As a pop culture junkie, Brooke obsessively consumes and writes about the latest movie releases, streaming TV shows, and celebrity scandals. She has over three years of experience writing on fashion, beauty, and entertainment and her work has appeared on Looper, NickiSwift, The Sun US, and Vox Magazine of Columbia, Missouri. Brooke obtained her Bachelor's Degree in Journalism from the University of Missouri's School of Journalism with an emphasis on Magazine Editing and has a minor in Textile and Apparel Management.