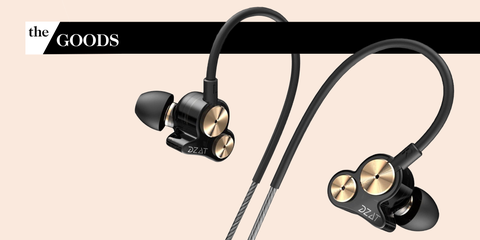 There are always a handful of items you'll inevitably forget when you pack for any type of trip. So consider this your friendly reminder to pack these items first, before you dump your shoes and clothes into your suitcases. Your hotel may have a hair dryer in the bathroom but it definitely *won't* have your favorite face cleanser.
Neogen Real Fresh Green Tea Cleansing Stick, $22
Just because you're traveling doesn't mean you should skimp on your skin-care routine—in fact, you should probably take care of your skin even more. This green tea cleansing stick not only washes all the oil and gunk off without drying out your face, but the solid stick means it won't explode all over your bags.
Cbaoo In Ear Earphones Earbuds Dual Dynamic Drivers Noise-isolating Sport Headphones, $35.99
These chic sound-isolating headphones will make your flight a bit more pleasant, and the hook design means it won't fall out of your ears if you ever decide to use the hotel's gym for once. Just kidding.

Bath & Body Works Essential Aromatherapy 5-Pack PocketBac Sanitizers, $6
Even if you're not a germophobe, you'd need hand sanitizer when traveling. Think of all the things you're touching that everyone else has touched too! This set of teeny-tiny anti-bacterial gels are great for stashing in every one of your pockets and bags so you'll have clean AF hands all the time.

Ouai Ouai To Go Kit, $20

The last thing you want to do when you're traveling is to spend time styling your hair. This set from Ouai has everything you need for good hair days during your entire trip—a dry shampoo foam to cleanse without water, hydrating oil to defrizz and add shine, salt spray to bring out your natural texture, and extra hair ties because you've somehow lost all of them before even boarding your flight.
Foreo ISSA Mini Electric Sonic Toothbrush, $99

Give your everyday toothbrush its own vacation and instead pack this electronic one from Foreo. It's compact, cleans better than your standard toothbrush, and is sold in a range of vibrant colors.
Julep "There' Something In The Air" Oxygen Nail Treatment Trio, $16
This trio of polishes treat your nails while giving them a pretty shine. It's made with a breathable oxygenated formula to keep your nail beds happy and strong. The sheer finish means that chips will be less visible than with dark colors too so you'll be less conscious of them on the road.
NARS Radiant Creamy Concealer, $13
A hard-working concealer is an absolute must have for any red-eye trip where you're not expecting to get much sleep. Pack a high-coverage concealer like this slim NARS one.
Gillette Venus Snap Women's Razor, $5.43

This razor comes with all the goodies you need for a smooth shave, but is tiny enough to tote around in a makeup bag. At journey's end, toss it out. The extra room in your bag may not make that much of a difference, but sometimes every bit counts.
Kiehl's Since 1851 Butterstick Lip Treatment SPF 25
Swap your lipstick with a balm that moisturizes and protects your lips at the same time. The SPF 25 means the delicate skin on your lips won't burn after an afternoon in the sun, and the sheer pop of color means you can swipe on and go without skipping a beat.
Travel Essentials Toilet Seat Covers, $9.80
Definitely not a glamorous item but arguably the most important for whatever adventure is on your itinerary.