The 15 Best Cream Blushes for a Natural Flush
RMS, Rare Beauty, and Tower28 top our list.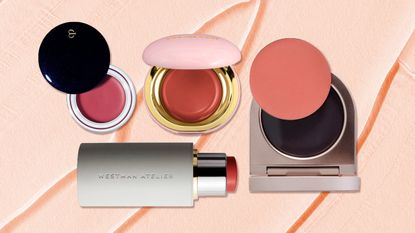 (Image credit: Future)
In case you somehow missed the memo: Blush is having a *major* moment. Overly flushed cheeks (a.k.a. sunburnt blush) has taken over TikTok; the pros named bold blush one of the biggest makeup trends of 2022; and there are an influx of innovative, new formulas to choose from. While some of the best blushes take powder or liquid form, cream blushes are our go-tos for a buildable, dewy flush. "A cream product carries skincare-like ingredients and leaves the skin looking radiant and supple," says makeup artist Dominique Lerma. In other words: Cream blush is a healthy glow in product form.
To hype up cream blushes just a wee bit more (sorry, not sorry), they're by far the easiest formula to apply—like, they're foolproof. Lerma recommends using a synthetic bristle brush, like the Omnia Pro BOM-186, for controlled, clump-free application. You can also go straight in with your hands—just make sure they're clean. Tap your ring and middle finger in an upwards motion, from the apple of your cheek to your temple, and you'll be rosy and ready to go.
With that in mind, it's time to shop. Here, we've rounded up the best cream blushes in the game, from easy-to-apply sticks to cheek and lip duos.
The Best Multi-Tasking Cream Blush
Lilah B's Divine Duo Lip & Cheek
While you can't go wrong with any of the shades in this lineup, Lerma recommends b.incredible, a pinky-beige, and b.lovely, a beige-nude. "These carry skin-first ingredients like coconut oil for hydration, aloe for calming, and agar, which promotes a youthful glow," she says. "I love how seamless the cream products apply—a little goes a long way. As an added bonus, the packaging of the product is small, compact, and perfect for travel."
The Best Cream Blush Universal Shade
RMS Beauty Lip2Cheek in Modest
"This is a beautiful, universal shade that can be taken straight from summer right into fall. The formula, which contains cocoa butter, shea butter, and buriti oil, acts as a hydrating balm while adding a beautiful shade," says Lerma. "I really live for versatile products in my kit and love that this can be used on both your eyes and cheeks. I love clean beauty done right."
The Best Refillable Cream Blush
Rose Inc Cream Blush Refillable Lip & Cheek Color
A hydrating formula is non-negotiable for anyone with dry skin. Thanks to a blend of hyaluronic acid, squalane, and vitamin E, this creamy blush is going to give a supple, soft glow without emphasizing rough patches. To sweeten the deal even more, Rose Inc has gone the extra mile on the sustainability front. Each shade of this product has a refillable insert and is entirely recyclable.
The Best Stick Cream Blush
Westman Atelier Baby Cheeks Lip + Cheek Blush Stick
Chances are you've seen this blush everywhere. It's a celeb-favorite (Reese Witherspoon and Kate Hudson are big fans) and a staple in makeup artist's kits. The buildable formula makes it possible to go from a soft, sheer wash of color to a statement cheek in seconds. Minnette, a pinky-coral, is my personal favorite shade, but if you're in the mood for something deeper (Lerma says it's going to be trending for fall) give Bichette, a deep red, a try.
The Best Cream Blush for a Natural Finish
Rare Beauty Nearly Stay Vulnerable Melting Cream
Selena Gomez not only has one of the best liquid blushes out there (lookin' at you, Soft Pinch), but she also dropped an award-worthy cream formula. Just like the name suggests, this blush quite literally melts on for a second-skin finish. It's a great option for anyone who runs on the oily side because while it still has the radiance-boosting effect we've come to expect from cream formulas, it's not too glowy. The finish runs more on the satin side.
The Best Buildable Cream Blush
Jamie Makeup The Blighlighter
As someone who has tried dozens upon dozens of formulas, trust me: This blush is one of the best. I like to warm up the product on my fingers and then tap it directly onto the apples of my cheeks. It gives a soft, subtle hue that makes me look like I'm glowing—not shimmering. It also doubles as an eyeshadow and lip balm, so it's perfect for creating a monochromatic look.
The Best Cream Blush for On-the-Go Application
There are many times when I find myself having to do a full face of makeup from the backseat of a car. When that moment inevitably strikes (le sigh), I always reach for this cream blush. The compact comes with a mirror, so placing the product isn't a guessing game. Plus, the pigment payoff is game-changing. But be warned: A little goes a long way.
The Best Matte-Finish Cream Blush
NudeStix Nudies Matte All-Over Face Blush Color
By and large, cream blushes are going to give you a dewy finish. But if your preferences fall more on the matte side of things, NudeStix has your back. They whipped up a dreamy, blendable texture that dries down into a shine-free finish. It's water-resistant, long-lasting, and, depending on the shade you select, can double as a bronzer.
The Best Dual-Ended Cream Blush
Makeup by Mario Soft Pop Blush Stick
If you like to use a brush, but want to keep your makeup bag slim, allow us to direct your attention to Makeup by Mario. This product features a creamy, radiant blush on one end and a dense, blending and buffing brush on the other. It genuinely makes the application process easy as can be. All the shades in the range are gorgeous, but my personal favorite is Raspberry. It might look intimidatingly bright, but it gives the most gorgeous pop once it's on the skin.
The Best Cream Blush for Dry Skin
Coming in a range of five shades, this clean beauty brand offers a blush that's moisturizing and buildable, so you can get the coverage you want. Even better, once you've used all this blush up (and you will, trust me) you can buy a replacement and keep the sleek, metal compact for an environmentally-conscious buy.
The Best Cream Blush for a Powder Finish
Stila Cosmetics Convertible Color
Stila's cream blush is a staple in the beauty industry. With beeswax as a key ingredient, this product is incredibly blendable and hydrating. While some cream blushes can become patchy or sticky, the finish on this product will feel almost like a powder, but look more luminous and fresh.
The Best Dewy Cream Blush
Tower 28 Beauty BeachPlease Tinted Lip + Cheek Balm
This balm is made to work on both lips and cheeks, which should give you an idea of how hydrating and practical it is. After pulling this compact out of your purse, swipe onto your lips then dab the excess on your cheeks. Your skin will look so flushed and dewy.
The Best Bright Cream Blush
Fenty Beauty Cheeks Out Freestyle Cream Blush