6 Gorgeous Gifts That Will Complete Any Beauty-Lover's Vanity
They're stunning at first glance, and feel even more luxurious as you use them.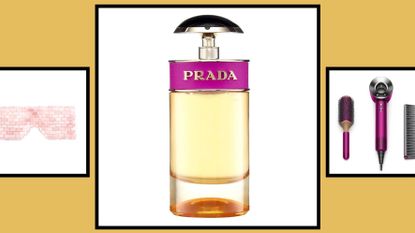 (Image credit: Angela Caglia, Prada, Dyson)
After a seemingly endless year, you might be looking to give your loved ones a gift that is extra special. If your friend or family member just so happens to love beauty products, try giving them one of these dazzling picks. From an unforgettable perfume housed in a gilded bottle to a rose quartz, relaxing eye mask—these gorgeous gifts are sure to elevate both spirits and beauty collections this holiday season.
1/6
Prada - Candy Eau de Parfum
Prada Candy's scent blends together an array of high-quality notes to create a one-of-a-kind fragrance that smells sweet at first, and fades out to have a hint of spice. It's in a bottle so opulent—with its gilded hardware and bold swatch of pink—you'll want it front and center on your vanity.
2/6
Glow Recipe - Lip Pop Duo
This grid-worthy set is the perfect stuffer for your friend who never leaves the house without her lip balm. The duo's blueberry and watermelon flavors are delicious, and their emollient formulas will keep lips feeling soft and hydrated all winter long.
3/6
D.S. and Durga - Wild Brooklyn Lavender Candle
Lighting this candle will instantly fill a room with the scent of fresh lavender. And once the candle is finished, your loved one can repurpose its pretty—and sturdy—glass to hold other beauty essentials, like bobby pins, cotton swabs, and more.
4/6
Angela Caglia - Rose Quartz Eye Mask
This eye mask is as luxurious as it looks. The weight and cool temperature of its real rose-quartz crystals can upgrade any at-home masking experience, making it that much more relaxing. Our suggestion: lay it on top of a sheet mask and try to clear your mind. You'll be saying "ahh," in no time.
5/6
Dyson - Supersonic Hair Dryer in Fuchsia and Nickel
This high-tech hair dryer is a staple in hair pros' kits thanks to its innovative design that leaves hair dried, styled, and sleek in approximately half the time of an average hairdryer. This season, the hair tool received a fuchsia and nickel makeover (the original Supersonic has a slate gray base) that makes it even more vanity-worthy.
6/6
Mazz Hanna - Cuticle Oil
This sleek vial contains rich oils like lavender and jojoba to keep your cuticles moisturized and looking its healthiest. The crystal roller ball makes applying the oil easy (and somehow satisfying).