This Blow Dryer Is Low-Key the Best Gift You Can Give Your Hair
Hair blow-dried to perfection without heat damage? I'll take it.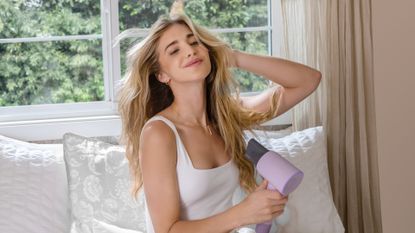 (Image credit: Laifen)
Nothing makes me feel more groomed and ready for the outside world than a perfect blow-dry, but it's hard to emulate the glossy, bouncy, and quaffed manes of the Kate Middletons and Claudia Schiffers of the world at home. I don't have access to my own personal hairstylist, but I can at least equip myself with the best hair tools in the business, and that's where Laifen comes in.
Meet the Laifen Swift SE: The Hair Dryer That Will Up Your Hair Styling Game
The Laifen Swift SE high-speed hair dryer is the flagship product of a company that specializes in groundbreaking personal care and beauty technology. Laifen knows that your hair is your crowning glory, and has developed the ultimate hair styling tool, the Laifen Swift SE high-speed hair dryer. This perfectly pastel hair dryer isn't like any other hair dryer I have seen, and it's a game-changer. A hair-saver, and a time-saver that can fully dry your hair in minutes without causing any heat damage or frizz. The Laifen Swift SE promises to give you salon-quality results at home, but how does it do that? Let's find out.
The secret to drying your hair quickly and gently is the air speed, and packed in this small and compact pastel shell is a 105000 RPM brushless motor, which can blast out air speeds of 47 MPH. That's as fast as a car driving on a city street, but unlike a speeding vehicle, this dryer is ultra quiet despite the 1400W under the hood. But the real question is: how fast does it dry your hair? Well, depending on your hair thickness and length you can go from wet to dry and sleek in just 2-8 minutes. That's 2 times less than your regular hair dryer. Imagine how much time, hassle, and frankly patience you will save with this wonder machine?
No Heat Damage, No Frizz, No Problem
The Laifen Swift SE has you covered when you need to change up the temperature for some extra gloss and shine, featuring three heat settings that won't frazzle your precious locks. A simple tap of the button will switch between the different temperatures: hot, warm, and cold, and the LED indicator displays a different color for each setting so you can see what you're using at a glance. Long pressing the button activates Hot & Cold Cycle Mode, which alternates between hot and cold air, preventing hot spots and saving your scalp from overheating. Heat damage from traditional dryers can make your hair dry, brittle, frizzy and prone to breakage, to say nothing of the impact to your scalp health and inflammation, so we should always be looking to use less heat in our styling tools if we want long-term hair health.
This is all good news for when I want to get the perfect blow-dry before facing the day. I need my hair to be styled quickly, ideally before my morning coffee has turned into a cold brew. This is made possible by the negative ion technology built into the dryer, which smooths and seals your hair cuticles, reducing frizz and enhancing your natural shine. Negative ions are a lifesaver for your hair, locking in moisture and making it healthier and stronger. The result is silky and glossy hair with an enviable swish.
A Lightweight Dryer That Won't Strain Your Wrist, Or Your Luggage
You won't just look great—you'll also save time and energy with this slick tool. I'm sold on the tech, but some hair dryers that come packed with features can compromise comfort and be a strain on the wrist. The weight of the hair dryer is often an afterthought when creating such a tech-packed tool, but a lightweight and efficient product is important. There's nothing worse when traveling than having to choose between packing your hefty hair dryer or relying on whatever your hotel has in the bedside drawer—or even worse, packing a travel dryer that is as useful as waiting for a gentle breeze. At just under one pound, the Laifen is lightweight with a perfectly portable design, so it's compact enough to use at home and away.
The Laifen Swift SE also comes in a variety of chic, pastel Morandi colors to choose from. Whether you like powder blue, lilac purple, muted pink, or a classic white finish, there's a hair dryer here to suit your style and sit beautifully on your dresser. If you're not shy about investing in the best hair and styling products to give you that "just out of the salon" feel, the Laifen Swift SE will transform your hair routine for good. Enjoy the benefits of fast and gentle drying by getting the best gift you can give to your hair.

The best part? You don't have to break the bank to get your hands on the Laifen Swift SE, it's affordably priced at $126.99 with a 15% discount for a limited time. That's a fraction of the cost of other dryers packing this tech, so you can spend less but enjoy the same performance and fabulous hair.
All that's left is to pick your favorite color. CLICK HERE to see the Laifen Swift SE in action.
Celebrity news, beauty, fashion advice, and fascinating features, delivered straight to your inbox!