How to Dye Natural Hair Hair The *Right* Way
Real talk from a "real girl" who's done it many times.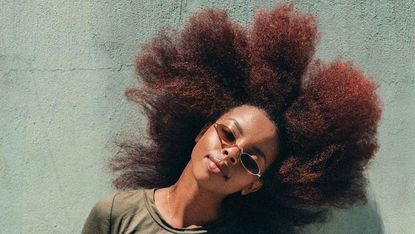 (Image credit: Instagram: @aysha.sow)
Marie Claire Newsletter
Celebrity news, beauty, fashion advice, and fascinating features, delivered straight to your inbox!
Thank you for signing up to Marie Claire. You will receive a verification email shortly.
There was a problem. Please refresh the page and try again.
While I loved the unicorn and pastel hair trends that dominated once upon a time, there was one image I felt like was always excluded from the rainbow of visuals: women of color. Every image I saw was someone who didn't look like me or have my hair texture. And even as a beauty editor for 10+ years, I constantly asked myself, "Can I pull this off IRL?" Eventually, thanks to Hairstory hair colorist, Julia Elena, I took the plunge in 2017, and haven't looked back since!
Now, I've literally tried every color under the sun: from rosé pink to dark navy, to lilac purple, and most recently, ice white blonde. And this summer, I've seen even more brown girls unapologetically experimenting with bold hues, which look SO good on textured hair. "In the past, vivid colors on textured hair weren't as popular, because everyone was only trying shades like blonde, red, honey...and then came pink!" explains Elena. "Once pink came along, people started to be open about other colors and what those colors would look like on them."
Additionally, color director at Hair Rules Salon, Jaxcee explains that for years, relaxers made it next to impossible to lighten hair to the point where a pastel shade could be deposited. "The natural hair movement has made it safe for textured hair to experiment with fun colors," she adds. "I'm always so excited to see naturally curly and kinky haired clients experimenting with unique hues. In the past, there were so many societal conditions put on the way textured hair should 'look' and 'behave.' It's good to see rebellion in spaces that previously had so many outdated restrictions."
To help you navigate getting (and maintaining) the color of your dreams, I caught up with a few of my favorite New York-based colorists to share their secrets on finding the right stylist, maintaining your new shade at-home, and *fingers crossed* avoiding any damage.
Ask Some Questions...And Then Ask Some More
Listen, you only have one head of hair (which will totally grow back BTW), however, no one will be more concerned about your hair than, yep, YOU. "It's okay if you have ten consultations," jokes Elena. "What matters is that you trust the person that's going to color your hair."
You 100 percent have the right to ask every question under the sun, and the *right* colorist for you should be able to answer each one with ease. Before any color is applied, make sure you feel super confident in their ability. "Ask as many questions as possible," emphasizes my current colorist, Stephanie Brown, based at IGK Salon in Soho. "Ask about maintaining your desired look, ask how many sessions it will take to achieve what you want, ask for a strand test to see if your hair is strong enough."
And, just like you want them to be honest with you, you'll need to be equally as honest with them. "[A good colorist] will want to know what color has been on your hair and how long ago you had it done," she adds. "Even if it was four years ago, make sure to tell them." Why? It can alter the final results.
Where to start? Ask girls you see on the street who their stylist is. Social media is another great tool, that's how I initially tracked down Elena. "Checking the IG's of colorists in your area and google some reviews about them is a great way to get a feel of whether or not you'd be a good fit," adds Jaxcee.
Bleach Is Pretty Non-Negotiable
Unless your hair is already naturally light, I hate to break it to you, but your colorist will likely have to use bleach. That can be a bummer for those who have maintained a non-chemical existence for awhile. "Hair has to be lifted to a pale yellow and toned to a blank white-like canvas to achieve pastels especially," explains Brown. "If you try to put a pastel or a fashion color over hair that is not lifted to the proper level you will get more matte, dirty looking hues."
For example: If hair isn't lifted past yellow, then if you want blue, the color may turn green. #NotIdeal. Those looking for a more entry-level solve can opt for temporary products like Manic Panic, Amika, and Dark N' Lovely, which wash out easily. The drawback? Your final result may not be as vibrant as it would be with bleached hair.
You can also start out slowly with toned highlights in a pastel or fun color, because ultimately it's much healthier for your hair. "It's much lower maintenance compared to a double process all over fun color," adds Brown. "The lightener is in a foil as well and acts an incubator making it's easier and faster to lift hair without upping your developer."
Temporary Hair Color Options for Textured Hair
Your Texture *Might* Change
The most common question people ask me is if my festive shades altered the texture of my hair. Sadly, the answer is kinda. "Color doesn't change the texture of the hair, but bleach definitely does," explains Elena. "The reason for that is because bleach is removing the melanin in your hair that's protecting it. The lighter the hair is, the more exposed the hair will be, which makes the hair on the dryer side."
My 4C hair is still pretty tight, but after a fresh bleach session the pattern is "looser" and requires lots of TLC to prevent breakage. "Usually [looser curls] are only only temporary unless your color was over-processed," explains Jaxcee. "I always recommend clients get a trim prior to any major color service to make sure dry, unkept ends aren't vulnerable to over-processing."
To combat excess dryness, I load up on moisture-infused products like deep conditioners —I love DevaCurl's Melt Into Moisture Matcha Butter Conditioning Mask ($36) —and spritz on a daily leave-in conditioner. Right now, I'm using Davines Su Hair Milk ($15). To shampoo, I use Hairstory's New Wash (Rich) ($40), which is another obsession of mine."It's a cleanser that has no detergent and washes your hair without removing your natural oils," adds Elena. "It also has four different essential oils for dry hair and had extra moisture which is great if you get your hair colored." [Editor's note: Don't forget to scoop up a Hairstory promo code before you hit checkout.]
Even though my hair is short, I sleep on a satin pillowcase or wrap my hair with a silk scarf at night. If you heat-style your hair, always use a heat protectant, like Paul Mitchell's Hot Off The Press ($18) to avoid future damage. "IGK has an overnight dry mask called Antisocial ($34). It has the same technology as Uberliss or Olaplex," adds Brown. (P.s. I recently tried this at the salon and it's pretty dope!) "It's a bond building reparative mask that you spray on dry hair before bed and you wake up and go. It will strengthen and soften processed hair," she says.
Beware of Over-processing
Because my hair is so short, I haven't experienced crazy breakage. But even I take a break from dyeing my hair every few months to avoid over-processing. Not convinced? Well, there are a few red flags that prove you have damaged your hair by way of bleach and/or color.
First, it looks like "cotton candy" when wet. When trying a bold new color, practice the mantra "slow and steady." Keep in mind, to achieve your desired shade, it may take multiple visits to your salon (hence why it's so important to ask questions in the beginning!) Plus, wouldn't you rather take it easy than push it for your amazing hair to break off? I think so!
Second, it starts to break off when you comb or brush. "Breakage is a good indicator of chemical damage," explains Jaxceee. "Pay attention to where the breakage is—if it's the last inch or so of your hair and you haven't had a good trim in over six months, everything's cool. if you haven't had a trim in a long time, the ends of your hair are most likely split and dry before coloring. Coloring will only make your dry ends even dryer leading to breakage. If the breakage is further up in your strands you might've incurred some chemical damage due to over-processing.
And finally, it's lacking elasticity i.e. if you stretch hair when wet and it doesn't "bounce back" to its original form. "Chemical damage is irreversible," shares Brown. "You can use bond building masks, you can deep condition, but after your hair is chemically damaged it will remain damaged unless cut off."
Color Saviors for Textured Hair
Be OK with Having Roots
When I first started coloring my hair, I was obsessed with not having roots. I'd be in the salon all the time for touch-ups, and subsequently my hair integrity started to get compromised. My advice is to let your hair do it's thing and enjoy the process. Naturally, your hair grows (which its supposed to do!)
"Because of the way textured hair naturally grows, you don't need to come often for bleaching," shares Elena."Once the color fades you can get more fun colors and change it every time. Unless you have short hair...that's a different story, then plan on seeing me once a month or every two months!"
Jaxcee recommends that clients try not to let more than 10 weeks go by without touching up your roots, especially if you underwent a double process. It can cause "banding" i.e. two different tones, or with a visible band around the regrowth line.
Find Your At-Home Routine
Each color you have will require a different maintenance routine, so plan accordingly to switch-up your products especially if you change your color. "If you want to maintain the vibrancy, I always mix a semi-permanent color with new wash for them to bring home to upkeep the color during washes," shares Elena. "If your hair is buzzed and you want to upkeep the color, usually every month since the hair grows fast and is more visible," she adds.
For example, when I am blonde I am pretty loyal to Joico's Blonde Life line which helps me avoid fading and brassiness. On the flip side, when my hair was baby pink, I needed a color depositing shampoo to keep my color vibrant. Brown suggested an Australian hair care line called MUVO that I could use every wash to refresh my shade. This shampoo-conditioner duo was a godsend because it meant less trips into the salon for me. A little went a long way, so I could adjust my hair to be super pink or just a whisper.
Color Depositing Shampoos and Conditioners for Textured Hair
Now, go ahead and call up a colorist.
•••
For more stories like this, including celebrity news, beauty and fashion advice, savvy political commentary, and fascinating features, sign up for the Marie Claire newsletter.
Celebrity news, beauty, fashion advice, and fascinating features, delivered straight to your inbox!