I Was a Hair Color Virgin
A redhead by personality (and birth) gives in to the bottle to reclaim the fiery strands of her youth.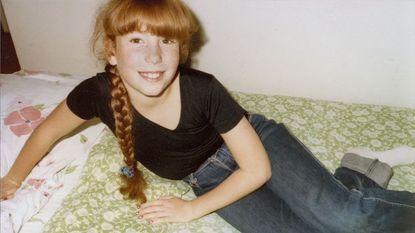 (Image credit: Courtesy of Flamberg)
At 14, I Was a roller-skating hair model. As the redhead in a blonde/brunette/redhead trio, I cruised around my hometown of Forest Hills, Queens, on Saturday afternoons, shaking my mane of fiery curls at the neighborhood regulars. With my frosty, spackled-on makeup and teased-to-the-sky hair (hello, 1984!), I could get past the velvet rope at Studio 54, where I'd spend the 50 bucks I earned each weekend. It was the best job I've ever had.
As I've gotten older, the trademark hair has lost its fire and turned a drab shade of auburn. A day rarely goes by when an old friend or colleague inquires if I've colored it ... brown. The truth is, I've never dyed my hair. Despite my rampant consumption of antiaging eye creams, electro-current body sculpting, and Botox galore, I have virgin hair. And though almost every American woman has reached for the dye bottle at least once, I have hung on to my virgin status with pride.
You see, red is more than a hair color — it's an identity. Think about it: The object of Charlie Brown's affection didn't even have a name — she was simply the Little Red-Haired Girl. People marvel at redheaded children like freaks at circus sideshows. Classmates never fail to single out those who are "different" — you know, the loser who eats paper, the nose-picker, the redhead. It's no wonder growing up ginger forges the foundation of a strong personality.
As I entered my teens, however, the electric orange mellowed into a lovely strawberry, and I started getting compliments. The very same trait that once made me "different" suddenly made me "unique." Scrappy gave way to saucy, sexy, spirited. I identified with the persona so strongly that I collected every carrot-topped pinup girl Alberto Vargas drew. And like the chubby kid who drops 50 pounds but still sees himself as fat, I've held on to these characteristics long after my locks have faded.
But now, I just feel old. Would losing my virginity and dyeing my hair bring back my glory days? I'd be straying from Mother Nature, but I wouldn't be betraying my true self: I'd lost my inner diva, and I wanted it back. Going red certainly hasn't hurt Drew Barrymore, Emma Stone, Blake Lively, or Christina Hendricks. After careful consideration, I finally decide to test the waters. I call up John Frieda hair guru Harry Josh, who colored a young Gisele Bündchen's hair in the sink of his apartment back in the day, thereby creating an international hair icon. "I can leave the base and lighten up your ends to give you a look like you've been on holiday in Brazil," he says. I like Brazil. "The overall effect will be lighter, brighter, redder." I'm sold, though a bit worried about the health of my hair. Josh assures me that I'll see no damage; today's color formulas are actually gentle on strands. And since I'll be focusing the color on my ends, the roots won't require maintenance — the perfect scenario for a first-timer like me. Plus, if I hate it, I can be a born-again virgin in six months by snipping off the lightened tips.
The morning of my process, I'm filled with anxiety. What if this is like the great spray-tan debacle of last summer, when I spent the better part of a perfect- weather weekend scrubbing off jigsaw-like patches of bronze? What if I like the bleached ends too much and become one of those blondorexic redheads, like Marilyn Monroe, losing my fire altogether? I suppose I'll never know unless I just give it a shot.
Inside the Serge Normant at John Frieda Salon in Manhattan's Meatpacking District, I sit patiently amid his revolving A-list clients — Ellen Barkin, Famke Janssen, Miranda Kerr (all happily dyeing, it appears) — while Josh applies bleach to my ends, eventually cycling through three rounds of foil and glaze, wash and blowdry. Three hours (an eternity for a beauty control freak) and a roll and a half of Saran Wrap later, my hair is magically lighter, brighter, redder — just as Josh had said it would be. I love it instantly.
A close friend agrees: "This is the bombshell hair you rocked eight years ago." While the physical change is fairly subtle, it represents a huge shift. Instead of throwing my hair into a ponytail, I actually look forward to the hour-long chore of shampooing and styling it. (As Josh promised, the texture is still soft and silky.) I find myself open to new things, to adventure: I buy a bike, I paddleboard in the ocean. The beloved Manhattan apartment I've rented for 10 years has been sold to a new owner. Instead of mourning the loss, I find a sexy new loft in a youthful, artsy Brooklyn neighborhood.
I've surprised myself. There hasn't been one agonizing, stomach-dropping moment of "what did I do?" I marvel at the beautiful gradation of my strands from terra-cotta to crimson and obsess over the cool dimension that my same-old haircut has suddenly gained. Do I look younger? Not especially. But I feel that exquisite excitement that comes only from doing something you were once afraid of. And that's when it hits me: My return to red isn't at all about turning back the clock on the outside. It's helped me reclaim the best part of youth, that delicious feeling of infinite possibility.
Celebrity news, beauty, fashion advice, and fascinating features, delivered straight to your inbox!