Could You Pull Off Model Makeup?
Our intrepid beauty reporter, Ning Chao, went backstage at the shows to road-test spring's dramatic new looks.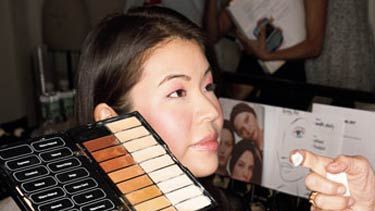 (Image credit: Fabio Pettinari)
I may be tall, but make no mistake, I am not a model. When people gather to take a photo, I lean out of lens range. So when my editor asked me to go backstage during New York fashion week to try the latest beauty looks, I knew it would test my confidence. But would it also help me master makeup tricks from the best in the business?
DAY 1

Blushing Beauty

AS SEEN AT RACHEL ROY
I show up backstage at 11 a.m., figuring it'll ease me into the week: Natural beauty is the signature of Roy's lead makeup artist, Bobbi Brown. Past shows have boasted pretty, neutral palettes — perfect for a makeup minimalist like myself. (My morning must-haves are blush and a lash curler.) I also miraculously woke up this morning without a breakout in sight; I can do this.
The gentle rhythm of Brown's brushstrokes makes me zone out. With everyone in the room looking at me, escaping mentally to another place is mandatory (which may explain models' spacey expressions). Then Brown starts applying a bubblegum-pink blush to my eyes. Whoa, that's a lot of color. But with heaps of black mascara, it somehow looks OK. Maybe a little intense for a Wednesday morning, but I can imagine rocking this look for a special occasion — perhaps a costume party? After a swipe of creamy concealer to pale out my lips and a few clicks of our photographer's shutter, I'm done.
Out on the street, cabs are hard to find, until one pulls up and the passenger inside considers letting me hop in to share the ride. But when he gets a look at my bright-pink face, he mouths, "No way," and tells the driver to keep going. Back at the office, I see why: Runway makeup is meant to last 15 minutes on a catwalk, not an hour schlepping around the muggy city. The mascara has now melted into an inky black pool around my eyes, and the pink makes me seem puffy. I look like a beat-up Kabuki go-go dancer.
MC RECOMMENDS: Bobbi Brown Powder Blush in Pale Pink; CoverGirl TruConceal in #2; Rimmel Volume Flash Mousse Air-Whipped Volumizing Mascara in Extreme Black.
Retro Siren

AS SEEN AT L.A.M.B.
Five hours later, I'm perched on one of those uncomfortable high stools backstage at L.A.M.B. It's total chaos, with Gwen Stefani at the epicenter, balancing baby Kingston on her hip while surveying the models. Along with makeup artist Charlotte Tilbury, Stefani was inspired by Barbra Streisand in Funny Girl; as a result, it takes four shadows and two liners for my cat-eye transformation. I'm barely recognizable. As showtime approaches, the music gets louder and champagne flows. Just as the floors start to shake, Gavin Rossdale appears and plucks Kingston from his wife's arms, then covers the baby's tiny ears with noise-canceling headphones. When the show ends less than 10 minutes later, I head to an after-party, even though I never go out on school nights. In the heavily contoured makeup, I feel energized and practically incognito.
MC RECOMMENDS: Avon Perfect Wear Eyewriter Liquid Eye Liner in Evening Black; MAC Lashes in #6; Estée Lauder Pure Color Eye Shadow in Sea Breeze.
DAY 2

Society Lady

AS SEEN AT BADGLEY MISCHKA

The forecast looks rosy today as well. At Badgley Mischka, that means just a quick swipe of neon-pink lipstick. "I was looking for the brightest color MAC made," says makeup pro Tom Pecheux, who imagined sophistication, Saint-Tropez, and simplicity. "You can just run home and put on this lipstick before going out for cocktails." Back at the office, my mouth seems even more fluorescent under the bright lights and lasts through lunch, multiple teas, and a couple of chocolates. I just add a little Aquaphor on top, and I'm ready for dinner. Talk about a time-saver.
MC RECOMMENDS: Dior Addict Ultra Gloss Reflect Lip Gloss in #577; MAC Cream Colour Base in Flaming Fuchsia; Shu Uemura Rouge Unlimited Lipstick in Pink Bloom.
DAY 3

Beach Bunny

AS SEEN AT BEHNAZ SARAFPOUR

I wake up with a pimple on my nose and red eyes from rubbing off all the makeup. I head to Behnaz at 9 a.m., where I'm in for a full makeover: hair, makeup, and nails. Mane man Ashley Javier gets started with a jumbo curling iron. Then he flatirons the roots and ends (yes, the same part he just curled) to stretch out the waves. Finally, he decides my hair looks perfectly "unfinished and not coiffed."
"We're going for Brigitte Bardot at the beach," says makeup artist Gucci Westman, who layers bronzer and blush over my apples. Add liquid liner, lots of lip gloss, and a couple of coats of CND sheer pink Nail Gloss, and I'm ready for the runway — er, front row. Settled into my seat in full maquillage, I start to wonder: Will people think I'm a wannabe?
MC RECOMMENDS: Physicians Formula Organic Wear Bronzer in Medium; Lancôme Magique Blush in Peach Melba; WIN THIS Clairol Herbal Essences All That Shine Clear Shine Booster.
Dancing Queen

AS SEEN AT BABY PHAT

At 3:30, I head backstage at Baby Phat. Makeup pro Lisa Butler applies a rosy powder all over, and I have Rachel Roy flashbacks, this time with glitter. Butler describes the look as Barbie meets Dynasty, but I think it's more Cirque du Soleil. Turns out, MAC did work with the Canadian troupe to develop some of their eye-catching shades. Great, so I'm wearing clown makeup.
While waiting for my friend Tanji, I hover near the CND booth to check out the fake nails adorned with the Baby Phat logo in tiny gold beads. These talons are fierce! When Tanji finally arrives, we slip into our seats, and fortunately, the crowd is more interested in the boldface names (Mary J., Mya, Djimon Hounsou) than in my red face. But Tanji can't stop giggling. That's what friends are for.
MC RECOMMENDS: Guerlain Ombre éclat 4 Shades Eye Shadow in Fleur de Feu; Jemma Kidd Crushed Jewel Creme Duo in Imperial Topaz; 15. Custom Baby Phat nail by CND.
DAY 4

Club Kid

AS SEEN AT RODARTE

By the time hairstylist Odile Gilbert is ready for me at Rodarte, the blue and pink extensions ("romantic") are all used up, as are the red ("punk"). But she decides that pale-blonde extensions will look punky enough blended into my dark-brown mane. My new ponytail weighs a ton, and I love it. I feel edgy and powerful, and I absentmindedly stroke the blunt ends like a pet.
The hair miraculously stays in place all day, surviving outfit changes at my friend Sally Tseng's showroom, but it begins drooping at the Rodarte after-party. Two Aveda stylists pounce on my ponytail to resuscitate it. Back home that night, it takes me two minutes to unpin the extensions. I save my blonde alter ego in a plastic baggie, hoping that someday I'll figure out how to revive her without Gilbert.
MC RECOMMENDS: Aveda Smooth Infusion Style-Prep.
DAY 5

Island Girl

AS SEEN AT DIANE VON FURSTENBERG

The inspiration for the DVF girl is von Furstenberg herself, and the invite is a '70s-era picture of her with nut-brown skin and white plumerias scattered across her lap and tucked in her hair. Makeup artist Ayako helps me find my inner beach girl, dabbing peachy bronze cream on my nose, cheeks, lips, and eyelids. Then she applies Nars cobalt liner on the lower inner rims, running the pencil back and forth until there's enough color to evoke "the reflection of blue water in the eyes." I'm passed along to hairstylist Frédéric Fekkai, who pulls my hair back into a sleek, low, "wet-look" ponytail. Topped off with a majestic orchid behind my ear, the result is Tropical Me, whom I like.
MC RECOMMENDS: DVF Beauty Cream Color Stick in Volcano; Nars Eye Pencil in Kalisté; Fekkai COIFF Shape & Set Mist.
Femme Fatale
AS SEEN AT NARCISO RODRIGUEZ

Thirty minutes after DVF, I'm meeting Dick Page for my Narciso Rodriguez makeup. So in the backseat of my cab, I snap a mental picture of my cobalt-rimmed eyes before taking it all off with the pads and remover I've packed in my purse. Red light, dab eyes. Green light, wipe face. By the time I pull up to the converted gym in Chelsea that Rodriguez is showing in, my face is bare, just in time for Page to apply foundation. Wow, I never thought my skin could look so clear, especially considering all the abuse this week.
Inspired by Japanese indigo dyes and the way they fade like watercolors, Page layers black and navy on my lashline, diffusing the colors with a fluffy brush. He uses the same painterly technique on my lips, applying a wine lipstick in the center and blending outward so "the edge disappears like it's out of focus." Page lets me in on a secret: While he was making lunch today for his team, his assistant was in the kitchen, too, cooking up the perfect wine hue.
MC RECOMMENDS: Vincent Longo Gel-X Lipstick in Moment; Shiseido Dual Balancing Foundation in Natural Light; Laura Mercier Liquid Eye Liner in Cobalt.
DAY 6

Bold Sophisticate

AS SEEN AT CAROLINA HERRERA

All the after-parties have taken their toll; my skin and hair are beat. Just when I need camouflage the most, makeup artist Diane Kendal wants a bare face, with just a touch of gold on lids and a mix of red, orange, and pink on lips. No foundation to hide my pasty skin, no bronzer to revive my tired cheeks. But the fruit cocktail of color on my lips is fun.
MC RECOMMENDS: L'Oréal HIP Liquid Lipcolour in Turbulent; LORAC On Screen Duo in Rich & Famous; Chanel Creme Gloss Lumiere in 73.
Glam Rocker

AS SEEN AT ANNA SUI
My luck spirals at Anna Sui, where makeup maverick Pat McGrath is going glam rock. "It's all about the eyes, so there's nothing on the cheeks," she says apologetically as she evaluates my sallow complexion. The purple glitter looks stunning on the models but brings out my under-eye bags. What I really need is a good night's rest.
MC RECOMMENDS: Make Up For Ever Glitter #09; Givenchy Powder & Cream Eyeshadow Quartet in Black Denim; Max Factor Volume Couture Mascara in Rich Black.
DAY 7

Modern Minimalist

AS SEEN AT ZAC POSEN

He's known for in-your-face glamour (smoky eyes are de rigueur), but this season's Posen is more subtle, with taupe contouring and gold highlights. Makeup pro James Kaliardos elongates the shadow toward my temple for an Egyptian effect. Compared to Anna Sui, this muted, androgynous look is a breath of fresh air. But I run out of steam before the after-party and retire to bed, my face well scrubbed.
MC RECOMMENDS: Clinique Eye Pencil in Egyptian; Clé de Peau Extra Silky Lipstick in 103; Clarins Eye Shadow in Mocha Mousse.
Marie Claire email subscribers get intel on fashion and beauty trends, hot-off-the-press celebrity news, and more. Sign up here.