I Want to Look My Age
Tired of being mistaken for a teenager, Julia Scirotto signs up for makeup school to lose the little-sister look for good.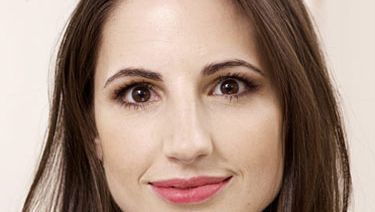 (Image credit: Suki Dhanda)
I get it; I look young for my age. And while this perma-baby face has caused no shortage of embarrassment at bars and even the Sharper Image (where apparently you must be at least 16 to test-drive the massage chairs), I console myself by snagging student discounts. But when a fellow guest at a recent wedding chatted me up by asking, "So, are you in high school?" I lost my sense of Zen. At 27, I figured I knew my way around a cocktail dress and a tube of mascara — so what about me was still screaming Hannah Montana? Desperate for a fix (and already in England to visit my long-distance boyfriend), I consult runway model-turned-beauty maven Jemma Kidd, director of her eponymous makeup school in London (which boasts a course for teenagers called Coming of Age). "We're going to change a few things," she says when I arrive. Yes, please.
Step One: 1 English Rose Skin
I assume we'll dive right in with heavy eyeliner, electric palettes, and false lashes to strong-arm my features into more mature-looking versions of themselves. Instead, Kidd kicks off my re-education with ... skin care? "If you want to look older, everything needs to be just a little more immaculate," she says, smoothing on a tinted moisturizer, then tapping foundation onto problem areas around my eyes and nose. Next, she dusts shimmerless bronzer and peach powder onto cheekbones to "keep it fresh and dewy." I'd always associated "dewy" with "young," but this glow adds a level of polish I'd never bothered to attain before.
Step Two: Subtle Smoky Eyes for Day
I don't trust my baby browns to act their age unless large quantities of kohl are involved, so when Kidd strips me of my go-to black eyeliner, I smile, nod, and make a mental note to apply more later. But as she opens up my deep-set eyes with a layer of camel-colored shadow and a pencil-thin swipe of white shimmer just under the arches, I start to tune back in.
Step Three: Amped Up for Night
"When you're younger, you can get away with funky colors and harder lines, but now you should be working with neutral tones," explains Kidd. She adds evening-worthy drama to my simple day look by blending a deeper brown shadow around the outer third of my creases and along the outside corners of my upper and lower lash lines. And I notice she's sporting similar smoke herself — also without harsh liner.
Step Four: Bold Berry Lips
Look-at-me lipcolor has always freaked me out — plus, I'm bad at staying inside the lines — so when Kidd suggests a strong red pout to complete my look, I panic. Fortunately, she's sympathetic ("We'll start with a berry stain — it's how I came to grips with wearing a little bit of color too") and willing to spill professional secrets ("I always go over the lip area with concealer to get rid of any unevenness at the lip line"). The transformation is instant and mercifully un-clown-like.
Maybelline Lash Stiletto in Soft Black, $8.95; JK Jemma Kidd Eye Shadow in Vanity Fair, $18; Chanel Vitalumière Makeup SPF 15, $52.
The Result: Older and Wiser
Post-lesson, I check myself out in the studio's massive mirrors and see that I've suddenly got stronger cheekbones, fuller lips, and eyes that are Bette Davis big. I look more sophisticated for sure, and as I wander out into buzzy West London, I vow to embrace subtler eye makeup and at least attempt statement lips back home. In the meantime, though, I'm late for a dinner date — here's hoping my boyfriend has a thing for older women.
Click here to go to YOU, BUT BETTER — Marie Claire's 2009 Best Beauty Boosters.