The Best Makeup to Wear in Your Fluorescent-Lit Office
Blueish-green undertones be gone!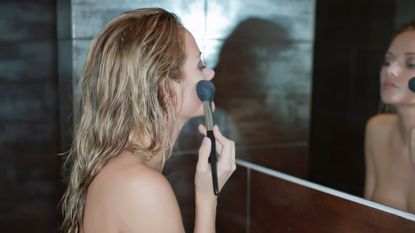 (Image credit: Marie Claire)
We have a theory about makeup. Essentially it's that the ultimate way to look good always is to test your products in the harshest of all conditions: fluorescent lighting. The kind that burns directly above you all day every day at work. If they can stand up to that unforgiving, blueish-greenish glow, you're golden. (Hopefully literally.)
Pro makeup artist Caitlin Wooters (opens in new tab) is telling you exactly what to do and what to look for—and what to avoid at all costs.
Prep
"Starting with a clean face, apply a tonic to hydrate and smooth out your skin. Next, use a serum, which will help keep your makeup looking fresh through the day. After that comes moisturizer, which is especially important in an office setting. Try a balm if you're extra dry or a hydrating face cream if you're oily."
1. Bobbi Brown Hydrating Tonic, $30; bobbibrown.com (opens in new tab).
2. Caudalie Vinosource S.O.S. Thirst-Quenching Serum, $49; caudalie.com (opens in new tab).
Foundation and Concealer
"For foundation and concealer, it's important to stick to warmer or yellow undertones, instead of pinks, as they will keep skin from looking too cold or pasty. Opt for liquid formulas as opposed to powder foundation, which will make your skin look less healthy under such harsh lighting. If your complexion only has a little redness and few blemishes, I recommend spot coverage with concealer. For all over coverage, try an HD formula foundation and apply with a damp blending sponge for a flawless finish."
1. MAC Select Moisturecover Concealer, $19; maccosmetics.com (opens in new tab).
2. Make Up For Ever Invisible Cover Foundation, $42; sephora.com (opens in new tab).
3. The Original BeautyBlender, $19.95; sephora.com (opens in new tab).
Bronzer and Blush
"For bronzer, look for gold and honey tones, and stay away from anything too orange or too red. You should also avoid anything too shimmery because it should be applied all over the face, down the neck, a little on the chest. If there's shimmer everywhere, it won't look natural.
And for blush, a little pop of warmth will look more healthy than no color on the cheeks, but don't use anything too pink or too orange. Always keep an eye out for what the color undertones are, which should be in the description. If you're using a cream bronzer, use a cream blush so the products blend well together."
1. Guerlain Terracotta Bronzing Powder, $52; sephora.com (opens in new tab).
2. Sonia Kashuk Undetectable Creme Bronze, $10.99; target.com (opens in new tab).
3. Chanel Joues Contraste Powder Blush, $45; chanel.com (opens in new tab).
4. RMS Beauty Lip2Cheek, $36; rmsbeauty.com (opens in new tab).
Eyes
"Many women already have natural shadowing on and around the eyes, so subtle is better. In fact, if you're wearing eyeliner and mascara, you might not need any shadow at all. Don't go with anything too shimmery, and look to matte, silk, satin, and velvet formulas. If you want to achieve a smoky eye, neutrals are better than dark or bright colors. You should also avoid tones that are too earthy as they could come off as muddy."
Urban Decay Naked Basics Eyeshadow Palette, $29; urbandecay.com (opens in new tab).
Brows
"You have to either match your brow color or warm it up—especially if the hair on your head is warmer than your brows. Don't go too heavy in the application, as fluorescent light will make your features stand out more. Try a tinted brow gel or a very fine-tipped pencil, which should be applied with wispy strokes, as opposed to to long, defining strokes."
1. Anastasia Beverly Hills Tinted Brow Gel, $22; anastasiabeverlyhills.com (opens in new tab).
2. Kevyn Naucoin The Precision Brow Pencil, $26; barneys.com (opens in new tab).
Lips
"Moisture is most important! Always start with a lip balm and if you want to ensure optimal softness, exfoliate with lip wipes beforehand. As far as picking a lip product, look to creamy formulas or glosses so that your lips never look dry. For color, counteract the blueish-green fluorescents with warmer tones like honey, peach, nectar, rose, coral, or at least deeper versions of a color. Anything too cool toned will end up looking even cooler under these lights, even lipsticks with a blue undertone."
1. La Mer The Lip Balm, $55; bloomingdales.com (opens in new tab).
2. BITE Beauty Lush Lip Wipes, $12; sephora.com (opens in new tab).
3. Stila Lip Glaze in Honeydew, $22; stilacosmetics.com (opens in new tab).
You should also check out:
Must Read: How Your Computer Screen Affects Your Skin (opens in new tab)
The 8 Worst Things You Can Do to Your Skin (opens in new tab)
Lauren is the former beauty editor at Marie Claire. She love to while away the hours at coffee shops, hunt for vintage clothes, and bask in the rough-and-tumble beauty of NYC. She firmly believes that solitude can be a luxury if you've got the right soundtrack—that being the Rolling Stones, of course.