How My Twitter Travel Hack Led to Me Starring in My Very Own Show
And exactly how I did it.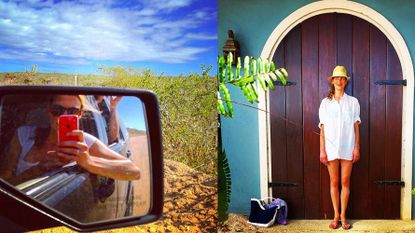 (Image credit: @JulieBensman on Instagram)
Marie Claire Newsletter
Celebrity news, beauty, fashion advice, and fascinating features, delivered straight to your inbox!
Thank you for signing up to Marie Claire. You will receive a verification email shortly.
There was a problem. Please refresh the page and try again.
The late afternoon sun was casting a soft glow over the sweeping Italian vineyards as I enjoyed a private tasting of some of Friuli's best white wines. It was right about then that I thought to myself: Wait. I'm getting paid for this?!
In the last year, I pitched, sold, produced, and hosted a travel web series pilot, which eventually became a sponsored series on BBC.com Travel and BBC World News. RSVP Abroad is a show in which I throw dinner parties in foreign cities with the assistance of BBC Travel's social media audience, who tweet and comment with suggestions of where I should go, who I should meet, and what I should eat. Nice work if you can get it, right?
I've never been someone who necessary sets lofty career goals; my M.O. has always been to meet as many people as possible and trust my gut when an opportunity presents itself. That strategy has taken me from editing fashion magazines to producing celebrity photo shoots to copywriting for both big brands and start-ups. Sure, I've hosted a red carpet interview or two in my day but my on-air camera skills would be considered ad hoc, at best. When a company I was working for didn't have the money or resources to hire on-air talent, I figured I'd just do it myself.
After all, the idea for RSVP Abroad had come to me organically: My (now-ex) boyfriend and I were visiting his family in southwest England and we decided to take a short holiday via the cheapest flight we could find out of Bristol airport. Enter the teeny, tiny island of Madeira, Portugal, a destination seemingly devoid of unique online travel suggestions. Honing my millennial social media prowess, I started tweeting at every @Madeira handle I could find: Where should we stay? Did we need a car? Which activities were not to be missed?
A man named Don began answering my questions on the regular, full of useful information and local suggestions. I was impressed: Social media was bridging the 3,000-mile gap between a 40-year-old guy in Madeira and little old 30-something me in New York. When my boyfriend and I finally arrived, I insisted Don meet us so we could buy him a drink. My boyfriend, a director who always has his camera with him, ended up filming the ensuing evening of warm conversation, wonderful food, and new friends. I came away from our summer holiday with a deep Portuguese tan and a blossoming idea for a social media-meets-travel show.
I was convinced we had a great concept on our hands—and some gorgeous footage to prove it. I paid a talented friend a (deeply discounted) fee to edit our raw footage and splice in some fake social media graphics. A friend of a friend knew someone at BBC.com Travel and snagged me a meeting with the editor-in-chief. We hit it off and I emailed her approximately 700 times afterwards, offering to buy her a drink anytime she was free. Drinks turned into another meeting, at which point I presented our clunky little travel show originally titled From Twitter to Table.
She liked it. We massaged the idea to incorporate a mission in each city (i.e. throw a dinner party in 48 hours ). And, as such, RSVP Abroad was born. I received a modest but exciting amount of money to film the pilot and promptly started calling in favors from every person in my virtual Rolodex. We filmed the intro at my friends' gorgeous SoHo apartment (thanks, Jacque and Luke!) and travelled to Lima, Peru to throw a dinner party at the epic family estate of my old Craigslist roommate (thanks, Lisi!). My boyfriend shot it for free, our good friend edited it for free, and I was full-time obsessed with making it the greatest travel show of all time (still a work in progress!).
This year, Qatar Airways sponsored the debut of RSVP Abroad on BBC Travel and BBC World News, which included additional episodes in Athens, Istanbul,and Venice. It's been one of the highlights of my career, a true passion project fueled by long days, sleepless nights, and a lot of calories consumed in between. I'm already looking forward to filming the next four episodes this fall.
People always say that if you work really hard for what you want, you can make anything happen. I wouldn't say that's always the case because I have a laundry list of things I've wanted and failed to obtain (jobs, men, concert tickets, etc.). But I will say this: If you don't try, you'll never know. Put your ideas out there, get by with a little help from your friends, and hustle like it's your job because, who knows? One day it actually could be.
Follow Marie Claire on Facebook for the latest celeb news, beauty tips, fascinating reads, livestream video, and more.
Celebrity news, beauty, fashion advice, and fascinating features, delivered straight to your inbox!