She's Got Game
Today there are more women than ever super smashing through the tech boys' club to create inventive, engaging, downright fun video games. Their mission? Turn anyone, of any gender, at any age, into a gamer.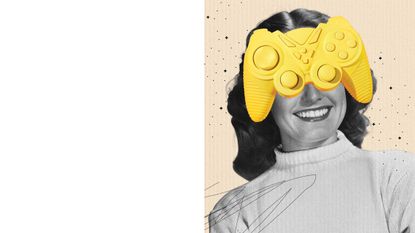 (Image credit: Camerique + Photo Collage by Susanna Hayward)
Marie Claire Newsletter
Celebrity news, beauty, fashion advice, and fascinating features, delivered straight to your inbox!
Thank you for signing up to Marie Claire. You will receive a verification email shortly.
There was a problem. Please refresh the page and try again.
It began in August 2014, when Internet trolls launched a series of harassment campaigns—including doxxing, hacking, and warnings of death and sexual violence on social media and IRL—targeting female video-game creators, players, and journalists. After a lengthy blog post written by an ex-boyfriend of video-game designer Zoë Quinn claimed that her romantic relationship with a game reviewer had influenced his critique of her game (in reality, he'd never reviewed her work), Quinn and her family were subject to an onslaught of relentless threats. Other industry insiders, like media critic Anita Sarkeesian, as well as game-makers who came to Quinn's defense, quickly became targets too. And that was probably the last major story anyone, outside of gamers, heard about women and gaming.
As the Gamergate drama unfolded, Anna Kipnis, a 39-year-old AI and game-play programmer at video-game development studio Double Fine Productions in San Francisco, remembers thinking, All those young women that we've been trying to encourage to join us are going to see this, and they'll be like, "Oh, God. What am I signing up for?"
It's a marketing problem, Robin Hunicke says. Based in San Francisco, Hunicke, 45, is cofounder and CEO of indie video-game studio Funomena. "When you see games in the news, what you're hearing about is player behavior that's hostile toward other players, or there's some tangentially related violence that's happening, or there's a giant banner on the side of the bus for a game where the guy stabs the other guy in the face."
But dig a little deeper and you'll realize the video-game industry isn't as much of a boys' club as its loudest trolls want you to think. In the U.S., 45 percent of gamers are women, according to the Entertainment Software Association's 2018 Sales, Demographic, and Usage Data report. And women aren't just playing—they're creating too.
Ironically, it was the Gamergate attacks that inspired women to consider carving out a place for themselves within the industry. "More people have started paying attention to creators who don't look like this stereotypical idea of who's making games," says Naomi Clark, 42, a game designer and professor at New York University's Game Center. "Today, about half of applications are from women, both in our master's and undergraduate programs."
The women's restroom line at San Francisco's Moscone Convention Center during the 2017 Game Developers Conference, an annual multiday event that attracts 28,000 video-game-industry professionals, is another barometer of a larger sea change in the industry. "It was long," says Jane Ng, 31, a senior environment artist at video-game studio Campo Santo in San Francisco. "Not just a two-minute wait. I was like, 'Oh my God! There's a big line.' And everybody looked at me like I was crazy. That was really good too, because it's like, 'Oh, you all don't even know this is amazing. You're all new here. I'm so happy.'"
Women in gaming isn't exactly a new phenomenon. "There was a period in the industry's history when there were more women involved, during the '70s and '80s, when the adventure-game genre was quite prolific," explains London-based story designer Rhianna Pratchett, 41, whose credits include the latest Tomb Raider series. Then came the girls' game movement of the 1990s.
"When women started to come onto the scene as creatives in the '90s, they started to create games that little girls might want to play," says Katie Chironis, a 27-year-old senior narrative designer at Riot Games in Los Angeles. In 1996, Mattel released Barbie Fashion Designer, a CD-ROM game that let girls create and print outfits for their dolls and that netted $14 million in sales that year. Shortly after, Purple Moon, a game company that helped pioneer the genre, launched Rockett's New School, a computer game that followed a junior high schooler navigating her way through friendships, classes, and general teen-girl drama. Cofounder Brenda Laurel shared what inspired her to launch Purple Moon during a TED talk in 1998: "Why hasn't anybody built any computer games for little girls?" Laurel asked the crowd. "It can't just be a giant sexist conspiracy. These people aren't that smart. There's $6 billion on the table."
A Brief History of Women in Video Games
Not everyone was enthusiastic about Laurel's approach. "The people involved in that movement were completely well-meaning, but it felt a little bit like 'Well, if we make it pink, they'll come,'" says Amy Hennig, a 54-year-old industry veteran who worked on Eidos Interactive's Legacy of Kain: Soul Reaver and Sony Computer Entertainment's high-selling Uncharted series. "It felt like corralling girls into too small of a space to me." Despite its initial success, Purple Moon shuttered and sold its remaining assets to Mattel in March 1999. Around the same time, advances in 3-D graphics sparked the explosion of first-person-shooter games; the industry never looked back.

Until now. Today's games—from big-money franchises like Tomb Raider, Star Wars, and Horizon Zero Dawn to beloved indie games like Firewatch, Night in the Woods, and That Dragon, Cancer—feature more female protagonists, diverse characters, and narrative-driven action than ever before, appealing and accessible to novice and professional gamers alike, all thanks to an influx of women in the industry's indie game space.
Big-name games with splashy production and marketing budgets—which typically involve shooting bad guys, stealing cars, or a one-named plumber determined to save a princess from a dinosaur—are known as AAA games. (Games with smaller budgets are AA, A, B, and so on.) They're published by household-name development studios like Electronic Arts, Nintendo, and Rockstar Games and raked in a record $36 billion in the U.S. last year, significantly eclipsing Hollywood's 2017 stateside box-office revenue of $11.2 billion.
Indie video games don't have—or need—such budgets. Platforms like Unreal Engine and Unity, development software that offers free or low-cost services, can turn anyone into a one-woman game-development studio. When the high barrier of entry is removed, says Chironis, there's more room for new creators. "Some of the people, especially some of the women, who are doing the most interesting work right now do not come from strictly technical backgrounds," she adds.
Kiki Wolfkill, 49, who oversees the megasuccessful Halo franchise as head of Microsoft's 343 Industries in Seattle, says indie designers often drive new trends in the industry. "You're seeing a lot more women building games that are appealing to a whole different audience," she says. "The ecosystem itself is changing."
For example, PrinceNapped is a character-driven mobile video-game puzzle that smashes a classic cliché: Players rescue the prince, not the princess. It has attracted both genders and was created by Ker-Chunk Games, a development studio with three female cofounders. Or Dream Daddy, a 2017 game designed to simulate real-life dating through players' choices and cocreated by then-19-year-old art student Leighton Gray. Wired dubbed Dream Daddy—whose main character, a widowed queer single father, moves to a town conveniently populated by attractive single dads—"the game of the summer" just weeks after its release, and Gray later landed a spot on the Forbes 30 Under 30 list in 2018.
"What has been striking to me is the difference in perspective that you get when you invite a diversity of people into a certain space," says Kim Belair, 32, a Montreal-based scriptwriter for games like Assassin's Creed and the upcoming Neo Cab. Scriptwriters like Belair craft all the words you see and hear on screen, including dialogue between characters, how other characters react to your player's movements, background noise, and more. "Things that are my everyday experience as a woman, and as a woman of color, are things that the white dude I work with isn't actively ignoring, but he just doesn't have the experience," Belair says. "When I play Tomb Raider, there are certain moments that I know resonate with me because I am a woman. They are narratively powerful to anyone who plays it, but it's a different thing. You feel a certain kinship to it. Like, 'This is a feeling I have experienced because of my gender.' Representation can be innovation."
Like so much of the tech sector, the video-game industry remains male dominated. For many women working in the space, there's a sense of self-imposed responsibility to encourage more women to join their ranks.
Laila Shabir, 32, founded Girls Make Games—which has hosted game-development workshops for girls in over 50 cities around the world—after starting her own game studio with her husband, a semiprofessional gamer. "It was impossible to get women to join," she says. "Pretty much every job posting that we put up, we got hundreds of twentysomething boys saying that this was their dream job. I think we literally got three women to apply." Girls Make Games encourages middle-grade and junior high girls to focus on the character, her motivations, and her backstory when developing an idea; empathy tends to play a key role in game-making for girls.
But visibility remains a challenge for women in the industry. Jade Raymond, the Montreal-based founder of EA's Motive Studios, makers of Star Wars: Battlefront II, was lead producer and the cocreator of the first Assassin's Creed game at Ubisoft, which the 43-year-old describes as "the kind of game that I love, one where you get to blow shit up." She recalls the backlash from many male gamers she received after launching: There was no way Raymond was the lead of the project, they wrote on gaming sites. She must just be the face. Other people are doing the actual work.
After that experience, she avoided the spotlight until, while helping open Ubisoft's Toronto studio in 2009, she heard from women, many fresh out of college, who'd been hired to join the team. "I got a lot of notes saying that seeing me in that role on Assassin's Creed was really inspiring and made them believe that they could have a good career in games," she says. "It made the industry seem less scary."
Siobhan Reddy, director at video-game-development studio Media Molecule in the U.K., has always been someone who prefers to be in the background. But around five or six years ago—just before Gamergate erupted—she read a study supporting the idea that seeing people like themselves in positions of power helps individuals recognize their own potential. "I made more of a point to be more present and for the women within the studio to be present. It was important for people to see that we were a studio that had visible women," Reddy, 39, says. "And our applicants did change."
"There's still a ways to go," she adds. "I don't think we get gold stars just yet." But it's about time the industry levels up—and women are here to play.
This article originally appeared in the Holiday 2018 issue of Marie Claire.
Celebrity news, beauty, fashion advice, and fascinating features, delivered straight to your inbox!
As deputy editor, Jen oversees Cosmopolitan's daily digital editorial operations, editing and writing features, essays, news, and other content, in addition to editing the magazine's cover stories, astrology pages, and more. Previously, Jen was a senior editor at Marie Claire. Before that, she worked at GQ.