The Coolest Six-Figure Job You Never Thought You Wanted: Nannying
Childcare may, actually, be your dream job. Here's why.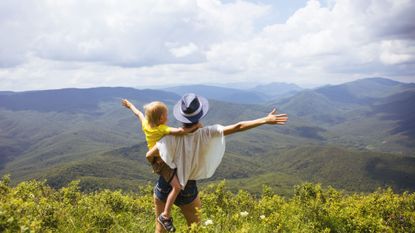 (Image credit: VladGans)
Marie Claire Newsletter
Celebrity news, beauty, fashion advice, and fascinating features, delivered straight to your inbox!
Thank you for signing up to Marie Claire. You will receive a verification email shortly.
There was a problem. Please refresh the page and try again.
A spoonful of sugar has got nothing on these sweet adventures: Eating fresh calamari in Portofino, swimming with Navy Seals in Fiji, backpacking through Montenegro and Croatia, dining with a former U.S. President. The magical Mary Poppins would struggle to make any of these extraordinary experiences real on a moment's notice. For an "adventure nanny," however, it's another day on the job.

No joke. Childcare has been reimagined and is now a coveted career choice made most enticing by elite employers, er, families from Silicon Valley and New York City and digital nomads looking for a little assistance while trotting the globe with their toddlers in tow.
Brandy Schultz tapped into this unique market when she launched Adventure Nannies as a means to support herself and then-broke boyfriend, a struggling musician. (Said boyfriend, now husband, no longer needs help; he's the lead singer of The Lumineers, Wesley Schultz.) The "original adventure nanny" herself, Schultz cultivated a niche network of families seeking someone with a certain je ne sais quoi that allowed them to care for kids in out-of-the-ordinary situations, like attending Burning Man, learning survival skills in the remote Rocky Mountain wilderness, and cliff diving in Italy. It was a no-brainer to develop an agency that specialized in matchmaking these brave broods and equally intrepid caretakers.
"In the onset of Care.com and other franchised placement services, most nannies are struggling. But we're not because we take a lot of clients that other agencies reject, like the families who have really specific desires, like, 'I need a Japanese-speaking, piano-playing childcare provider to go on tour with me'—which was a real ad," says Schultz, 34.
What began as a one-woman show in 2012 has evolved into a company of seven operational team members and a database of 9,000+ nannies and private educators serving more than 700 families—often musicians, actors, or tech execs—around the globe (22 countries and counting). "It's our goal to send the first nanny into space!" Schultz half-jokes. On top of the enviable travel perks, adventure nannies can make serious cash, too. Annual salaries range from $60,000 to $140,000, as one nanny confessed.
'I need a Japanese-speaking, piano-playing childcare provider to go on tour with me'
The criteria for a sweet gig like this is at least two years of professional childcare experience and a Bachelor's degree or higher (though there are exceptions). Other than that, Adventure Nannies is open to all prior career backgrounds, including professional athletes, computer programmers, ex-military, published authors, historians, macrobiotic chefs, to name a handful of previous professions. If you speak multiple languages that's a bonus. Also: Must. Love. Kids. (Obviously.) Keep reading if you do—and are ready to ditch your desk job to become a jet setter.
Hometown: Fort Collins, Colorado
AN assignment: Full-time, live-in, live-out nanny for a high-profile family with three kids in Colorado for two years.
AN annual salary: Just under six figures, plus full benefits
My "better" pre-nanny job: "In 2012, I was working as the director of organizational development for a large manufacturer in the Czech Republic. The CEO had seven daughters and asked me to help him find childcare, preferably an American. In that search, I came across Adventure Nannies. I found it interesting to be part of a family in this unique way, and do a job on the go. Later that year, when my boss stepped down, I started considering adventure nannying more seriously—I'm well-travelled, trilingual, with a few educational degrees, and some experience in childcare—but my gut was telling me otherwise. Women often get bullied into climbing ladders to meet cultural expectations. If you aren't in a stable relationship, you should be. If you are, and haven't had kids yet, you need to. If you have a great job, you should go as far as possible. People thought I was insane to become a nanny: 'But, you are so educated! You can do anything. Why would you want to take care of other people's kids?' But I wasn't ready to continue the corporate track."
My favorite moments: "I had this wonderful three-week routine with a toddler when we were living by a beach in Spain: We went to museums and on walks, swam in the ocean, took afternoon naps, ate great food. That, as an adult, is a really rewarding experience. For me, the draw was always the travel component—to explore places that I hadn't been. With this family, I visited five countries."
Most useful skillset: "My master's degree is in conflict resolution. I'm not a counselor or a psychologist. I didn't focus on childhood education. But I did learn what it means to be human and disagree. The co-parenting dynamic was the most challenging. I very rarely bit my tongue. I believe that open, transparent, communicative relationships lead to the best outcomes. I was clear about that when I started this job. It wouldn't have worked otherwise, and fortunately, that was what this family wanted."
Hometown: Montgomery County, Maryland
AN assignments: Full-time for three different families for three-and-a-half years (about a year each); still contracts for one family on occasion while studying to become a nurse practitioner
AN annual salary: Mid six figures
My "better" pre-nanny job: "In 2013, I got a call from a friend who said, 'I have the perfect job for you in San Francisco.' I was very happy working in Seattle in product development—a new career that I had just transitioned to after four years as a teacher, so I wasn't interested. When she explained that this family was looking for a homeschool teacher and that I'd get to travel the world, then I was like, 'OK, I'm listening.' This was the wild card that I didn't expect. It was too intriguing to say no."
My favorite moments: "When you work for a family who owns a private plane, it's so easy to travel. At first, I was like, It's so silly to go to Fiji for a weekend. But then I realized that you sleep on the way there—in a queen-sized bed—and wake up in Fiji, then sleep on the way back, and wake up in California. We always went somewhere amazing, like Australia, Europe, Central and South America, and Southeast Asia, staying, on average, for a week or two.
One of my other most memorable experiences was taking this defensive driving course. All the families I've worked for have been pursued, stalked, or threatened in some way, so it was a smart—and fun—preventative measure that, thankfully, I never had to use. (But I was ready to!)
Also, I got to meet President Obama when he came over for dinner. Of course, I spent more time with the secret service, and they were wonderful. Moments like those, I had to remind myself that I can enjoy this, but this is not my life."
Most useful skillset: "Dedication. It's not nannying in the traditional sense that you cook, tutor, clean the house, etc. It's more like working for a small company with a team of people in various roles. My responsibilities included organizing an after-school program, inventorying medicine (I'm a registered nurse), arranging appointments, driving kids around, toilet training, foreign language lessons. In exchange, the family provides a base salary, health insurance, paid vacation, a work phone, and, in some cases, room and board. What they were paying me for was complete devotion. If I had plans with friends, and the family needed me, I'd have to cancel. My schedule was at their whim. I had to keep an overnight bag ready to go on a moment's notice. With this kind of work, your life can't overlap with theirs."

"At first, I was like, It's so silly to go to Fiji for a weekend. But then I realized that you sleep on the way there—in a queen-sized bed—and wake up in Fiji."
Hometown: Lacey, Washington
AN assignments: Part-time for multiple families for two years
AN annual salary: Mid five figures
My "better" pre-nanny job: "When I graduated college, I went into public relations. It didn't take long for me to realize that I don't want to be stuck in an office all day. So after five months, I returned to nannying—something that I had done to pay for school. I took a live-in nanny position in New Jersey. Three horrible winters later, I moved to India to do yoga teacher training, and met my now-husband. My finances were running low and I thought to myself, There must be something where families just need nannies for their vacations. I searched and found Adventure Nannies. I took my first assignment that September, traveling with a family and 18-month-old all over Europe."
My favorite moments: "I'm one of those people who is happiest traveling. I love seeing places that I may not think to go to on my own. And because I'm experiencing it from a child's perspective—I'm essentially their guide—I end up living like a local. If you're with a toddler, you're not going to museums or churches; you're finding little places to eat and parks and beaches where you can play. You're living more authentically than you would as a tourist. If I didn't need money, I would easily go on people's vacations and hang out with their kids for free."
Advice to future nannies: "Your vibe attracts your tribe. The families whom I've traveled with have all been extremely lenient and laidback. As a travel nanny, you have to be easy-going, open-minded, and fluid. You need to be travel savvy and work well in organized chaos, too, especially when you think you're going to Italy, but end up in Jordan, which really happened."

For more celebrity news, beauty and fashion advice, savvy political commentary, and fascinating features, sign up for the Marie Claire newsletter.
RELATED STORY
Celebrity news, beauty, fashion advice, and fascinating features, delivered straight to your inbox!
Cristina Goyanes is a seasoned writer, award-winning editor, and founder of ThisIsRevel.com, a brand editorial agency for companies dedicated to improving people's lives. She is a proud American-Latinx born in Queens, NY, currently living in the Bay Area with her partner and four bikes.