The Founder of ClassPass Is Finally Opening Up
Even through the company's recent drama, Payal Kadakia refuses to break a sweat.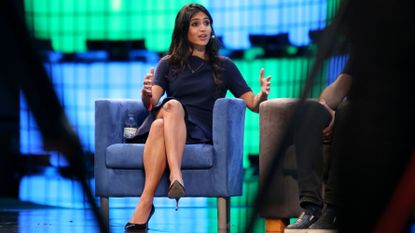 (Image credit: Getty Images)
The color scheme of the ClassPass offices in New York City is dominated by a breezy turquoise. It appears on table legs, rocking chairs, and in the company logo, formed out of shoelaces. The founder, Payal Kadakia, leans into the fashion-forward lobby to introduce herself, flashing a bright smile beneath long, bouncy hair. The whole effect is dazzling.
She wants to discuss ClassPass's future, but I'm keen to talk about its past: After a meteoric rise to cult-favorite status as the go-to fitness service for millennials across the country (the company booked more than one million classes in 2014), ClassPass raised its prices nearly 200 percent last year, leading to outrage among clientele and—perhaps not directly—the departure of Kadakia from the company's senior-most leadership position.
At an event soon after the price hikes were made public, Kadakia said she was taken aback by the backlash. She still stands behind the move. "I never feel bad. You can't feel bad—you have to just make the best decision you can at the time you're in, and be like, that's the decision I believe in," she says now. "Make a decision, though. The worst thing you can do is sit there and do nothing, right?"
That definitive inertia is what brought Kadakia here in the first place. In 2011, she was quietly raising money for her lightbulb idea—a fitness service that gave users membership to not just one gym, but all of the best boutique exercise classes in the area—on the side of her "real" job at Warner Music Group when a mentor told her that if Kadakia didn't trust her idea enough to pursue it full-time, she wasn't worth investing in. "Ever since that day, February 11 of 2011, I never, ever looked back. Just straight forward," Kadakia says. "I'm going to go and get everyone to class."
The company officially launched in 2013, giving users the opportunity to experiment with all different kinds of exercise—spinning, hip-hop dancing, Pilates—at a major discount from the studio sticker price. Fitness enthusiasts flocked to the brand. By 2016, the company was valued at nearly half a billion dollars.
But last year was a tough one for the startup. They upped the monthly unlimited membership from $99 to $125 in July 2015, then to $190 for New York-area users in April 2016 before finally abandoning the unlimited model altogether seven months later (the cheapest package is now $45 for three classes). The customer reaction was swift.
goodbye @classpass. increasing the monthly price by $100?! i'm better off re-joining equinox. pic.twitter.com/vpvsvXdai1April 27, 2016
See more
Dear @classpass, maybe you should've thought about your business model before deciding it didn't work. The WORSTNovember 2, 2016
See more
.@classpass is discontinuing its unlimited membership!!! Hell of a business plan they have going on over there. #classpassNovember 2, 2016
See more
.@classpass you want to raise memberships from $99 > $125 > $190 in less than a year?! pic.twitter.com/Z8pufyoPeCApril 27, 2016
See more
But Kadakia had been watching the company's model become unsustainable ever since its founding. According to Fast Company, leaked internal documents show that in 2015 the business was having trouble bringing in revenue. "We launched unlimited and it was great and we decided to keep it. Engagement just kept going up. People were working out more and more, trying more studios, more people were joining," she says. "Given we had grown so much and the product experience was better, would people be okay with [a price increase]? Would the product still have growth and virality?" Kadakia wonders. "We started testing those packs, and they did phenomenally well."
Kadakia's version of events breezes over any suggestion that customers might not be psyched to pay more money for less product. In fact, ClassPass has disclosed that it lost 10 percent of its users due to the price increases. But when pressed about the social-media rage of the last year, Kadakia's smile doesn't break. "Yeah, I mean, I'm not going to sugarcoat it," she says. "I built a product to inspire people, so it's not great. That being said, I do believe it's an amazing product. I think the engagement on it speaks for itself."
She released the news of the subscription model change to users in an email on November 2, 2016. "Having to write that email… I wish I could have—and I still wish—that I could just show people what the product is going to look like in a year. Or two years. Because that's why we did it. It's going to be bigger, it's going to be better, it's going to reach millions more people," she says enthusiastically. "I know in my heart that the product's going to be better, and I could write that email and I wanted to convey that, but I know that until people use it, they won't fully see it."
Instead of watching the reactions on Twitter, Kadakia buried herself in meetings. "I spent that day doing product innovation, on purpose. Because I'm like, the best thing I could do today is find a way to give back," she says. Many of those innovations have already been rolled out: members can now take classes in the comfort of their homes via video-on-demand and go to their favorite studios more than three times per cycle.
Still, in March, ClassPass announced that Kadakia was swapping roles with her colleague, Fritz Lanman: Lanman was appointed CEO, while Kadakia became executive chairman. The move came after months of rumors that Kadakia was being ousted, with some sources telling Business Insider that she had "effectively stopped being CEO" as early as last summer.
"I had started to take more of an operating role, and this was a title mismatch," Lanman toldFortune in March. "The CEO was supposed to be the operator, and the executive chairman was supposed to be the person handling more key strategic projects. So we just changed titles because we organically evolved to this place."
Kadakia pauses when asked how she feels about the optics: a 34-year-old woman of color's leadership role going to a 35-year-old white male. "The best thing I could do is build a successful company, and continue to innovate and be in the right role I want to be in. If I'm not doing that, I'm inauthentic. That's not a good role model to anyone. That, to me, is the most important thing," she says. "It's about knowing yourself and what you're good at. Females, males—anyone can be anything they want to be."
What are her thoughts on the recent misfortunes of other female-led startups, like NastyGal or Thinx? "You can get caught up in all that noise," she says. "I feel grateful I'm a female. I built a product for a lot of females to be more empowered in their life, but like…I could be labeled all day long. Everyone can. You either see that as something that restricts you, or you're just like, 'I am label-free.' A hundred years ago, men went to work, women didn't really. Now that's changed. We just need the world to catch up."
While the world is catching up, Kadakia is staying busy. "Startups are hard, but you keep a positive attitude because you believe in what you're building," she says. And despite ClassPass's recent hurdles, Kadakia hasn't stopped believing. The world will never see her sweat.
Follow Marie Claire on Facebook for the latest celeb news, beauty tips, fascinating reads, livestream video, and more.