How to Climb the Corporate Ladder—No Matter Your Company
Tips from our career coach for landing that manager title.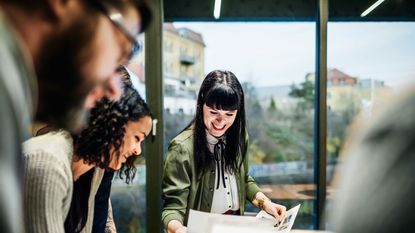 (Image credit: Tom Werner)
Every month, career coach Liz Bentley will be answering your candid questions about work, so you never have to stress about the office.
Upward mobility is a big challenge in today's workforce. There are many people like you who enjoy what they do and like where they work but are not getting opportunities to rise or promotions in both title and income. Delayed retirement is part of the reason. In today's world, 70 is the new 60! People need money to fund their longer lifespans and they enjoy the work, which doesn't allow for openings at the top and stifles movement.
We also live in a time of enormous change driven in large part by technology and a revolution in how we communicate. This is changing entire industries, allowing disruptors to survive and making things happen fast. Companies have to be agile and ready to adapt, so their staffing needs are constantly evolving. In this environment, finding a path forward can be unclear and requires patience and creativity. Here are the steps you can take to set yourself up for growth.
1. Anticipate and Develop All the Skills You Need
Depending on your business, there are different levels of management and responsibilities for moving up. Be aware of the skills you will need both technically and personally. The technical skills can vary but may include number crunching, negotiation, analysis, social media, specific software expertise, etc. The people skills include your ability to:
Communication is critical to navigating and managing people—even when you are not the manager. Other people skills include your ability to get along with all types of personalities and influence them. This allows you to get stuff done in a timely manner by shepherding people, issues, and tasks to completion...completion being the key word. Every leader values someone who can get things done, make it look easy, and do it without carnage; we all know people who can get it done but make a lot of enemies at the same time.
2. Be Proactive and Aware of the Possibilities
Once you feel you know the skills needed to advance and are working on them, start to look for your next position. It's important to note that you do not have to be ready for the next position to look for it. It may take time, so have your eyes open and be ready.
Moving up is always easier internally than externally, especially if it's your first management role. Because they know you, you are less of a risk. To get that job, identify the decision makers. Sometimes there are many because a lot of people influence that particular management role or because you don't yet know which management role is going to open. Often to get a job, you are waiting for some kind of movement to happen: a person to leave the company, get fired, or promoted. Occasionally a position will be created. Because it may be hard to predict the opening, be ready and working toward the job before it's available.
3. Have a Great Attitude
Realize that everyone around you wants to advance too. Most people are not looking to stay in one position indefinitely. Show your engagement to your company by being all-in. Commit to working hard, knowing the goals for your work according to your boss' view (not your goal of getting ahead) and how those aligns with the team and impact the big picture. Always ask for more responsibility; don't complain or have a bad attitude.
4. Get Support and Always Be Networking
Don't be afraid to ask your manager for advice or share your career goals, but also look to mentors and people in and outside of your industry for perspective. If you don't think you can advance at your company, look around to other businesses that might make sense. But always work both sides of the fence—your company and the other companies in your industry at the same time. This is where networking is key. It will help you stay on top of the current state of your role and industry while also getting crucial insights into future trends.
Throughout your career, remember to be proactive, agile, and in a constant state of learning. You are in charge of your professional progression. If you work hard, build your skills, and look for opportunities, you will forge a path that challenges and fulfills you.
For more stories like this, including celebrity news, beauty and fashion advice, savvy political commentary, and fascinating features, sign up for the Marie Claire newsletter.
RELATED STORY
Celebrity news, beauty, fashion advice, and fascinating features, delivered straight to your inbox!
Liz Bentley is the founder of Liz Bentley Associates, a consulting firm specializing in leadership development programs for individuals and companies. Drawing upon her background in psychology, previous experience in sales and management, and a lifetime of experience in competitive sports, Liz has a unique appreciation of mindset and the power it has to change patterns of behavior. Liz received her BA in Psychology from the University of Virginia and her coaching certification from New York University.