How I Paid Just $0.73 at Closing When I Bought My House
The trick is to do your research.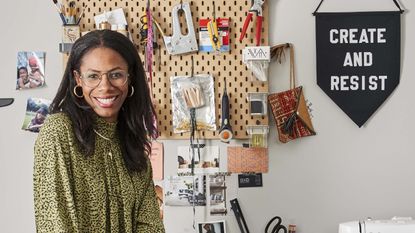 (Image credit: Stephen Karlisch)
Nasozi Kakembo was living with her son in Brooklyn when she decided she wanted to buy a home. A change of location and an extensive search of homebuyers assistance programs led her to one that covered everything but $0.73 at closing.
Three years ago, I was living in New York and thinking about buying a home. Obviously, it's a very competitive market. And after 12 years living there, I was feeling kind of burned out by the city. I have a son who was in 2nd grade at the time, going into 5th now, and I was looking for something a little easier in terms of school and neighborhood and just a different quality of life.
I have family in Maryland, where I was born and raised, and I started thinking, "What would it look like if I went back?" So, my son and I moved south.
I didn't want to jump in and purchase a home right away, because I had been self-employed. Then I started working for Johns Hopkins, so I wanted to get that sorted a bit before applying for a mortgage. I wasn't a complete novice: I've always been interested in real estate and I have my masters in Urban Planning. I like to have my finger on the pulse.
But it was very much still a process of understanding and researching what else the mortgage companies consider, so that I could be the optimal candidate.
Here's what they're looking for: a steady employer and some money in savings. And they really do compare what your debt to income ratio is. Mine was not ideal because of school, so that was really the biggest hurdle for me; even when I was able to change out the school loans and get the ratio lower, the challenge was paying enough off while still having enough for my down payment. When I had some money I felt obligated to pay down the debt as opposed to using it. That, I think, is one of the issues with millennials: We do have so much student loan debt. It's a deterrent to home ownership. So that was a really exhausting thing.
I thought, There has to be some other way. Everything else checked out: I had an amazing credit score, a great job, and I'm responsible with my money. Every now and then I would hear about homeowner incentives in designated pockets around campuses. When I was really ready to consider home ownership, I literally just googled "Home Ownership Grant." There were various things: a national program called NACA, and a few different types of programs from the state of Maryland that offer assistance for homeowners with a certain amount of student loan debt. Some of them were kind of confusing, and some were not the right package for me, but I came across a county program and went to an intro session.
Many of these are for people with bad credit, but that wasn't my issue; mine was literally just the down payment. So the program I ended up with was specifically to help with the down payment and closing costs up to $15,000. It was income-based, but the guidelines were middle income. So I registered for this program. I had a home counseling workshop with a mortgage lender and then a one-on-one where I had to print out my credit report, my pay stubs, and go through it all. They really drill you down in how much do you spend on everything a month. These are incidentals but they add up. It was a 30-day closing.
I found the home based on what our needs were. My wish list was for things that are normal in most other parts of the world outside New York, like I have to have a dishwasher! My realtor was like, "Uhh yeah, every place has a dishwasher." But I hadn't had a dishwasher for 12 years—that was priceless to me!
I was able to get a place with outdoor space, a dishwasher, washer/dryer, and my own parking spot. It's a three-bedroom, three-bath in a solidly middle-class neighborhood. My son has his own bathroom and mine is on the main floor, then his area is upstairs, so we have a little bit of space between us. It's really the perfect home for us and it wouldn't have been possible had I not had that amount for the down payment and closing. Plus, my realtor then put it in the contract that the seller would contribute 2% for closing and then that $15,000 from the county program left me with just $0.73 at close. Because my credit score was high, I could still get the best possible mortgage rate at the time.
After the purchase, I completely transformed my home with a series of DIY projects once I moved in. I started with the kitchen: I painted the cabinets a grayish blue and added new hardware, which was the hardest part because there are close to 30 cabinets—which meant I had to drill 60 holes! I would have to take breaks in between. Then I also added marble contact paper on the counters and installed the same IKEA shelves I had in my apartment in Brooklyn. I knew I wanted subway tile—that was a nod to my New York background—and I did it myself. It was so rewarding doing that backsplash; it made the whole kitchen. And if I had paid someone else to do that it would have been a lot of money. It's safe to say this house has been quite an adventure.
Image 1 of 8
Celebrity news, beauty, fashion advice, and fascinating features, delivered straight to your inbox!
Hadley Keller is a writer and editor based in New York, covering design, interiors, and culture. She served as Associate Market Editor, Design Reporter, and News Editor for Architectural Digest and AD PRO before joining House Beautiful, where she is Digital Director for the brand. Hadley is a staunch maximalist and vocal opponent of the Open Floor Plan.