Captain Sarah Kociuba Is One of 10 Female B-2 Pilots. She's Flying the Bomber Over the Super Bowl.
Sunday's historical Super Bowl flyover will be captained by Kociuba.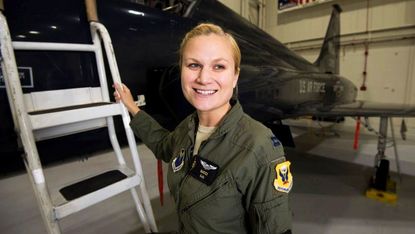 (Image credit: Courtesy / Photo by Staff Sgt. Kayla White )
Super Bowl Sunday will serve up many spectacles: Singers Eric Church and Jazmine Sullivan will belt out the National Anthem, The Weeknd is performing at halftime, and yes, there will be a football game to watch in between!
But none of the events will be quite as historic as the first-of-its-kind pre-grame show: A trio of bombers will zip through the air over Raymond James Stadium in Tampa in unison, clocking speeds over 300 mph.
The mission will be lead by Captain Sarah Kociuba, one of only 10 female B-2 pilots. (The B-2, a stealth bomber, is one of the world's most famous and most powerful planes, known for its ability to evade enemy defenses.) She'll take off from Whiteman Air Force Base in Missouri and link up with two other jets over the Gulf of Mexico. Then, the three planes will head toward the field and perform a synchronized show. The maneuver requires precise and hyper-controlled skill, but if anyone can lead such a difficult mission, it's Kociuba. She's flown more than 90 combat missions and currently trains other pilots hoping to man B-2 aircrafts.
Here, Captain Kociuba shares more about the historic moment, how she stays cool under pressure, and the importance of getting more women behind the yoke (ahem, a plane's steering wheel!).
Marie Claire: Did you always know you wanted to be an Air Force pilot?
SK: I grew up in the suburbs of Cleveland. My dad was a civilian pilot, my uncles were civilian pilots, and both sides of my family have a military background. My parents loved going to air shows and they took us to a ton when I was a kid. When I was 11, we went to the Rose Bowl Parade—that's when I saw my first B-2 bomber. I thought it was the coolest thing. Even as a little kid, I was enamored by flying.
Growing up, my parents pushed me to do whatever I wanted. I thought I wanted to be a doctor. After my first semester at University of Dayton, I got introduced to ROTC and they had an Air Force and an Army ROTC unit. I just decided, You know what, I'm going to give this flying thing a shot.
MC: The B-2 pilot squad is highly elite. How did you end up flying such a famous aircraft?
SK: I went to undergraduate pilot training at Columbus Air Force Base. It took a little over a year, and then I earned my wings, as we call it. I had just over 230 [flight] hours at that point. So, at the end of pilot training, I got assigned to the KC-10—that's a 590,000 pound aerial re-fueler that gives gas to other planes in the sky. That was at McGuire Air Force Base in New Jersey. I was there for a little over three years and did more than 1,000 hours of flying with over 500 combat hours deployed.
But I always loved the B-2, so I applied to come here to be part of this unit. I was chosen out of a large group of pilots in the entire Air Force. After being accepted, it's about another year of training to get qualified in this jet. Now, I've been here almost four years. And I teach other B-2 pilots.
MC: Did you ever expect to do a mission like the Super Bowl flyover?
SK: I am very excited and humbled to be chosen to lead this formation. I would say those are probably the two words that come to mind. It'll be two instructor pilots flying this mission; I'll be leading not only the B-2, but the entire formation of bombers, the B-1 and the B-52. I'm a huge football fan. I love watching football—I'm bummed I won't get to watch the game live!
MC: What makes it so historic?
SK: We're using our total force integration—so our guard and our active duty—to get all three of these bombers at three different Air Force bases together to fly in this tight formation, to really showcase the three bombers, the B-1, the B-52, and the B-2.
If we can walk away from this Super Bowl and this flyover, and some of your readers, some kids out there, some teens, whoever is watching, if any one of those individuals is inspired just by the awe of these three bombers during the flyover, I can walk away happy.
MC: How long have you and the team been preparing for this mission—and what goes into that?
SK: A few weeks. It's a lot of back and forth coordination between all the agencies involved, including the NFL. Then there's the Federal Aviation Administration. We have to think about all the other commercial aircraft and civilian aircraft in the area.
But the biggest part of the prep is planning how we're taking all of these jets to rendezvous at a point in space that is very low altitude. We're in a very tight formation, very close together, and moving very fast. So, we'll be anywhere from 250 knots to 300 knots [around 280 to 345 mph]. We have to plan that pretty precisely.
MC: Is there a specific part of the sequence that is particularly tricky?
SK: The most exciting part will certainly be all of us in that tight formation with our engines blasting at "home of the brave" [during the National Anthem]. But the most tricky part really is getting all those jets rejoined in a formation low to the ground, close together, and at that fast speed.
MC: You must be one of the calmest people in the world. How do you keep your cool in such high stress situations?
SK: Mindfulness definitely plays a part in it, but the biggest piece of it for me is the extensive training that we do. We do so much training, whether it's studying or doing simulator or training missions. While we're actually flying, the amount of training that we do to be prepared covers that nerve for me. I am ready to go when it's time to fly that aircraft. I have studied. I know the knowledge. I have practiced in a simulator and I'm ready to go execute it. But it definitely takes a certain amount of calm to be in a jet. You can't be stressed, and you can't be high strung. You got to be calm and ready to go because you're moving very fast and have to make decisions very fast.
MC: Is there anything you do the morning of a mission to get in the right mindset?
SK: For me, it's just [another] day. But I am a big runner—I try to run five days a week. The night prior [to a big mission], I'll go for a good run with my dog. Then, I try to practice yoga and meditation as much as I can. But just like everybody else, it's so hard to fit that into your day. When I wake up the morning of a mission, I immediately need coffee to start acting human. Since we fly such long missions [they can be 30 hours], I always take my dog over to my friend's house, so I don't have to worry about her and she can go play with her dog friends.
MC: You're one of only 10 women to fly B-2 planes. What does it mean to you to be one of such a small number of women doing this?
SK: When I showed up to Whitman [base], I was the only girl here. I remember being a little surprised. We are all humbled and honored to be part of this elite group of pilots. I honestly love when little kids come up to me and ask, "Are you a pilot?" I love giving them encouragement, "Yeah, you want to fly, too?"
MC: We know that statistically there are fewer women in STEM. That's partially because there aren't as many resources in school or encouragement for young girls to pursue careers in STEM. Do you think inequality results in fewer women becoming pilots?
SK: I would say that you don't have to have that STEM background [to be a pilot]. While it's helpful, I think there's kind of a misconception that to be a pilot, you need to have this extensive knowledge and background in science, mathematics, and engineering. I'm not making the plane, I'm flying it. [There might be] some girls out there thinking, Oh, shoot, that's not my best subject. I guess I can't do that. [We've] got to combat that. But I, personally, was raised to go for what I wanted.
I don't think I really saw many female figures that were pilots. I just saw it as something that I really wanted to do. It does help that when [young girls] see me leading a flight, they think, That's something I can do. I see her out there, I can do that too.
Related Story
Megan DiTrolio is the editor of features and special projects at Marie Claire, where she oversees all career coverage and writes and edits stories on women's issues, politics, cultural trends, and more. In addition to editing feature stories, she programs Marie Claire's annual Power Trip conference and Marie Claire's Getting Down To Business Instagram Live franchise.