Game Changer
Millions of die-hard female fans are changing the face of pro sports in this country—everything from who's running the teams to who's buying the merch. Leading the charge: baseball exec Kim Ng, who's out to bust the boys' club once and for all.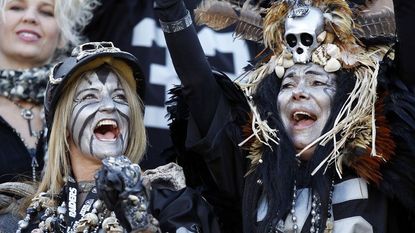 (Image credit: Marie Claire)
Kim Ng breathes baseball. When she's up in the team's box suite, along with the scouts, owners, and reporters, she acts just like one of the guys—stroking her chin while scrutinizing a batter's stance, tinted Ray-Bans obscuring her eyes. Ng, 43, has spent her entire career with guys like these, mostly white middle-aged men who refer to their jobs in almost religious terms. At age 29, she became the youngest assistant general manager in Major League Baseball—for the New York Yankees, no less, serving under the near-deified Joe Torre and helping to earn the gilded team four World Series titles. Four years later, she was recruited by the Los Angeles Dodgers, and when the general manager post opened up there in 2005—Paul DePodesta, the statistics-driven protégé of Oakland A's GM Billy Beane who inspired Jonah Hill's character in Moneyball, lasted just two seasons—she was widely considered a shoo-in. (If a nerd with minimal playing experience could run a team, why couldn't she?) The promotion would have made her the first female GM in sports history, responsible for the team's roughly $90 million payroll, player transactions, and the hiring and firing decisions that routinely make headlines (and keep the fans squawking long after the season has ended). Only Ng didn't get the job.
In 2008, she was up for the GM position again, this time with the Seattle Mariners. They passed in favor of Milwaukee Brewers special assistant Jack Zduriencik. A year later, she interviewed unsuccessfully to head up the San Diego Padres. Last year, the Los Angeles Angels met with Ng but ultimately went with a man. To be clear, it's not that she isn't good enough for the post. Because she is, and everybody knows it. "We've been steeped in tradition for so long that I think there's probably some hesitancy on the part of clubs to [appoint a woman]," says Torre, now the executive vice president of operations for MLB. "I'm not sure who's going to take that first leap, but it's inevitable."
Still, that Ng is even a contender represents a huge shift in American sports: No longer bored and counting down the minutes till the seventh-inning stretch, women have claimed their own place on the couch, tossing back Buds and chicken wings alongside their men, families, even other girlfriends while catching the game. They've become crucial to the fan base. Some 67 million women count themselves baseball fans—that's just over half of baseball's audience. Other major league sports have enjoyed similar gains: Some 37 percent of basketball fans are women; it's 44 percent for football. An estimated 43 million female viewers tuned in to the Super Bowl earlier this year, making it more popular than the Oscars.
While marketing execs at the league offices have taken note of the gender shift, they've fumbled trying to capitalize on it. Until recently, the best a female fan could hope for was a lone rack of too-tight bubble-gum-hued jerseys sidelined in a corner at concession stands, a strategy baseball marketers dubbed "shrink it and pink it." In recent years, the leagues have wised up and inked deals with the likes of Forever 21 and Victoria's Secret, who hawk tees, leggings, and even thong panties in team colors and emblazoned with team mascots. Half of the shoppers on nbastore.com, where logo-ed bikinis and Swarovski-encrusted tanks are best sellers, are women; among the NFL's most popular products are nail polishes in team colors (think Eagles green and silver). The NFL is even developing a line of team-inspired false lashes. Licensed women's apparel for baseball, basketball, and football has become a huge business, generating $330 million last year, according to market research firm SportsOneSource.
There's also been an uptick in the number of women making careers in pro sports. Not long ago, a woman considered herself lucky if she could get a job answering phones for MLB. Today, 17 percent of the league's vice presidents are women. At the team level, there are a handful of women in influential pro-sports posts—among them, Yankees Vice President and Assistant General Manager Jean Afterman (Ng's successor); Dawn Aponte, senior vice president of football operations for the Miami Dolphins; and Katie Blackburn, executive vice president of the Cincinnati Bengals. "When you look at men's professional sports, women have made the most headway on the business side," says Val Ackerman, former president of the WNBA, now an adjunct professor of sports management at Columbia University, where, she says, half of her students are women. "What you don't see a lot of is women working on the sports side. That's what makes Kim very unique. If she were to get a job as general manager, it would be the new frontier."
Ng never set out to be a pioneer—she's just always loved the game. The oldest of five sisters, she grew up playing stickball on the streets of Queens, New York, and has been cheering for the Yankees as far back as she can remember. She played softball at the University of Chicago and wrote her senior thesis on Title IX, the landmark 1972 legislation requiring schools receiving federal funding to provide equal access to sports to both boys and girls. Though her banker mother pushed her to pursue a more traditional field, Ng landed an internship with the Chicago White Sox. The timing proved fortuitous: Analytics-based scouting, as trumpeted in Michael Lewis' best seller Moneyball, was taking over the sport, and Ng was among the first wave of brainy, computer-savvy grads supplanting the ex-ballplayers in management. She was a deft number cruncher. "I would say technology gave me a chance," she says. "When I started with the White Sox, we were the first ones to use a program that could analyze pitches, track fly balls, stuff like that, which probably 90 percent of the clubs are using now." Ng quickly caught the attention of White Sox GM Dan Evans, who hired her at a starting salary of $20,000 a year. The pay was meager, hardly enough to live on, so Ng took on two other jobs to pay the bills.
Within six years at the White Sox, Ng had risen to become assistant director of baseball operations, and soon after, left to become assistant general manager of the Yankees. The assistant GM job was exciting but tough—logging 90-hour workweeks; traveling thousands of miles across the country to games and to visit the minor leagues; and dealing with grizzled, gum-chewing baseball old-timers averse to not just technology but also the woman wielding it. Ng's husband, a film editor whom she met in college, was supportive. "The good thing is, we met so young that he knows the drill," says Ng. She quickly proved herself a skilled negotiator, going up against—and beating—pitchers Mariano Rivera of the Yankees and Eric Gagne of the Dodgers in contract arbitration disputes. (Gagne walked away with $3 million less than he was asking for.) Ng also stood out for "her willingness to offer her opinion," says Torre. "And in a lot of instances, it's not the popular opinion that she offers."
After she was passed over for that last GM spot, Torre installed her at MLB headquarters in New York, reporting to him as the senior vice president of operations. From there she'd be in a better position to meet with club owners who could hire for the GM spot. Last year the Angels came to Torre—who holds Godfather levels of sway in the league—requesting an interview with Ng. He told them to go ahead but that he'd "hate to lose her. "Right away they offered to drop her from their list of candidates. "I said, 'No, no! This is what she needs to do! I'd hate to lose her doesn't mean I'm not going to recommend her.' It was funny and it caught me off guard a little bit because all I was trying to do was be emphatic about how qualified she is." Still, she didn't get the job.
Today she oversees international baseball operations and scouting for the league. She is responsible for building out the league's footprint in the Dominican Republic—a prolific producer of baseball talent but thus far a largely bare-bones operation—and is working on a strategy to revive baseball in Puerto Rico. The job can be maddeningly tedious—making sure that pitching mounds at training fields are up to regulation, ensuring batting practice starts on time. She's not dealing with the players like she did as an assistant GM all those years: no injuries to stay on top of, no egos to stroke. But it'll do until she's finally where she belongs: on top and running the show somewhere, a dugout shot-caller with a bob and boot-cut jeans. "I never look too far ahead in terms of my career," Ng says with trademark nonchalance. "I think if you do a good job, people will recognize that."
Follow @YaelKohen on Twitter.
Celebrity news, beauty, fashion advice, and fascinating features, delivered straight to your inbox!