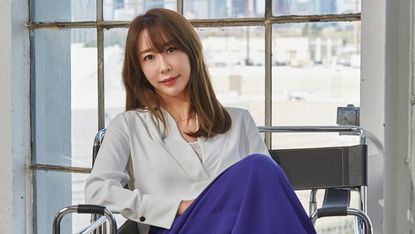 (Image credit: Bank of America)
Marie Claire Newsletter
Celebrity news, beauty, fashion advice, and fascinating features, delivered straight to your inbox!
Thank you for signing up to Marie Claire. You will receive a verification email shortly.
There was a problem. Please refresh the page and try again.
Amidst the economic uncertainty of 2023, planning for the future is more important—and more challenging—than ever. According to a recent Bank of America survey, 78 percent of small business owners expect that a potential recession would impact their business, potentially forcing them to raise prices, slow hiring plans and reduce spending.
Enter Jenny Son, a small business banker at Bank of America who has helped business owners plan ahead and invest in their success for the past five years. Son serves as a sounding board and advisor to business owners navigating day-to-day business challenges and choppy economic waters. For Son, relationship building and puzzle solving is exactly what makes her job so enjoyable. Though every business challenge is unique, years of experience have taught Son there are similarities in the issues that tend to pop up for business owners—especially women entrepreneurs.
Ahead of Women's History Month, Son shared some of the top tips that have helped her clients over the years.
Control What You Can
Son encourages all entrepreneurs to focus on the elements of business ownership within their control, particularly in a tough economic climate. There will always be headwinds that business owners need to weather rather than fix, but sometimes there are simple solutions to the challenges impacting their operations.
For example, Son encourages clients to embrace digital tools such as mobile check deposits and balance verification, eliminating the need to run to the bank every time they need to deposit a check or check their account balance. Resources like this can save business owners significant time each year that they can devote to their family and friends.
Understand Your Options
Son says sometimes her clients don't know they can simply fix or enhance their processes by having just a bit more working capital. So, in any client meeting, she always presents all the solutions available, which allows her clients to decide on the best option for their business. "Helping my clients access capital to run or expand their business in a responsible way really gives me pride in what I do," Son says. As securing capital is critical for most clients, this typically involves highlighting the traditional and non-traditional funding options available.
Stay Nimble
Son says the most successful business owners she works with embrace a "learning attitude." In a rapidly changing world and economy, business owners must train themselves to quickly adapt to new ways of thinking, planning and doing.
Fortunately, there are resources available to help business owners learn and become more flexible—like SCORE, Bank of America's Small Business Resources site, or more formal learning platforms from organizations like LinkedIn or the SBA.
Find Your Champions
Building trust in any relationship, especially a business relationship, takes time. Son says this is often one of the biggest challenges at the start of a new client relationship, as small business owners are extremely busy people.
"This isn't something you can rush through," says Son. "When clients know that I truly understand them, that creates trust and a bond that helps them understand I'm in it to help them."
Once that trust is established, having someone that understands the nature of the business and genuinely believes in the venture is invaluable.
Like any successful partnership, the benefits of Son's client relationships flow both ways. "Seeing these amazing entrepreneurs at work firsthand gives me the daily motivation to help them achieve their goals and overcome hurdles," says Son.
While achieving short and long-term business goals amidst a challenging economy may feel daunting to small business owners, understanding your options, making a plan, and finding a trusted advisor make a world of a difference.
To learn more about how you can reach your small business goals, consider contacting a small business banker at Bank of America.
Celebrity news, beauty, fashion advice, and fascinating features, delivered straight to your inbox!