Joana Vicente: The Change Agent
In an era when a million Twitter followers trumps a million-dollar paycheck, and viral videos capture more views than Hollywood blockbusters, all the old rules about power are dead. Today, networks are the new companies, and your contacts are currency. Knowing how to leverage them is real power. And nobody knows that better than the women spotlighted here, the most connected women in America Photographs by Meredith Jenks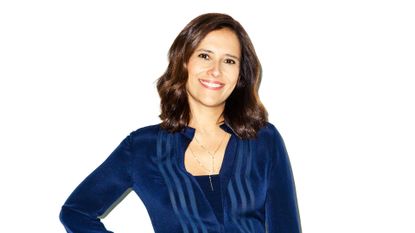 (Image credit: Courtesy of the Subjects)
JOANA VICENTE
Independent Filmmaker Project and Made in NY Media Center
IN THE SCHMOOZY, swaggering world of show business, producer Joana Vicente enjoys a decidedly low profile. Her oeuvre of 40-plus films—including Welcome to the Dollhouse and Coffee and Cigarettes—has been primarily small-budget, art-house affairs. And though she's a prominent figure in New York's tight-knit indie film community, where she and her producing partner, husband Jason Kliot, are based, Vicente isn't a red-carpet regular. Mostly she goes about her business—this Oscar-nominated, Sundance Film Festival–winning luminary—with little fanfare.
But all that's about to change. Vicente is well on her way to becoming a very big deal in New York, Hollywood, and beyond, thanks to her post at the helm of the Independent Filmmaker Project (IFP), the nation's largest collective of indie filmmakers. A year ago, the IFP unexpectedly won a city-funded bid to build the Made in NY Media Center, a massive 20,000-square-foot incubator in Brooklyn, New York, designed specifically for digital creatives, including not just filmmakers but also app developers, Web series creators, and the like. Says Vicente, "This is the natural extension of what we do at the IFP: curating stories, connecting storytellers to resources and audiences—matchmaking."
Last month, the center finally opened its doors with the short-term goal of connecting storytellers with collaborators, mentors, and, ultimately, investors. In the long term, the goal is to cement New York's status as the epicenter of digital media. What Robert De Niro did for New York cinema with the Tribeca Film Festival and what Jay Z did for Brooklyn sports with the Barclays Center, Vicente, 50, is doing for the city's tech bona fides with the Made in NY Media Center.
Born in the then Portuguese colony of Macao and raised in Mozambique, Vicente met Kliot while studying in Lisbon, Portugal. Later the couple moved to New York and began working in film. Huge supporters of digital film, which they saw as driving down the cost of filmmaking, they launched an all-digital film production company, HDnet Films, with billionaires Mark Cuban and Todd Wagner. One of their first projects—Enron: The Smartest Guys in the Room—received an Oscar nod.
When Vicente assumed the perch of the IFP in 2009, it was a "sinking ship" languishing in its 20th-century thinking. But Vicente saw an opportunity to broaden the IFP's reach. She amped up the celebrity quotient of the IFP's annual Gotham Awards, which kick off Hollywood's glitzy movie awards season. And when New York Mayor Michael Bloomberg put out a call for bids last year to build the media center, Vicente pounced. With a bid that emphasized networking, the IFP beat out bigger media outfts like the Tribeca Film Institute (De Niro's baby). Vicente's role now is to oversee the new hub.
"When I started, there was no Internet; now you can know everything instantly," she says. But what hasn't changed is the need for the right partners and a venue to broker those introductions. "Innovation comes from collaboration," she says emphatically. "Bring storytellers together with people interested in developing software or hardware to help them, and let people tell their stories." —Sarah Wildman
6 DEGREES OF JOANA VICENTE
The NYC film commissioner is a Made in NY Media Center collaborator.
MARK CUBAN & TODD WAGNER
These tech moguls cofounded HDnet Films with Vicente.
JASON KLIOT
Vicente's husband is also her partner in Open City Films.
JON MILLER
The former AOL chair leads the center's advisory board.
BRENT HOFF
The former Daily Show producer now runs the center's programming.
ANDREA BAKER
The former Lorne Michaels exec manages the center's operations.
Top, $850, Derek Lam; skirt, $1,490, Sportmax; necklace, $690, Lana Jewelry; gold ring, price upon request, Eva Fehren; diamond ring, Vicente's own.