What Your Boss Really Thinks About Your Visible Tattoo
A form of self-expression or just inappropriate at the office? Business leaders tell all.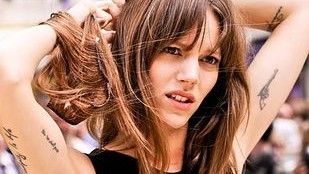 (Image credit: Marie Claire)
Your tattoo—a charming reminder of teenage angst or an homage to an important life event. Either way, it now accompanies you to the office each morning. While work environments and leadership styles vary across sectors, we sought to discover how your boss really feels about the visible piece of body art you sport day in and day out.
We rounded up responses from employers in various industries—including finance, fashion, government, tech, legal services and more—to understand the general feelings toward visible tattoos. As we thought, responses depended heavily on sector. The more creative the industry, the more tattoos were not only welcomed, but considered an asset.
"UrbanDaddy is a creative company filled with creative types, so naturally there are a lot of employees with visible tattoos," New York Editorial Director and Brand Manager Jessica Reuben told MarieClaire.com. "I remember when our New York editor came in to interview a few years ago wearing a short sleeve shirt. I could see a tattoo on his forearm—in block letters it said 'ABSURD.' I thought it was great, and that's why we hired him. (Kidding). But in all seriousness, tattoos are totally acceptable in a casual work environment. They are just like jewelry, only...permanent."
Our friends at tech start-ups echoed similar tunes, but advised that visible body art had a lot to do with the specific role. "I think it's a different story for someone who is client-facing," one start-up employer said. "But many start-ups are about authentic self-expression, and tattoos are a big part of that."
On the other end of the spectrum, bosses within the financial sector said that while tattoos are not formally discouraged, they would stand out in the office environment. "You would be judged," one financier said bluntly. Similarly, an executive in the news business cautioned, "As workplace culture evolves, it's certainly fine to show your personality at the office but you never want to jeopardize respect from colleagues based on provocative tattoos or placement. Depending on where the tattoo is (and what it is!) would change my opinion. A small flower on your ankle—no big deal. Lower back tat? I don't need to see that."
But there's at least one industry where tattoos cease to exist in the workplace. "I worked for the government for a brief period of time and had to cover the small heart tattoo on my hand with a Band-Aid every day," one former employee told us. "As I said—it was a brief period of time."
Marie Claire email subscribers get intel on fashion and beauty trends, hot-off-the-press celebrity news, and more. Sign up here.