The 12 Best Summer Work Outfits, According to Fashion Insiders
Your warm-weather workwear, simplified.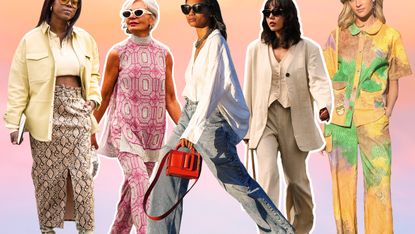 (Image credit: Future/Getty Images)
Marie Claire Newsletter
Celebrity news, beauty, fashion advice, and fascinating features, delivered straight to your inbox!
Thank you for signing up to Marie Claire. You will receive a verification email shortly.
There was a problem. Please refresh the page and try again.
Summer has arrived. It's the season of sunshine, naturally increased serotonin, and a "Responsibilities? It's 80 degrees outside and I don't have a care in the world!" attitude. And with these warmer days also comes a less-is-more approach to dressing, as the heat waves often dictate what you can wear. But when you work in an office, wearing less isn't necessarily an option—and you do have to care, especially about your summer work outfits, so Brenda in HR doesn't take umbrage. Moreover, the office dress code isn't the only aspect to consider with your warm-weather workwear: you also need to factor in your commute, your day-to-day agenda, and the ridiculously frigid temperatures of your little icebox—I mean, cubicle with aggressive central air.
To help you master in-office dressing during the impending heatwaves, Marie Claire tapped five industry professionals—two fashion directors and three expert stylists—for the best business casual summer outfits. Keep scrolling for all the seasonal outfit inspiration you could ever want, from linen pants to summery dresses to diligent yet easygoing work bags. You'll also find that since office dress codes are much more relaxed than they used to be (in case you missed it: wearing sneakers to work and casual outfits aren't just accepted but now encouraged), sartorial risk-taking with your office style has never been more welcome.
What to Look For in a Summer Work Outfit
"When it's hot, I like wearing clothes that feel breathable because there is nothing worse than feeling uncomfortable with what you're wearing," says fashion stylist Jay Hines. "Try different silhouettes—either dresses, trousers, or blouses—with materials that feel breathable" like linen, cotton, chambray, and jersey.
"I love the idea of fusing complimentary colors when styling a summer work outfit, as playing with color becomes such a fun task," shares Hines. "Whether these are bright colors or more minimalistic, the mismatch of colors such as emerald greens and yellows or whites and powder blues, for example, always complement each other."
Bold Yet Appropriate Footwear
"I strongly believe that no great professional look is complete without a statement shoe," states fashion stylist Mickey Freeman. "Though it is important to remain within the boundaries of your physical comfort zone, even a brightly-hued, reptile-skin embossed mule with a pointed toe can wow your co-workers."
"A good base is important [with a summer work outfit] because you never know when you need to shed a layer for comfort," stylist Timothy Chernyaev shares with Marie Claire. You may not want a lightweight summer sweater while schlepping your way in, but you certainly will once you make it to your near-Arctric, AC-blasting office.
Don't Forget About Jewelry
"Accessories are always fun to play with when it comes to summer dressing," Hines shares. "Whether you layer bracelets or stack rings, jewelry always adds a little je ne sais quoi to really complete and sign off the outfit."
The Best Summer Work Outfits
Vest and Trousers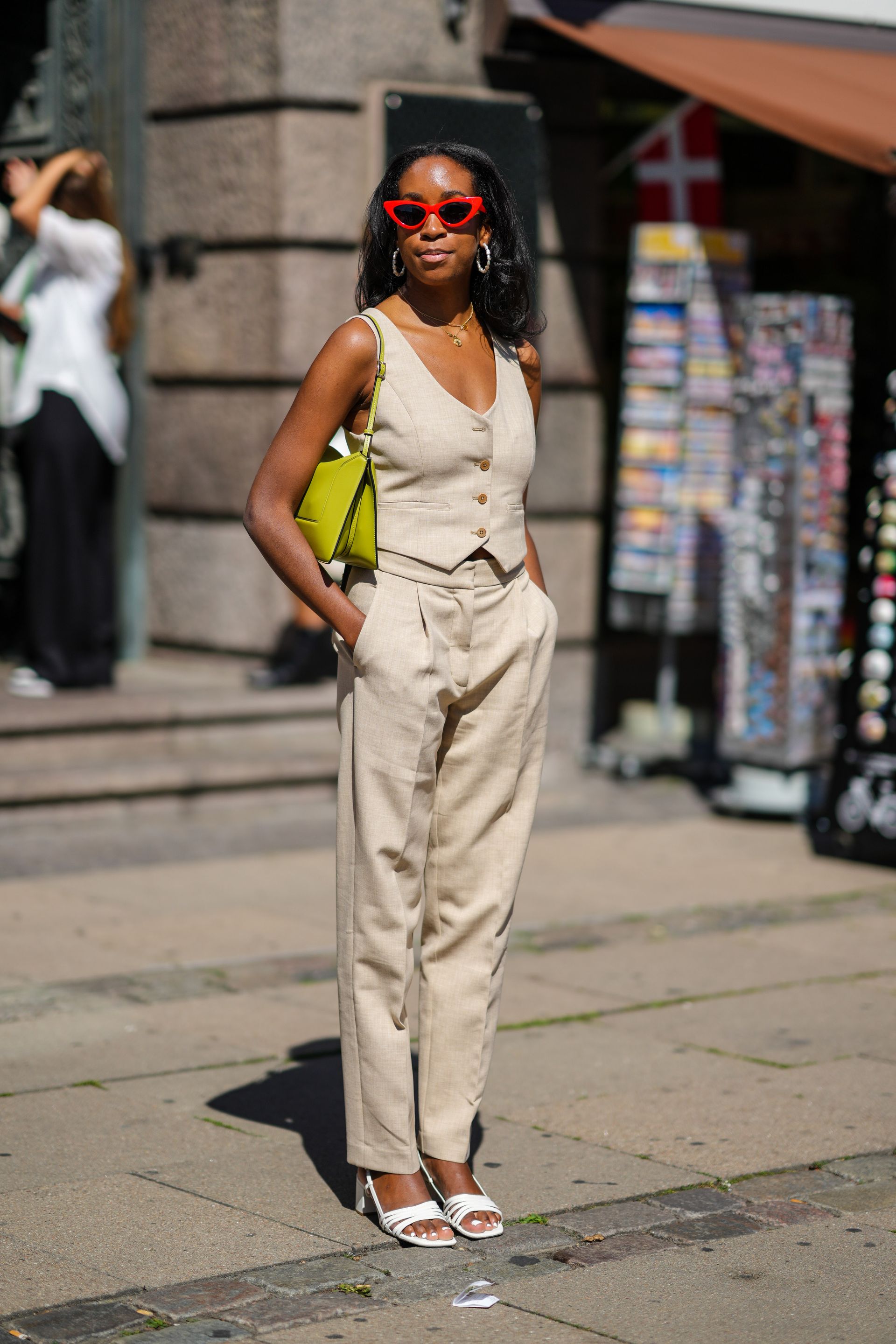 "With the resurgence of minimalism, I think there are so many amazing office-appropriate options right now," says Arielle Siboni, ready-to-wear fashion director at Bloomingdale's, particularly shouting out summer suiting. "I have been wearing tailored vests on repeat with matching trousers. I'm also loving this combo in linen."
A Matching Set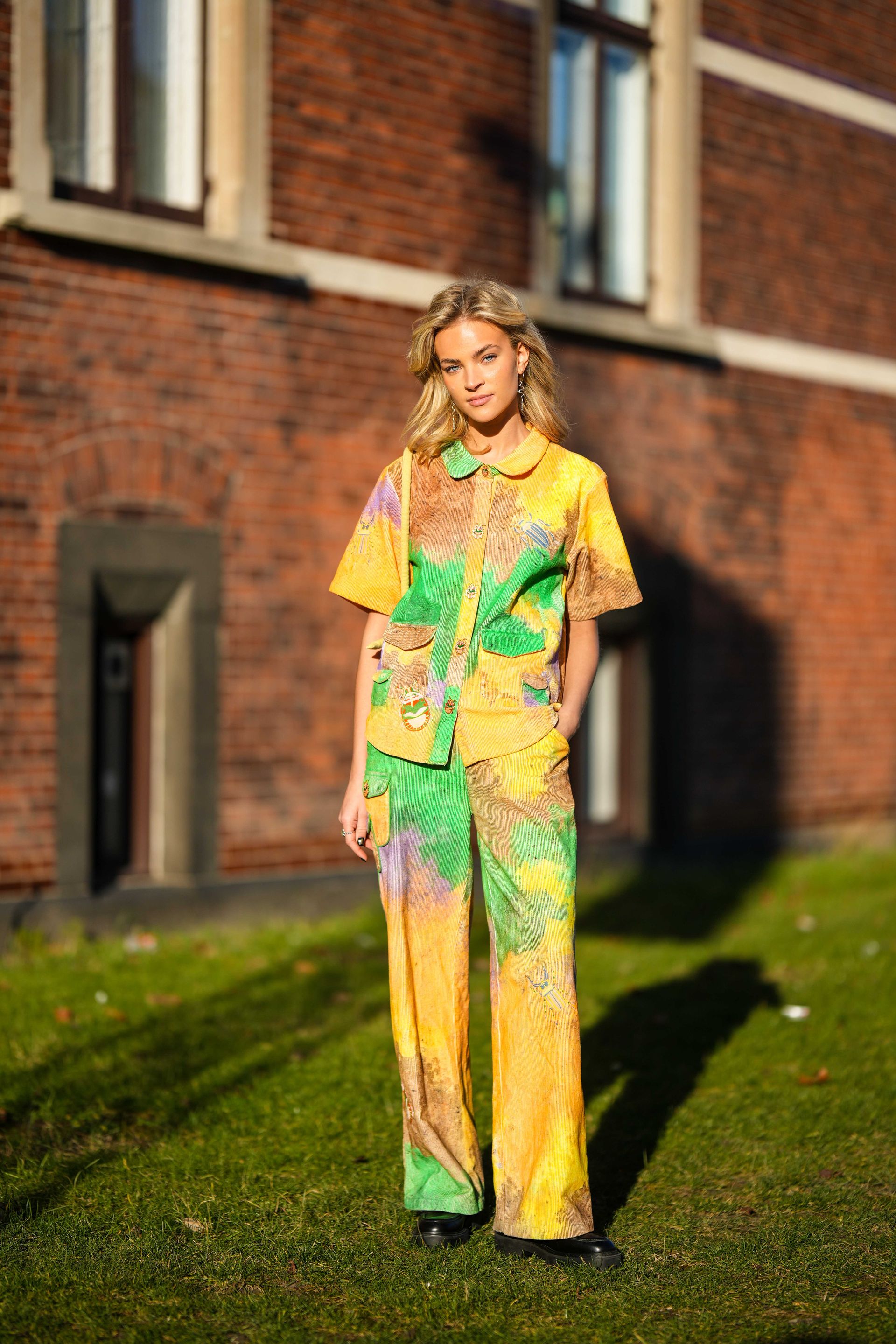 "I always look for matching sets in cotton or linen," shares Chernyaev. "Having a coordinating top and bottoms is a great way to look put-together when the weather is brutal. Plus, it's easy to get dressed in a hurry when you're running late." A true fashion win-win.
A Summer Work Bag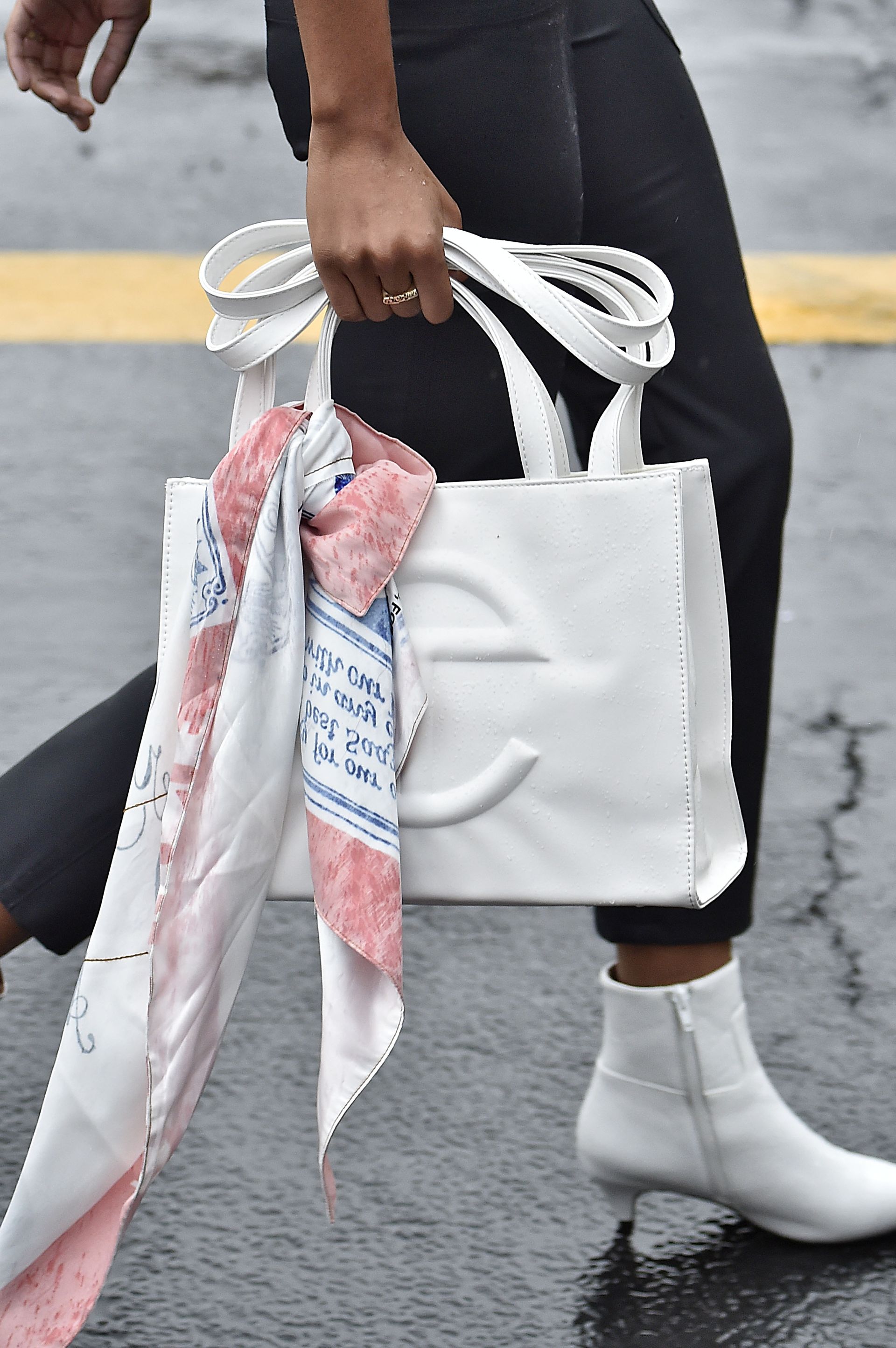 "A canvas or woven tote is the perfect way to transition your classic work bag into the summer months," explains Marissa Galante Frank, the accessories and beauty fashion director at Bloomingdale's. "Opting for one with leather trim and handles elevates the look, making it sophisticated enough for the office, and lightweight materials—like raffia or woven canvas—make it perfect for the season."
Linen Pants and a Tee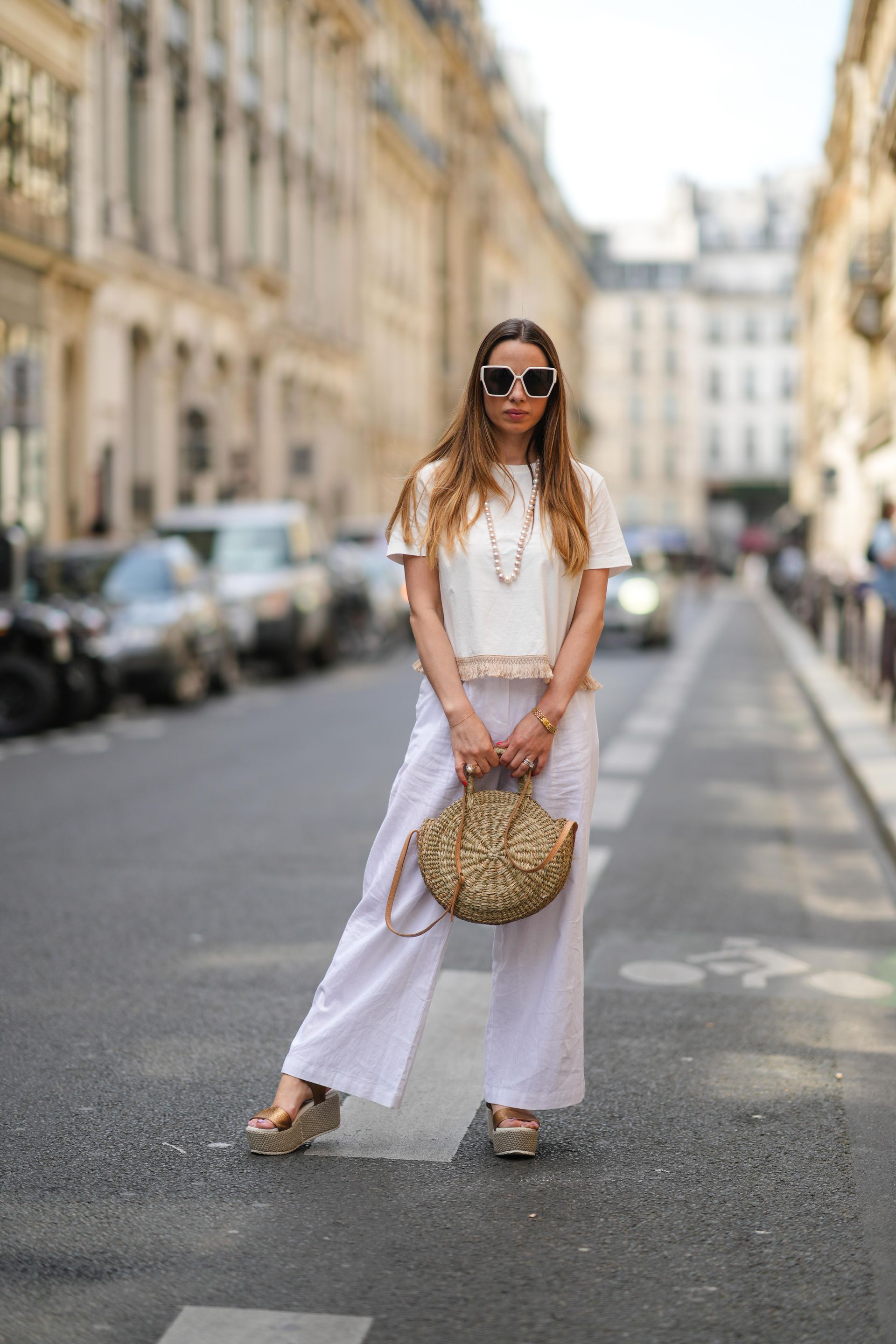 "I've always been a fan of wide-legged linen trousers paired with a crisp but slightly draped cotton T-shirt," says Freeman. Hines concurs, saying linen pants are a lovely way of "looking smart but casual—[they] have such a nostalgic feel, and I love pairing them with some tinted sunglasses."
Linen Suit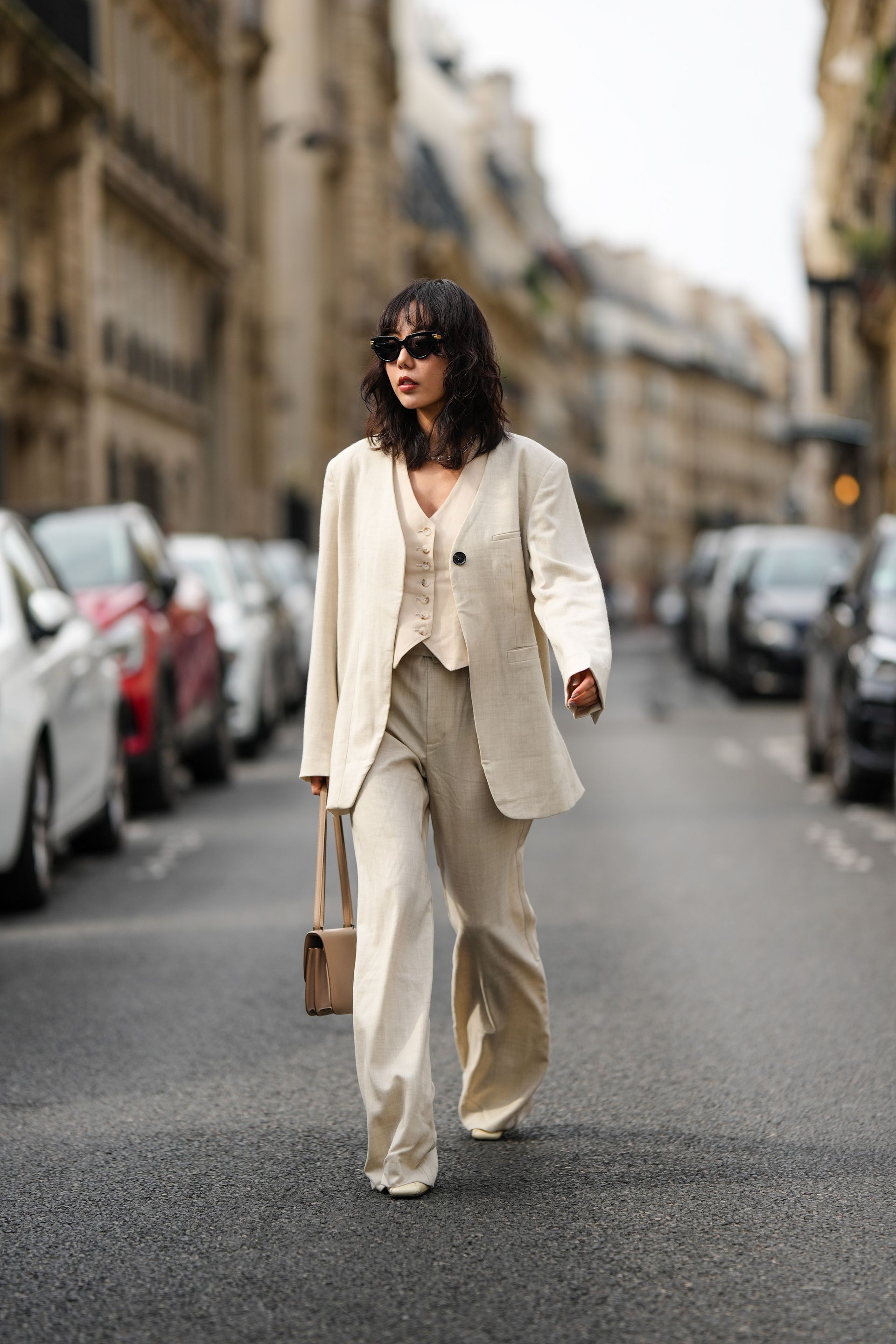 "Linen blazers work so well [in summer workwear,] as they look great and as well as being breathable, still give a still smart look," says Hines. Complete the tailored effect with front-pleat linen trousers for an effortless take on summer suiting.
White Button-Down and Jeans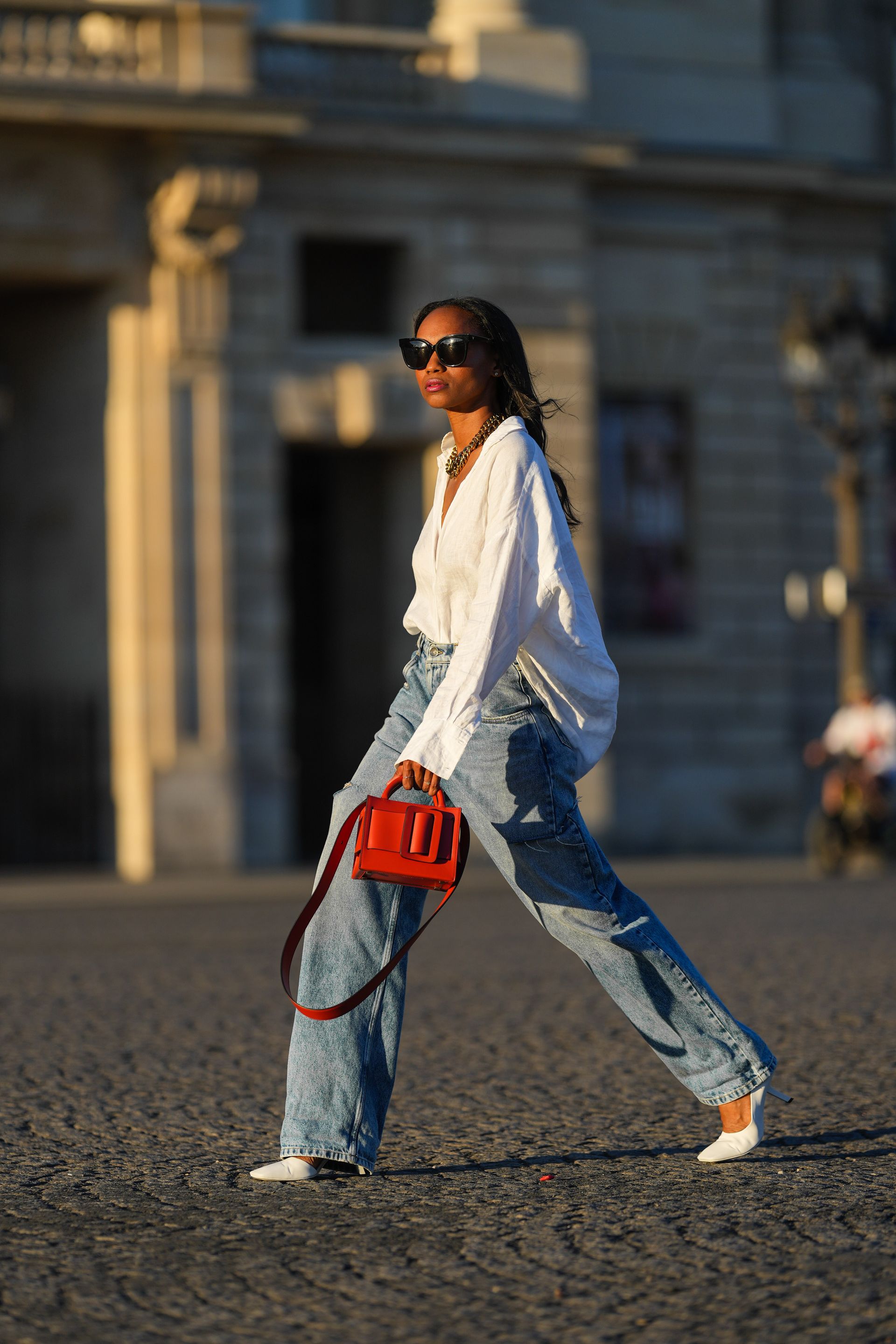 "When all else fails during the summer, I always reach for a classic button-down, straight-leg jeans, and kitten heels or loafers," says Siboni. Freeman waxes poetic about the magic of a white button-down shirt, too: "Those types of tops offer versatility, in that they can be styled with anything from a pair of boxy trousers to a fashionably printed midi skirt. Also, [you can] utilize the naturally blank canvas of the top to accentuate interesting accessories that can become a conversation piece."
Sundress and Espadrille Sandals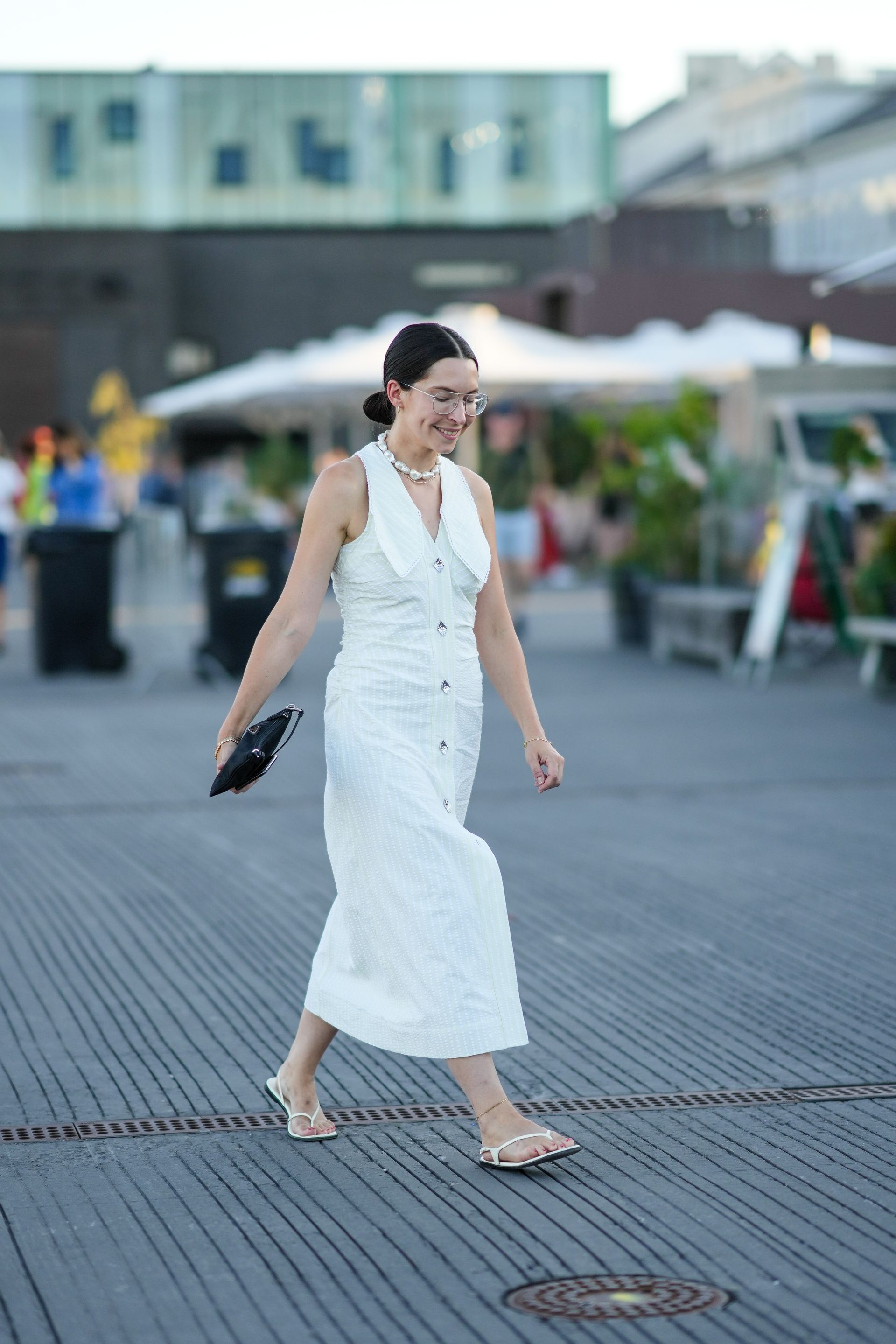 For a look that's breezy but not overtly casual, try a summery sundress with some pearl jewelry. As for the rest of the look, Hines once again urges you not to forget about your feet: "Footwear is also important when it comes to summer work style, as you can then bring out sandals and shoes made of lighter materials. Espadrilles are one of my favorite shoes, and summer is always the period where they take center stage," the stylist shares.
Functional Flats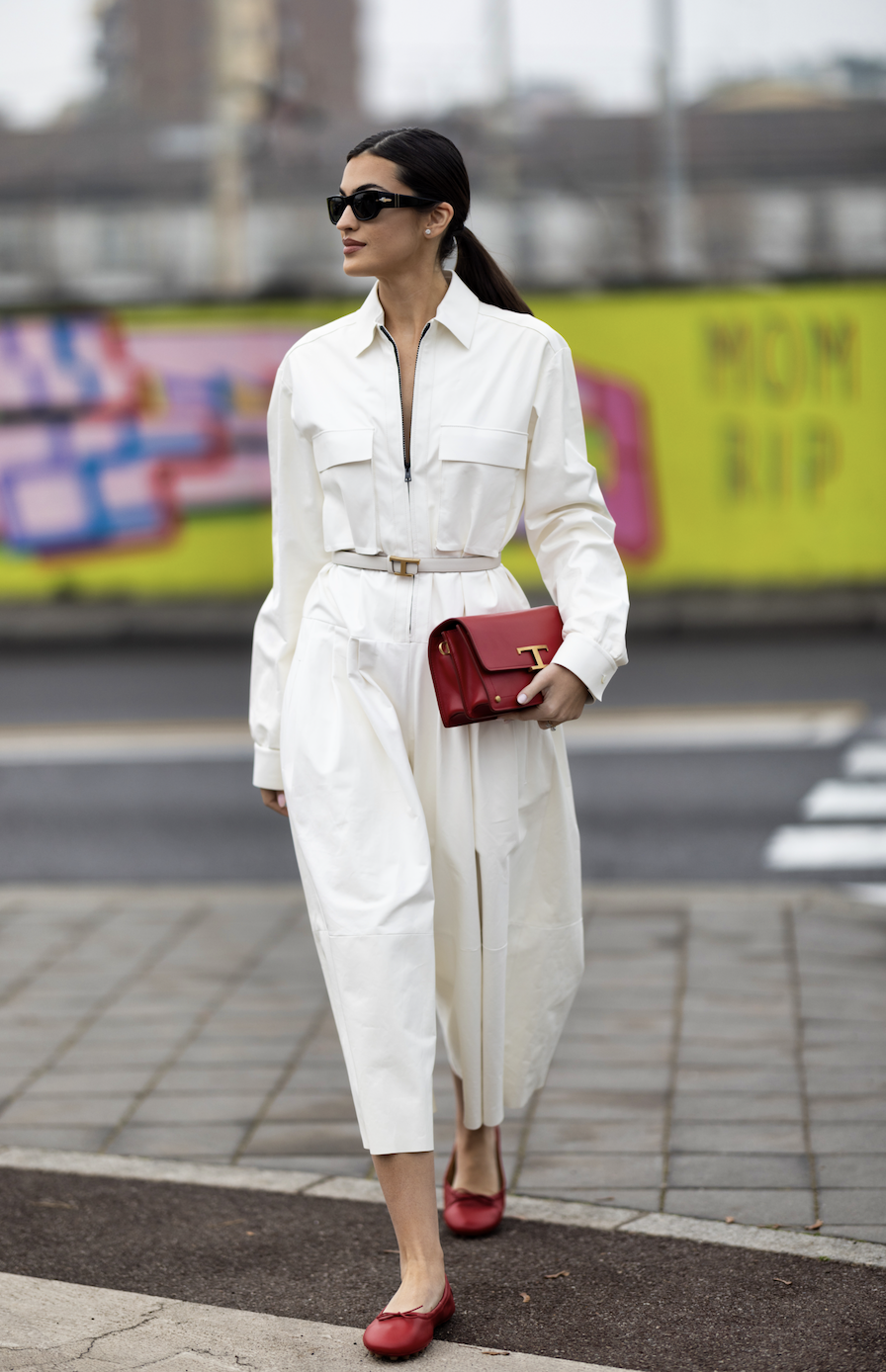 As you're likely well aware, ballet flats are dominating the trend cycle at the moment. And given their current fashion buzz (that, by the way, won't be fading anytime soon according to the summer 2023 shoe trends), Galante Frank says they're worth utilizing as the focal point of your in-office look in the coming months. "A chic, closed-toe flat is an essential summer work shoe," she describes. "Some unexpected materials we love for summer in flats are denim and raffia."
Summer Sheers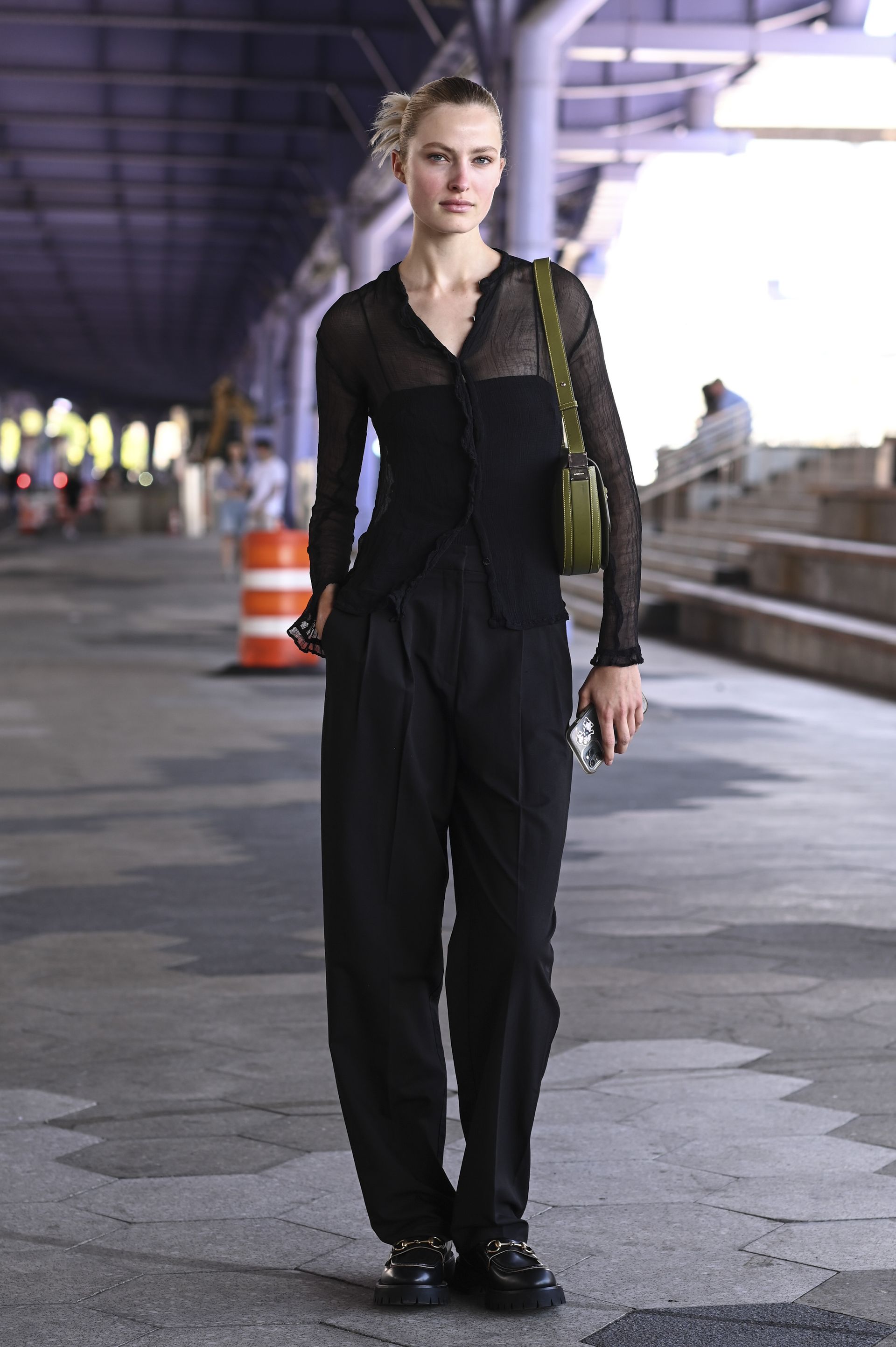 As Chernyaev emphasized earlier, layering is essential for your summer fashion. But, as he explains, it all starts with your base: "I look for opaque fabrics in tank tops and tees so I can wear them on their own. Then, layer with a lightweight sheer shirt or sweater for a little style on top."
Maxi Skirt and T-Shirt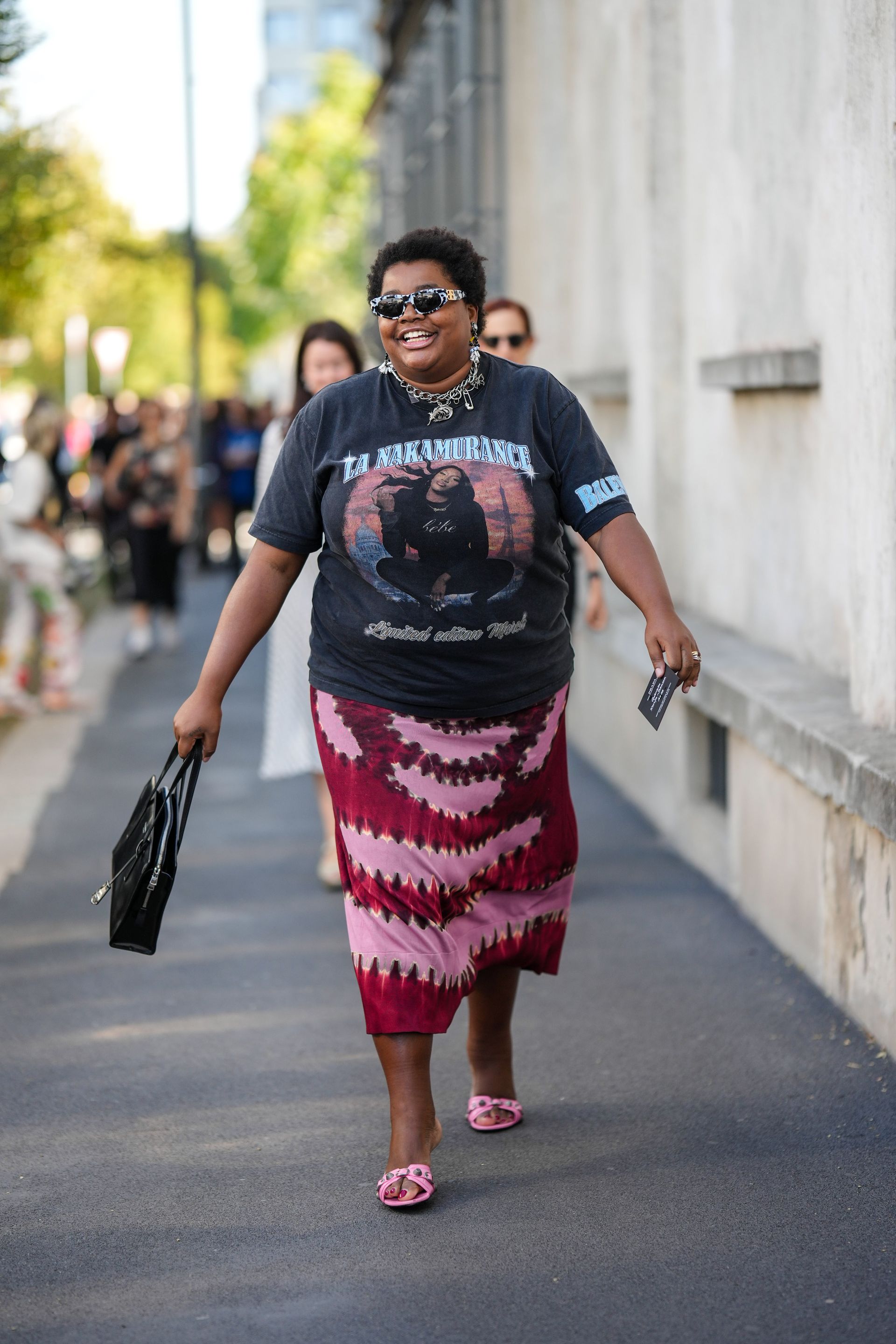 "Maxi skirts are trending," acknowledges Siboni, shouting out the free-flowing bottom as an ideal option to have in your summer workwear rotation. "I am loving a denim version back to a classic boxy tee and sandals, but if this is too casual, I am also loving the skirts in a tailored wool version."
Polo Shirt and Cargo Pants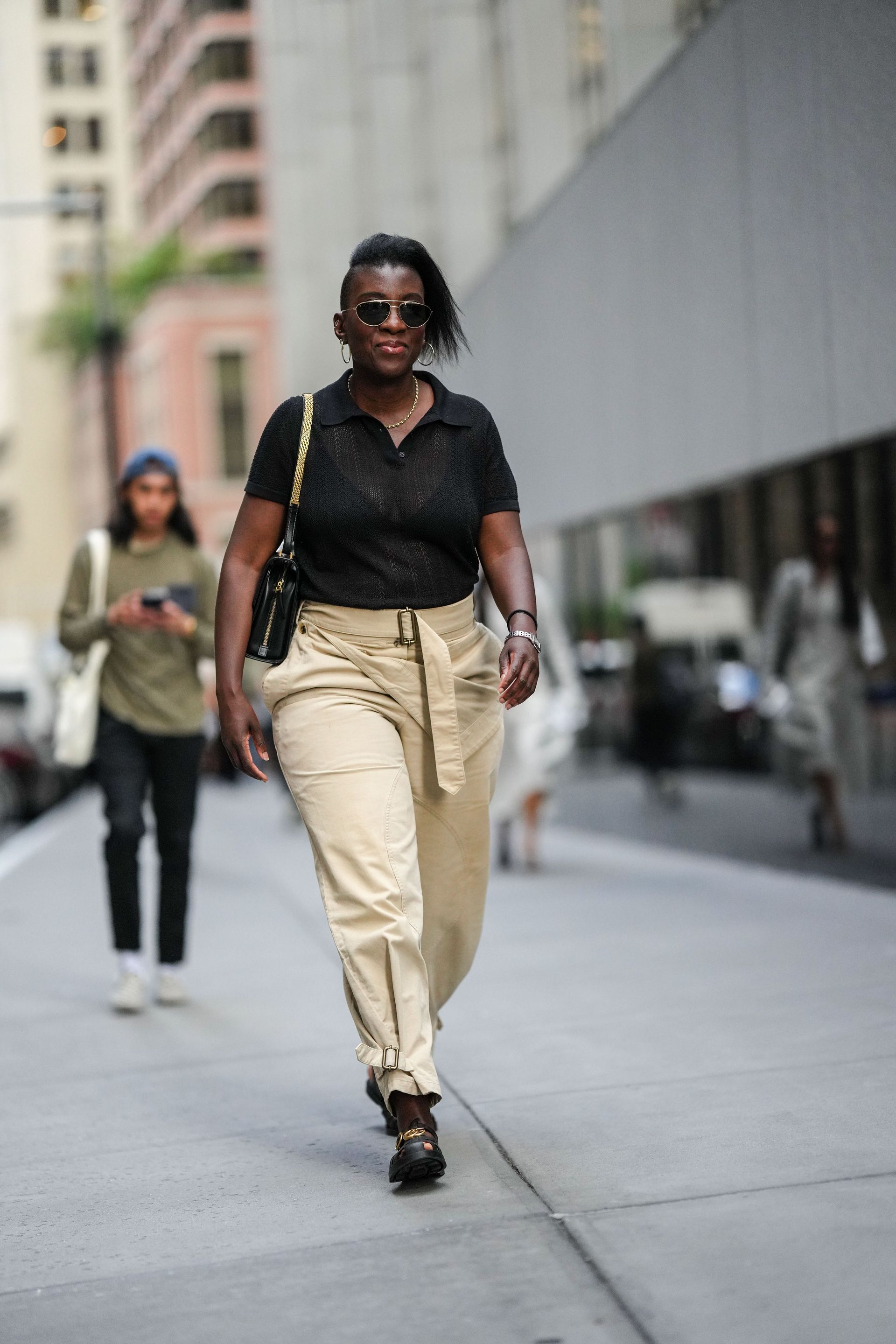 "A pastel polo, something classic from Ralph Lauren or Benetton," says Chernyaev, is a must-have item in all complete summer workwear collections. "Jil Sander has a great one this season in green," the fashion expert adds. Consider teaming the classic shirt with bottoms that are a bit more trend-forward—like utilitarian cargo pants.
Oversized Blazer and a Mini Skirt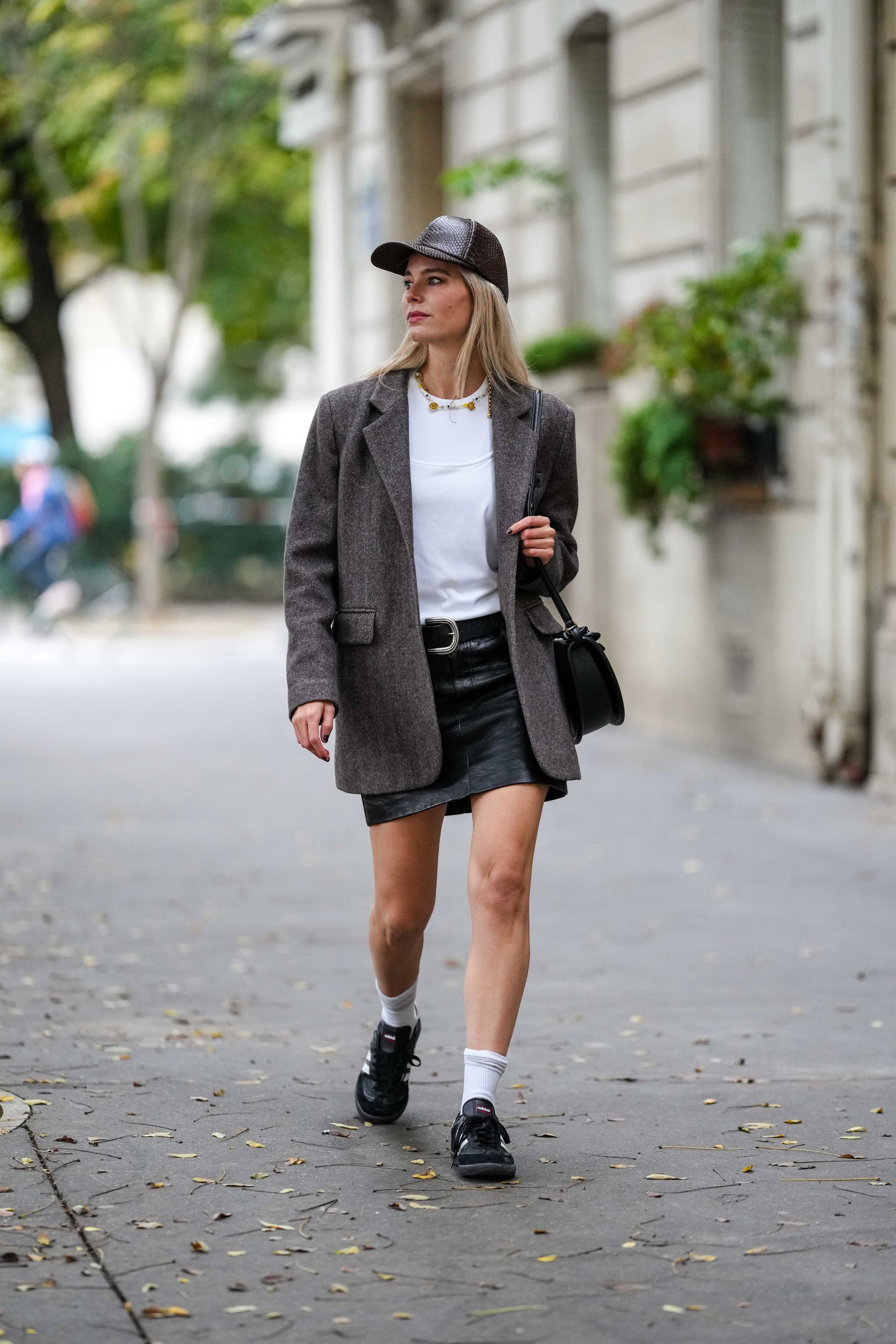 Just as maxi skirts are trending for summer 2023, quite paradoxically, so are mini skirts. Freeman encourages you to add one of the flirty skirts to your work fashion collection, paying careful attention to team it with more polished and buttoned-up separates. "A slightly oversized blazer with broad shoulders over a mini-skirt in a lightweight cotton blend tends to always convey a relaxed but youthful vibe," he explains.