How to Ask for Anything...And Get It
Tips from some of the nation's best "talkers" — members of the network group New York Women in Communications on how to nail a big job or salary negotiation.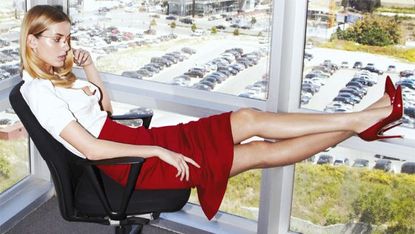 (Image credit: Alice Rosati/Folio-ID)
Marie Claire newsletter
Celebrity news, beauty, fashion advice, and fascinating features, delivered straight to your inbox!
Thank you for signing up to . You will receive a verification email shortly.
There was a problem. Please refresh the page and try again.
Photo Credit: Alice Rosati/FOLIO-ID
Likability Matters

"It's not necessarily what you say, but how you say it. If I like how someone is speaking to me, it makes it easier to hear them. And what you want is to be heard." -Marcia Cole, CEO of Ivy Digital, a digital media agency that grows social audiences
Related: Your Salary Negotiation Guide (opens in new tab)
Don't Apologize

"I hired a woman last year who stuck to her guns on the things she needed to accept the job. We went through many rounds of negotiations. I have a lot of respect for the people I hire and encourage them to kick the tires. Too many women apologize for the very act of negotiating." -Erika Nardini, chief marketing officer of AOL Advertising
Focus on the Future

"As a manager, you\'re always thinking about what\'s next, what\'s the strategy going forward. The past is the past, but I feel great about investing in the future." -Stacy Martinet, chief marketing officer of Mashable.com
Know What You Want

"I once called the executive in charge of compensation to discuss year-end bonuses. He said, \'What do you think is fair?\' I had my list of reasons why [I deserved more'], but I wasn't prepared to throw out a figure. That taught me to always go in with a number in mind." -Lisa Caputo, executive vice president and chief marketing and communications officer of The Travelers Companies
It\'s Okay to Walk Away

"There were many times when I took work and wasn\'t compensated fairly for it. Since then, I\'ve learned what my time is worth. If I can\'t expect that, I very nicely end the negotiation." -Trica Jean-Baptiste, president Morgensheer Hospitality
Based on a survey of 783 working women conducted from January 9 to February 7 by Marie Claire and New York Women in Communications