Taraji P. Henson Talks Equality, Power, and Laying the Foundation for Other Women
"If you change your own narrative, that changes the story."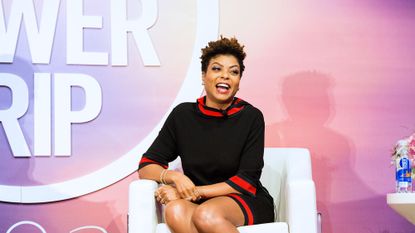 (Image credit: Kathryn Wirsing)
Taraji P. Henson thinks that everyone needs feminism. "Who wouldn't want to be a feminist?" the actress asked, speaking at Marie Claire's Power Trip. "We need each other, and we need men to understand our plight. We need men to be feminists."
Henson's declaration is particularly topical given the details that have come to light about Harvey Weinstein's history with sexual harassment, among other Hollywood execs. "We've been hearing about this for a while, haven't we?" Henson continued, on the topic of sexual harassment in the industry. "It's just all coming up from under the carpet."
"I don't play well in the defenseless corner, and my heart bleeds for women that somehow believe that this other person has more power than you," she said about power dynamics in Hollywood. "Once you tap into your power, no one can take advantage of you."
Power, for Henson, is the ability to say no. She has a history of being paid less than her counterparts, or looked over completely, and now she always negotiates her salaries, "even just by five dollars," she joked. "If I fight, the next woman after me is gonna get a bigger quote."
She isn't new to the legacies women have left for her; she cited Lucille Ball and Bette Davis as inspirations, in addition to her character in the film Hidden Figures, Katherine Johnson. Hidden Figures, she said, changed her mind completely, having always been told math and science were for boys. "That movie, for me, cracked the sky open," she said. "That made me go, 'women can do anything.'"
Henson thrives off of obstacles, and doesn't believe in complaining. "I don't 'woe is me,'" she said. She knew it would be hard for her, especially as a woman of color in Hollywood, and she combated that with hard work, and told other women to do the same. "If you change your own narrative, that changes the story," she advised.
Henson, whose career has proven that advice to be true, is passionate about always encouraging other women. "I think God broke the mold when he made us," she said. She always applauds other women, "because I know their hard work is gonna make it easier for me."
She wants to leave her own mark with meaningful work, and for women who want to do the same, she advises, "don't be afraid to speak your truth, because it is yours."
For more from this year's Power Trip, click here.