Samantha Bee on Changing Late Night: "I Always Loved Jon Stewart's Vision of Things, but I Think I Can Broaden It"
She's making bold moves.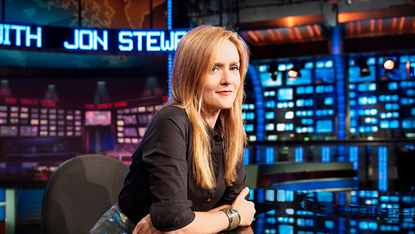 (Image credit: Archives)
Move over, late-night dude-fest, and make room for the Queen Bee. We caught up with former Daily Show riot girl Samantha Bee—who's gearing up for her new late-night show for TBS, set to air next year—to get her tips on owning your ambition, being the boss, and knowing when it's time to just go for it.
"I was about two steps away from giving up on comedy and acting completely when I got hired by the Daily Show in 2003. I enjoyed my audition. I was like, This is the ultimate audition. I've done the best job that I'm physically capable of doing, and if I don't get the job, then I'm not made for this business. And then everything changed."
"If you provide a hot lunch for your staff, they'll be yours forever. Also, you should know what people's aspirations are and try to help them achieve their goals. For example, if you're hiring someone to be a researcher, and what they really want to be is totally different, they'll work so much better if they know they have a chance of achieving their goal. It's really important to harvest people's creativity."
"I loved working on The Daily Show, but it's really exciting to follow my own vision. I always loved Jon Stewart's vision of things, but I think I can broaden it a bit. I'm just excited to be the boss."
"As a child, I earned money from my mother for not watching television. She promised me a dime for every half hour I didn't watch television during the day."
"I worked as a part-time bank teller when I was 14. I don't even know how it was legal for them to hire me. They shouldn't have; I was terrible! I spent all my money on cheesecake for lunch."
"Act like you know what you're doing. It completely says everything to me. You can't be too self-effacing in front of other people."
"I always eat the same thing: eggs scrambled with broccoli and onions. Every day. I mean it, every day. My husband (fellow Daily Show alum Jason Jones) is like, 'I can't.' But it's my favorite."
"That it is okay to be ambitious. It took me a really long time to learn how to be ambitious."
"Jon Krakauer's Missoula. It reads really well for a book about college rape, which is so horrible. I am definitely going to pay it forward and pass it along."
"I never really have a day off, actually. Even though I kind of make my own hours, I've been working harder than I ever have in my life. When we have time, my husband and I go to upstate New York. We sit and stare into space."
"I really want to say an orange, but that's not true. I love chocolate-covered almonds."
This article appears in the September issue of Marie Claire, on newsstands now.
Celebrity news, beauty, fashion advice, and fascinating features, delivered straight to your inbox!
I'm the features editorial assistant at Marie Claire. Before working at MC, I spent time in the production department at The New Republic and writing about politics for Bustle. When I'm not writing, you can find me museum-hopping, practicing mediocre yoga, and stalking pugs on Instagram.