The 14 Best LED Face Masks for Light Therapy At Home, According to Beauty Editors and Experts
Masking at home: So hot rn.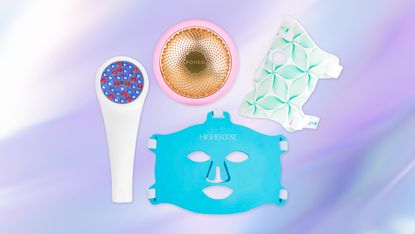 (Image credit: Future)
I try beauty products for a living—the good, the bad, the life-changing. Naturally, I have a heck of a lot of favorites. But the most transformative of them all? The best at-home LED face masks, a.k.a light therapy masks. These anti-inflammatory, anti-aging, acne-fighting light therapy treatments—which were once only available under the practiced hand of a dermatologist—leverage blue light, red light, yellow light, green light, and on occasion, white light to target skin concerns in the short-term (an at-home session takes about 10 minutes) and the long-term.
Take it from me: You want to get in on the at-home LED mask action. The masks are an investment, sure. But if you plan on using one regularly, it's well worth it. We've talked to the experts, tested our favorites, and combed through the big wide web to gather all the information you need to know. Ahead, find the best at-home LED face masks available for purchase.
Deals on LED Light Therapy Masks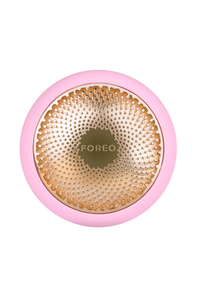 (opens in new tab)
FOREO UFO™ 2, $299 $209 at Net-a-Porter (opens in new tab)
This mini high-tech tool allows you to get a spa-like facial at home in only 90 seconds. All you need to do is apply a face mask or serum and press the on button. This tool uses red, blue, and green light to drive the actives in your skincare products that much deeper into your skin. Shop it now for $209 on Amazon.
What to Look For in an LED Mask
It shouldn't come as a surprise that the big LED machines in spas and dermatologists' offices are going to be a lot more powerful than little at-home masks. But you're still going to need a certain level of LED light exposure to see results. "For an LED mask to be effective, it must be at a clinically relevant wavelength, and have a reasonable amount of irradiance or power," explains Dr. Tanuj Nakra, MD, FACS and co-founder of AVYA Skincare. These numbers should be available through the manufacturer or on the product page.
"Every color corresponds to specific wavelengths. These ranges are great to reference because if the device you're looking at lists a different nanometer that's not in range, or mentions a different color, it's not going to help you achieve your skin goals," explains board-certified esthetician Erica Marie. She explains that blue light should fall within 445 to 490 nm, green light should fall within 490 to 570 nm, yellow light should fall within 570 to 590 nm, red light should fall within 620 to 780 nm, and white light should fall within 700 to 1000 nm.
While there are dozens and dozens of LED face masks on the market, only a handful have FDA approval. "The search for a safe and effective device begins with making sure the device is FDA approved," says Dr. Nakra. "You can check this for yourself."
While you might prefer an LED mask that goes on like a pair of sunglasses, others might want something that straps them in—it's really personal preference. That said, some features are non-negotiable, like the number of LED lights and their distribution. "When it comes to the number of LED lights in the device, the more the better. In order for the lights to penetrate directly into the cells, they need to be close together and there needs to be a lot of lights, at least 100 or more," explains Dr. Marie. "You also want the lights as close together as possible to get the best results."
Is LED Therapy Safe?
After years of avoiding the sun's UV rays in the service of healthy skin, treating your face with light can feel counter-intuitive. But facialists, dermatologists, beauty editors, and the American Academy of Dermatology all agree: Generally speaking, LED light treatments are safe and effective treatments, since they don't use UV rays.
A couple of caveats, however: You should be careful about using LED face masks alongside skincare that makes your face sensitive to light, like retinol or Accutane. "Prescription drugs, including antibiotics, diuretics, and even some over-the-counter medications such as St. John's Wort can cause sensitivity to LED light therapy," explains Dr. Nakra. "Rare eye conditions including certain retinal diseases can be exacerbated by LEDs as well. If you are unsure, check with your doctor or dermatologist about whether your medication can cause light sensitivity (photosensitivity)."
You'll also want to exercise extra caution when it comes to blue light. "Using it longer than 20 minutes can cause pigmentation to worsen or appear," says Marie.
Best At-Home LED Face Masks
Every at-home LED mask on this list has been specifically chosen by Marie Claire's Beauty Editor, Samantha Holender (hi, hello, yes it's me) and Marie Claire's Beauty Director, Deena Campbell; or has been hand-selected by a board-certified dermatologist. Each and every one leverages LED technology that is clinically proven to deliver results, feels comfortable when being worn, and is highly rated by reviewers. While the *best* at-home LED mask for you will depend on your specific skin concerns, personal preference, budget, and skin goals, you'll be able to find an option that delivers, ahead. For a more personalized recommendation or if you have any concerns, check with your board-certified dermatologist.
Comfiest LED Face Mask
(opens in new tab)
This mask from Omnilux—which Dr. Reszko refers to as "one of the pioneers of light-based devices"—is designed to fit your face better than other options on the market. It straps on across the back of your head for a snug fit that will feel comfortable while you wear it for each of the 15-minute treatments. She also notes that Omnilux designs "office and professional-grade light sources," so every at-home spa night will feel expert-approved.
Pros: Comes with a head strap for comfortable wear; Professional grade
Cons: Needs to be plugged in to outlet during use; Bulky
Customer Review: "I will never be without this mask! I use it four to five days a week and whenever I have a headache. Not only did it get rid of my fine lines and wrinkles, but it definitely got rid of any crepiness and sagging I had. It also made my skin clearer and brighter." — Omnilux
Best LED Face Mask for Acne
(opens in new tab)
Whenever I sense that a juicy red pimple is going to take up residence on my face, I grab LightStim's handheld LED device. Its small and compact design makes it ideal for targeted treatment. Plus, it leverages blue light, which has been shown to kill acne-causing bacteria, as well as red light, which can be beneficial at reducing inflammation. I promise, using this religiously will significantly reduce the lifespan of your pimple—and prevent new ones from popping up.
Pros: Good for acne; Targeted treatment; Compact
Cons: Can't multi-task while using
Customer Review: "I purchased this a year ago and have been using it on and off and I can honestly say that this is a really good investment to make. I always reach for it when I get cystic or inflammatory acne and it really does help. It does help the acne go down and helps with the inflammation." — Revolve
Best LED Face Mask for Redness
(opens in new tab)
MZ Skin Light-Therapy Golden Facial Treatment Device
Like most LED masks, this fancy gold mask emits classic red and blue lights to address aging and acne. But it also has a little something extra-extra: It's also designed to feature yellow and white light. What do they do, you ask? Well, yellow wavelengths are going to treat redness and increase circulation; it's great for anyone dealing with rosacea. White wavelengths can help repair wounds to the skin, meaning this is an excellent post-treatment tool.
Pros: Variety of lights; Customizable
Cons: Bulky; Expensive
Customer Review: "It is expensive, but once used more than about three times you have saved the amount you would have spent in a clinic. I love the fact it has the four color lights to choose from and a timer." — CurrentBody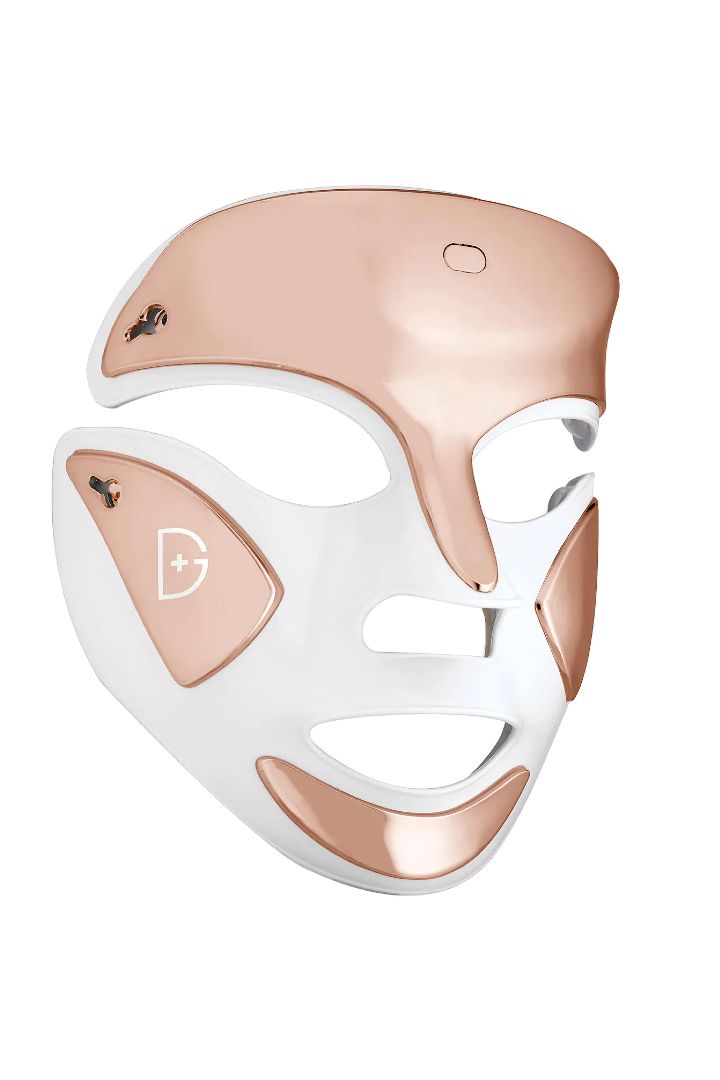 Best Professional-Grade LED Face Mask
(opens in new tab)
Dr. Dennis Gross Skincare DRx SpectraLite™ FaceWare Pro
"My hormonal breakouts are persistent. Every month I'm guaranteed to see one or two, but the blue light in this LED face mask is the truth. It targets the bacteria and reduced redness after five uses. I have to admit, the mask scared my toddler at first, but now I'm called, "Superhero Mommy" and it's the best compliment ever." — Deena Campbell, Beauty Director
Pros: Easy to use; Professional-grade; Dual-action lights (red and blue)
Cons: Expensive; Bulky
Customer Review: "I've had this since December 2020 and absolutely love this product. I use as recommended every day for three minutes...it's on an automatic timer. I don't do botox anymore. I was definitely skeptical, but the proof is in my skin. It's also cleared up some acne that usually is a problem with my skin. Very well worth the price." — Sephora
(opens in new tab)
Dr. Dennis Gross Skincare DRx SpectraLite™ LED EyeCare Max Pro
I'm a longtime fan of the Dr. Dennis Gross Skincare DRx SpectraLite™ FaceWare Pro (peep above), so I was thrilled when the brand launched a device targeted specifically to the eye area. The contraption packs in 96 red LED lights, which means it's able to target the undereye, brow bone, crow's feet, and 11 lines. In line with other devices, it's going to firm skin and reduce wrinkles. But it's unique in that it has the ability to reduce the appearance of dark circles.
Pros: Concentrated treatment; High concentration of lights
Cons: Feels heavy
Customer Review: "I am absolutely obsessed over this new LED eyecare max pro! I have a huge improvement in fine lines and wrinkles. My crows feet are fading away, it's unbelievable how amazing this works after years of searching for a device that actually works I'm so impressed!!" — Sephora
The Best LED Face Mask for Beginners
(opens in new tab)
Beautimate 7 Color Photon LED Skin Toning Device Rejuvenation Therapy Mask
If you're still dipping a toe into the LED mask world, this is the mask for you. It comes with several heat settings, so you can decide which level of intensity you want to feel on your skin. To sweeten the customizable deal, there are also seven different light options to choose from. They can help soothe the skin, accelerate cell growth, and increase blood circulation for skin that looks younger in only 15 minutes.
Pros: Completely customizable; Multiple light therapies
Cons: Not as powerful; Minimal light diodes; Heavy
Customer Review: "I have used it twice and I love it. I am using I for myself to build collagen and for my teenage son for acne. It is heavy around the eyes but I just put some gauze pads over my eyes and its fine. It's also helps you relax which is awesome." — Walmart
Best Handheld LED Face Mask
(opens in new tab)
SolaWave Advanced Red Light Therapy Skincare Device
Ease into LED therapy with a handheld device, like SolaWave's multifunctional facial tool. With microcurrent, facial massage, and therapeutic warming functions, this easy-to-use design helps smooth the appearance of blemishes and fine lines, minimizes breakouts, decreases puffiness and the appearance of dark circles, and stimulates facial muscles for tighter-looking skin. Bonus: It's portable and super easy to use around the house, on the go, or during travel.
Pros: Compact; Easy to travel with; Affordable
Cons: Not as powerful; Can't multi-task while using
Customer Review: "I am so thrilled that my esthetician told me about this...My skin looks healthier, my 11s are visibly reduced, and it's helped with my acne scarring too. I'm excited to see how the results continue to develop!" — Bluemercury
Best Customizable LED Face Mask
(opens in new tab)
Skin Gym Wrinklit LED Mask
Some days, you might notice your skin looks duller than usual. On other days, you wake up with a smattering of zits that have you running for acne spot treatments. Skin changes, but this mask will adapt to it. Its blue, red, and orange lights work to treat different conditions, and you can switch them depending on the state of your skin that day. Its blue, red, and orange lights all work to treat different conditions, and you can switch them depending on the state of your complexion. It's also more affordable than many of the options on this list.
Pros: Dual-action lights; Wireless; Affordable
Cons: Lights sit farther from the skin
Customer Review: "I absolutely love this mask and that it comes with three different light options. I mainly use the blue and red lights. My breakouts, even hormonal ones, are much less frequent and heal so much faster without leaving discoloration. Areas that were previously discolored now look so much more even...The only downside is that the battery doesn't last long, so if my session gets interrupted I use a portable phone charger and plug the cord into that, then into my mask to charge while I use it." — Ulta
Best At-Home LED Mask for Lip Aging
(opens in new tab)
CurrentBody Skin LED Lip Perfector
I've professed my love for this little guy before (feel free to read my ~comprehensive~ review of CurrentBody's LED lip mask), so it's only natural to include it on our best at-home LED masks list. The small but mighty tool is infused with both red and infrared light therapy to target signs of aging (read: fine lines), plump the lip area, and even tone. While it does take a minimum of four weeks to notice any results and the full effect doesn't kick in until eight weeks in, this treatment does work. You just need to make sure to treat the area for three minutes, day in and day out.
Pros: Targeted treatment; Easy to store
Cons: Slightly uncomfortable to wear
Customer Review: "I have several other LED units, but jumped on this particular one due to its targeted zone. I have particular issues around my mouth. I have already noticed a plumping and firmness in my lips ,as well as improved skin around my mouth. I had a few breakouts (in spite of being over 60) and they healed overnight. I have not seen this happen in several decades. I have only been using this for a few weeks, and can't wait to see the continued effects." — CurrentBody
Best LED Face Mask for Beginners
(opens in new tab)
The Light Salon Boost Advanced LED Light Therapy Face Mask
While a big and sturdy LED mask has its benefits, you may not want to deal with such a bulky tool if you're pressed for space. That's where this flexible one comes into play. Not only does it lay nice and flat for storage purposes, but it also has the added benefit of adhering nice and snug to the skin. It features red and infrared light, which work together to powerfully improve blood circulation, treat damaged skin, and combat signs of aging.
Pros: Compact; Comfortable
Cons: Needs to be plugged into the wall; Expensive
Customer Review: "I was very skeptical seeing as its definitely on the more expensive side of skincare. This is has completely changed my skin. It leaves your skin feeling soft as soon as you take off the mask. This has helped with my acne in a way I didn't imagine. Definitely worth the splurge. I can't imagine not having this step in my daily routine." — Bluemercury
The Best LED Face Mask for Glow
(opens in new tab)
HigherDose Red Light Face Mask
In addition to its popular infrared sauna blanket (opens in new tab), HigherDose has a LED face mask in its buzzy lineup. It's crafted from medical-grade silicone with red and near-infrared light-emitting diodes on the interior to mimic low-level rejuvenating wavelengths found in natural sunlight. The result? A relaxing and warming boost to your skin (and mood!), that enhances your natural glow. Perhaps the most enticing part here is that the mask, powerful as it may be, doesn't need to be plugged into a wall during use.
Pros: Comfortable; Warming; Cordless
Cons: Not as powerful as other options; Only one type of light
Customer Review: "I have been using the HigherDose red light face mask for a couple of weeks and I absolutely love it. Using it doesn't take long and I can already see the fine lines and laugh lines fading." — HigherDose
Fastest Acting LED Face Mask
(opens in new tab)
This mini high-tech tool allows you to get a spa-like facial at home in only 90 seconds. All you need to do is apply a face mask or serum and press the on button. This tool uses red, blue, and green light to drive the actives in your skincare products that much deeper into your skin. I also have to give a shoutout to the FOREO app. While it's not necessary in order to use the tool, it can guide you on a customized facial journey.
Pros: Fast-acting; Multiple light options; Cordless
Cons: Can't multi-task while using
Customer Review: "I'm a spa at home girl. I love winding down and sometimes starting my day with face/sheet masks. I even have a red light device. This just took all those different steps and combined it into one device. Another added plus is how much time it saves. I use the smart control setting so I can control how long I can use heat/red light. Then switch off the heat and go with green light. I usually use my UFO anywhere from four to six times a week. I've definitely noticed my face/skin looking more radiant, hydrated, and plumped. My complexion is also more even. One major difference I've noticed is my laugh lines are less noticeable." — Sephora
The Best LED Face Mask for Uneven Skin Tone
(opens in new tab)
CurrentBody Skin LED Light Therapy Mask
With Carey Mulligan, Kayley Cuoco, and Kristin Davis among the mask's fans, it shouldn't be a shocker that this product delivers big-time results. Part of the efficacy is rooted in the fact that flexible material ensure the red and infrared lights hit and treat every contour of the face. As a result, it's more effective for improving skin tone, texture, and the appearance of fine lines.
Pros: Form-fitting; Easy to store; Powerful
Cons: Doesn't have lights placed by upper lip or upper forehead
Customer Review: "I've been using light therapy for quite some time and this is the best mask I've come across. The bulbs are super bright, the mask is flexible and adjustable. Bonus is that once charged you can wear it anywhere without being tethered to a wall plug. I only wish it had blue light with it!!" — CurrentBody
Best Luxury LED Face Mask
(opens in new tab)
Shani Darden by Déesse PRO LED Light Mask
If you want to recreate in-office results at home, and on a regular basis, there's no better option than this luxe mask by Shani Darden. The blue and red lights target three concerns: aging, pigmentation, and acne. To see the best results, you're going to want to sit with this mask four to five times per week. Our favorite part about this product, though, is that it doesn't just target the face—it has a separate attachment to address your neck.
Pros: Professional-grade; Customizable; Targets neck
Cons: Expensive
Customer Review: "The mask is very comfortable and I immediately felt tighter and smoother skin after a few treatments. My favorite new thing at the end of my workday from home is to plop on my comfy chair and run the quick 10-minute light session. It's like a meditation and face rejuvenator all at once! I love the sense of a healthy glow to start my evening." — Shani Darden
The Benefits of LED Therapy
At-home LED therapy devices are less powerful than the treatments you'd get at a dermatologist's office, which means you can use them safely, but it'll take longer to see visible results. The result you'll see however depends largely on the type of light therapy you're using. Most of the LED face masks on our list use either red (anti-aging) or blue light therapy (anti-bacterial) to treat a plethora of skin woes, but there are also different wavelengths—including white, yellow, amber, and green—that might be featured in your product. "Combining more than one wavelength helps you get the best results," says Marie. "Your skin is always changing so it's nice to have options."
The Benefits of Red Light Therapy
Red light is going to be the most popular color you'll find in LED masks, in part because its benefits are so wide ranging. "Red LED lights emit energy that travels deep into the skin, and stimulates the molecular pathways inside the cells and mitochondria to produce more collagen, reduce inflammation, and reduce redness," explains Dr. Nakra. "It has also been shown to increase collagen and elastin synthesis and therefore reduce the appearance of fine lines and wrinkles," adds Dr. Anetta Rezsko, a New York City-based dermatologist.
The Benefits of Blue Light Therapy
Unlike red light therapy, blue light therapy "has shorter wavelengths and works best for acne-prone skin," says Dr. Reszko. It reduces the frequency of new breakouts and treats existing ones courtesy of a two-step process within the layers of your skin. First, she says, blue light "decreases the androgenic hormones in the sebaceous glands," which in layman's terms means your skin will produce less oil. Less oil equals less clogged pores. Then comes step two: The destruction of bacteria. "Blue LED lights have a high power to treat bacteria on the skin, specifically P acnes, the bacteria that causes acne," adds Dr. Nakra.
The Benefits of Green Light Therapy
The opposite of red on the color wheel? Green, which is why green light therapy is going to be a saving grace for anyone with unwanted redness or rosacea. "Green LED light penetrates into the intermediate layers of the skin and are absorbed preferentially by minute blood vessels that can cause facial redness and rosacea," explains Dr. Nakra. The result? A more even skin tone. Marie adds that green light "targets dark circles and pigmentation" by preventing excess melanin from being produced.
The Benefits of Yellow Light Therapy
The benefits of yellow light are going to be somewhat similar to those of green light. While you typically won't find a device with exclusively yellow light therapy, it may be one of your options. "Yellow LED light penetrates into the superficial layers of the skin," explains Dr. Nakra. Marie adds that by doing this, it's able to stimulate blood flow and reduce redness, rosacea, and the appearance of broken capillaries.
The Benefits of White Light Therapy
"White LED light contains all visible wavelengths, and can be beneficial in treating some types of depression—especially seasonal affective disorder," says Dr. Nakra. "When used in the mornings, white LED light treatments can also help enhance wakefulness and regulate normal circadian rhythms." That's not all though. Marie explains that it also comes along with tightening benefits and reduces inflammation.
How to Incorporate LED Therapy Into Your Skincare Routine
You can use LED light therapy masks either in the morning or at night, depending on the results you're looking for. Dr. Reszko says that using a LED face mask in the morning will improve your skin's appearance by "increasing the glow and overall appearance of the skin."
However, using a LED device at night will "calm down skin inflammation resulting from daily exposure to skin irritants like pollution, especially in people with sensitive and rosacea-prone skin," she says.
How Long Does it Take to See Results From LED Therapy?
Like most skincare solutions, it will take some time before you see the substantial long-term effects of using an LED light therapy mask at home. Dr. Reszko asserts that "most clinical improvement of the skin is noticeable after four weeks of treatment with three sessions per week."
Meet the Dermatologists
Dr. Anetta Reszko MD., PhD.
Dr. Resko is a board certified dermatologist and a fellow of The American Academy of Dermatology, The American College of Mohs Surgery and The American Society for Dermatologic Surgery. Her practice in Manhattan is focused on early skin cancer detection and treatment and laser surgery. As a respected leader in the science of the skin, Dr. Reszko has published multiple scientific research articles and reviews and has contributed to leading publications in the fields of dermatology and dermatologic surgery. Her mission from day one has been to enhance the overall skin health in every patient through a whole-body dermatological approach to the skin with a focus on skin cancer awareness, treatment, and education.
Tanuj Nakra, MD, FACS is a double board-certified facial & ophthalmic plastic surgeon who has practiced at TOC since 2008. He was born in London, England, and raised in St. Louis. He completed residency and fellowship training at UCLA. After his medical training, Dr. Nakra served on the UCLA faculty and established private practices in both Beverly Hills and Santa Barbara before moving to Austin. He has been consistently recognized as a Top Doctor by Austin Monthly, Texas Monthly, Castle Connolly, and Who's Who in Medicine for over the past decade. Dr. Nakra serves as Clinical Faculty at the Dell Medical School at UT-Austin, and is the Fellowship Director of an accredited American Academy of Cosmetic Surgery (AACS) Fellowship. He has been an invited keynote speaker at major conferences around the world, training other surgeons in the latest techniques, including his own signature cosmetic procedures. Dr. Nakra has authored over 70 peer-reviewed scientific articles and has had numerous grant-supported research projects in the field of reconstructive and cosmetic surgery. He has served on the Executive Committee of the American Board of Facial Cosmetic Surgery, and the Board of Directors of the Cosmetic Surgery Foundation, as well as the President of the Austin Ophthalmology Society. With his scientific expertise in facial aesthetics, he co-founded AVYA Skincare, a medical-grade Ayurvedic skincare brand. He also recently co-founded Global Cosmetic Surgery, an international medical educational platform.
Skin health guru Erica's decade's worth of experience working as an esthetician and makeup artist has shaped her foolproof, fuss-free beauty philosophy. She believes that curating thoughtful, streamlined skincare regimens for her clients is key to achieving effortless natural beauty and an overarching sense of empowerment, confidence and well-being. As someone who loves the outdoors and being active, Erica recognizes the link between health, wellness and beauty and embraces a holistic approach that puts equal emphasis on both an inner and outer glow. Erica honed her talent and channeled her passion under the tutelage of celebrated Los Angeles esthetician Gina Mari after having spent years as a makeup artist. Acknowledging that the optimal canvas for makeup is clear, toxin-free skin, Erica gained invaluable experience working on a myriad of skin types with a range of needs, while learning from the industry's top beauty mavens. In 2019, Erica launched her business EM SKIN, bringing a Beverly Hills medical spa sensibility to the South Bay where clients can always expect highly bespoke, transformational treatments that cleanse, hydrate, detox and sculpt using state of the art machines, the latest technologies, and medical and science-based products. Stepping into her intimate, beach-meets-chic studio is an experience that is simultaneously spirit lifting, skin firming, and anti-aging. Erica offers a tranquil retreat in the heart of Hermosa beach that calms both the mind and the skin, while delivering game-changing results far glowier than any filter can produce.
Samantha Holender is the Beauty Editor at Marie Claire, where she reports on the best new launches, dives into the science behind skincare, and keeps up with the latest trends in the beauty space. She has previously written for Us Weekly, Popsugar, Makeup.com, Skincare.com, and Philadelphia Wedding. Follow her on Instagram @samholender.