The 14 Best LED Light Therapy Face Masks Worth Every Penny
Masking at home: So hot rn.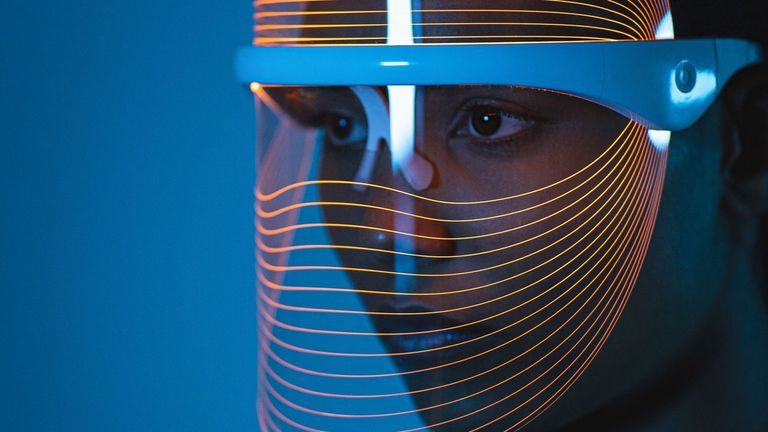 (Image credit: Getty Images/Westend61)
When people talk about "the future of skincare," they probably couldn't have predicted something quite so futuristic. Whether you're a serial Instagram scroller or have your thumb on the pulse of the newest, coolest skincare innovations, you've probably heard a little something about light-emitting diodes, a.k.a. LED light therapy. These fancy treatments were once only available under the practiced hand of an aesthetician for in-office treatments. But we're in the year of our lord 2022, and LED light therapy masks are now a luxury available for you to use at your leisure when your skin is in the mood for something fancy.
Ahead, we broke down everything you need to know about the best at-home LED light therapy masks and devices so that you can get glowing skin from the inside out in 2022.
What does LED light therapy do to your skin?
LED light therapy is a NASA technology adopted by the skincare community, thanks to its ability to heal wounds and tame inflammation. At-home LED therapy devices are less powerful than the treatments you'd get at a dermatologist's office, which means you can use them safely, but it'll take longer to see visible results. An additional benefit: At-home devices like LED masks "can offer complementary benefits to your topicals and help them do a better job," to quote Joshua Zeichner, M.D.
Is LED light therapy safe?
After years of avoiding the sun's UV rays in the service of healthy skin, it can feel counter-intuitive to treat your face with light purposefully. But facialists, dermatologists, beauty editors, and the American Academy of Dermatology agree: LED light treatments are safe and effective treatments for your complexion, since they don't use UV rays. In fact, LED light therapy masks are beloved by celebrities with some of the best skin around, including Chrissy Teigen, Jessica Alba, and Kate Hudson.
A couple of caveats, however: You should be careful about using LED masks alongside skincare that makes your face sensitive to light, however, like retinol or Accutane. Side effects of LED light therapy masks are rare, but they have been reported in clinical trials.
What do different LED light colors do to your skin?
Most LED face masks on the market use either red or blue light therapy to treat a plethora of skin woes, but they shouldn't be used interchangeably. "Red Light Therapy has a longer wavelength that penetrates deeper into the skin and helps reduce inflammation and redness," says Dr. Anetta Rezsko, a New York City-based dermatologist. "It has also been shown to increase collagen and elastin synthesis and therefore reduce the appearance of fine lines and wrinkles."
Dr. Reszko says that Blue Light Therapy, however, "has shorter wavelengths and works best for acne-prone skin." It does this courtesy of a two-step process within the layers of your skin. First, she says, blue light "decreases the androgenic hormones in the sebaceous glands." These androgens actually stimulate your sebaceous glands so that they produce more oil and sebum, which cause acne on the skin. Dr. Reszko says that "the absorption of blue light leads to bacterial destruction" within the skin, which can help eliminate your acne.
How should you use LED light therapy masks?
You can use LED light therapy masks either in the morning at night, depending on the results you're looking for. Dr. Reszko says that using a LED mask in the morning will improve your skin's appearance by "increasing the glow and overall appearance of the skin."
However, she says that using a LED device at night will "calm down skin inflammation resulting from daily exposure to skin irritants like pollution, especially in people with sensitive and rosacea-prone skin."
How long does it take to see results from LED light therapy?
Like most skincare solutions, it will take some time before you see the substantial long-term effects of using an LED light therapy mask at home. Dr. Reszko asserts that "most clinical improvement of the skin is noticeable after four weeks of treatment with three sessions per week."
Shop the best LED light therapy masks:
THE PROFESSIONAL-GRADE MASK
(opens in new tab)
Dr. Dennis Gross Skincare DRx SpectraLite™ FaceWare Pro
This FDA-approved, easy-to-use Dr. Dennis Gross creation is the gold standard for LED light therapy masks. It mimics the kind of light therapy treatments you can get in your aesthetician's office and features red and blue light, so you can target your area of concern or use both simultaneously. Red light diminishes signs of aging, while blue light kills off acne-causing bacteria.
FOR EVER-CHANGING SKIN
(opens in new tab)
Skin Gym Wrinklit LED Mask
Some days, you might notice your skin looks duller than usual. Other days, you wake up with a smattering of zits that have you running for your medicine cabinet. Skin changes, but this mask will adapt to it. Its blue, red, and orange lights work to treat different conditions, and you can switch them depending on the state of your skin that day.es, but this mask will adapt with it. Its blue, red, and orange lights all work to treat different conditions, and you can switch them depending on the state of your complexion. It's also more affordable than many of the options on this list.
BEST FOR SELFIES
(opens in new tab)
MZ Skin Light-Therapy Golden Facial Treatment Device
While this mask might give you Game of Thrones flashbacks (does anyone remember those scary people with gold masks?), this LED mask uses a variety of lights to treat your skin. Like most LED masks, it emits classic red and blue lights, but it also features yellow and white light (yellow treats redness and increases circulation, while white repairs wounds to the skin).
EASIEST TO USE
(opens in new tab)
The Light Salon Boost Advanced LED Light Therapy Face Mask
Unlike many LED masks, this mask is made of a flexible material, so it's easy to store and fits nicely around the skin. Additionally, it features red and infrared light, working together to powerfully improve blood circulation while treating damaged skin and signs of aging.
THE SILICONE MASK
(opens in new tab)
HigherDose Red Light Face Mask
In addition to the popular infrared sauna blanket (opens in new tab), HigherDose has added an LED face mask to their buzzy lineup. It's crafted from medical-grade silicone with red and near-infrared light-emitting bulbs on the interior to mimic low-level rejuvenating wavelengths found in natural sunlight. The result? A relaxing and warming boost to your skin (and mood!), enhancing your natural glow.
THE FLEXIBLE OPTION
(opens in new tab)
CurrentBody Skin LED Light Therapy Mask
This mask's patented silicone makes it a standout amongst the pack. Its flexibility means the mask's red and infrared lights can hit and treat every contour of the face, making it more effective for improving skin tone, texture, and the appearance of fine lines. And hey, the comfier it is, the more we'll use it.
The Wireless Pick
Lux Skin LED Facial Mask
This budget LED mask option doesn't have the bells and whistles of the other masks on this list, but it gets the job done. It can shift between blue, red, and yellow light, thought to increase the production of new skin cells. Plus, because it's wireless, you can put in laundry, make a snack, or get in a few restorative Shavasanas while you treat.
THE BEST-FITTING OPTION
(opens in new tab)
Omnilux Contour Face
This mask from Omnilux—which Dr. Reszko refers to as "one of the pioneers of light-based devices"—is designed to fit your face better than other options on the market. It straps on across the back of your head for a snug fit that will feel comfortable while you wear it for each of the 15-minute treatments. She also notes that Omnilux designs "office and professional-grade light sources," so every at-home spa night will feel expert-approved.
THE TRAVEL-FRIENDLY OPTION
(opens in new tab)
Priori Unveiled Silicone LED Light Mask
This silicone mask from Priori lays flat, making it ideal for travel. It's also pre-programmed to only run for ten minutes at a time, so you don't have to worry about exposing your skin to the LED light for too long.
THE LOW-INTENSITY OPTION
(opens in new tab)
Beautimate 7 Color Photon LED Skin Toning Device Rejuvenation Therapy Mask
If you're still dipping a toe into the LED mask world, this is the mask for you. It comes with several heat settings, so you can decide which level of intensity you want to feel on your skin. The seven different light options help soothe the skin, accelerate cell growth and increase blood circulation for skin that looks younger in only 15 minutes.
FOR LIPS
(opens in new tab)
Revive LED Light Lip Plumping & Anti-Aging
Fun fact: You can use LED to target your lips. Revive's red light-emitting LED mask works to smooth fine lines and stimulate and build collagen to plump lips for a more youthful pout. *chefs kiss*
THE HANDHELD
(opens in new tab)
SolaWave Advanced Red Light Therapy Skincare Device
Ease into LED therapy with a handheld device, like SolaWave's multifunctional facial tool. With microcurrent, facial massage, and therapeutic warming functions, this easy-to-use design helps smooth the appearance of blemishes and fine lines, minimizes breakouts, decreases puffiness and the appearance of dark circles, and stimulates facial muscles for tighter-looking skin. Bonus: It's portable and super easy to use around the house, on the go, or during travel.
FOR TARGETING ACNE
(opens in new tab)
LightStim for Acne
Target acne sans a full-on mask with LightStim's handheld LED device. Using blue and red light, the former targets bacteria to heal existing blemishes and prevent future breakouts, while the latter increases blood circulation for a glowy and clear complexion.
The Best Customizable Pick
(opens in new tab)
FOREO UFO™ 2
This mini high-tech tool allows you to get a spa-like facial at home in only 90 seconds. All you need to do is apply a face mask or serum and use FOREO's app to customize your facial with a few taps. It uses red, blue, and green light to infuse your products into your skin for a more effective treatment.
Julia Marzovilla is an E-Commerce Writer at Marie Claire covering all things fashion, beauty, and entertainment. Offline, she's most likely browsing the web for another pair of black boots or listening to music too loudly—often at the same time.