The 14 Best LED Face Masks for Light Therapy At Home
Masking at home: So hot rn.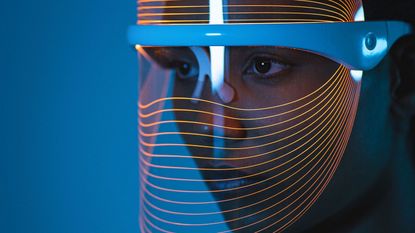 (Image credit: Getty Images/Westend61)
When people talk about "the future of skincare," they probably couldn't have predicted something quite so futuristic. If you have your thumb on the pulse when it comes to skincare innovations, you've probably heard a little something about at-home LED face masks, a.k.a. light therapy masks. These anti-inflammatory, acne-fighting LED treatments were once only available under the practiced hand of an aesthetician. But we're in the year of our lord 2022, and just like your favorite everyday face mask, LED light therapy masks are now a luxury available for you to use at your leisure.
To get in on the at-home LED mask action, we've talked to the experts, tested our favorites, and combed through the big wide web to gather all the information you need to know. Ahead, find the best at-home LED face masks available for purchase.
Best Black Friday Sales on LED Light Therapy Masks
What are the benefits of LED light therapy?
LED light therapy is a NASA technology adopted by the skincare community, thanks to its ability to heal wounds and tame inflammation. At-home LED therapy devices are less powerful than the treatments you'd get at a dermatologist's office, which means you can use them safely, but it'll take longer to see visible results.
An additional benefit: At-home devices like LED face masks "can offer complementary benefits to your topicals and help them do a better job," says board-certified dermatologist Dr. Joshua Zeichner, M.D.
Is LED light therapy safe?
After years of avoiding the sun's UV rays in the service of healthy skin, treating your face with light can feel counter-intuitive. But facialists, dermatologists, beauty editors, and the American Academy of Dermatology all agree: LED light treatments are safe and effective treatments for your complexion since they don't use UV rays. In fact, LED light therapy masks are beloved by celebrities with some of the best skin around, including Chrissy Teigen, Jessica Alba, and Kate Hudson.
A couple of caveats, however: You should be careful about using LED face masks alongside skincare that makes your face sensitive to light, like retinol or Accutane. Side effects of LED face masks are rare, but they have been reported in clinical trials.
Best At-Home LED Face Masks
What do different LED light colors do to your skin?
Most LED face masks use either red or blue light therapy to treat a plethora of skin woes, but there are also different wavelengths—including white, yellow, amber, and green—that might be featured in your product.
The Benefits of Red Light Therapy
"Red light therapy has a longer wavelength that penetrates deeper into the skin and helps reduce inflammation and redness," says Dr. Anetta Rezsko, a New York City-based dermatologist. "It has also been shown to increase collagen and elastin synthesis and therefore reduce the appearance of fine lines and wrinkles."
The Benefits of Blue Light Therapy
Unlike red light therapy, blue light therapy "has shorter wavelengths and works best for acne-prone skin," says Dr. Reszko. It does this courtesy of a two-step process within the layers of your skin. First, she says, blue light "decreases the androgenic hormones in the sebaceous glands."
These androgens actually stimulate your sebaceous glands so that they produce more oil and sebum, which cause acne on the skin. Dr. Reszko adds that "the absorption of blue light leads to bacterial destruction" within the skin, which can help eliminate your acne.
How should you use LED light therapy masks at home?
You can use LED light therapy masks either in the morning or at night, depending on the results you're looking for. Dr. Reszko says that using a LED face mask in the morning will improve your skin's appearance by "increasing the glow and overall appearance of the skin."
However, using a LED device at night will "calm down skin inflammation resulting from daily exposure to skin irritants like pollution, especially in people with sensitive and rosacea-prone skin," she says.
How long does it take to see results from LED light therapy?
Like most skincare solutions, it will take some time before you see the substantial long-term effects of using an LED light therapy mask at home. Dr. Reszko asserts that "most clinical improvement of the skin is noticeable after four weeks of treatment with three sessions per week."
Meet the Dermatologists