The 14 Best LED Face Masks for Light Therapy At Home, According to Beauty Editors and Experts
Masking at home: So hot rn.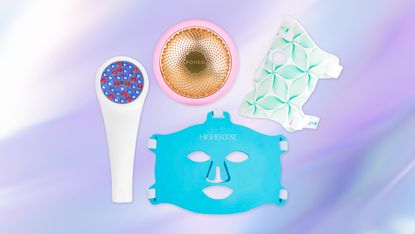 (Image credit: Future)
Marie Claire Newsletter
Celebrity news, beauty, fashion advice, and fascinating features, delivered straight to your inbox!
Thank you for signing up to Marie Claire. You will receive a verification email shortly.
There was a problem. Please refresh the page and try again.
I try beauty products for a living—the good, the bad, the life-changing. Naturally, I have a heck of a lot of favorites. But the most transformative of them all? The best at-home LED face masks, a.k.a light therapy masks. These anti-inflammatory, anti-aging, acne-fighting light therapy treatments—which were once only available under the practiced hand of a dermatologist—leverage blue light, red light, yellow light, green light, and on occasion, white light to target skin concerns in the short-term (an at-home session takes about 10 minutes) and the long-term.
Take it from me: You want to get in on the at-home LED mask action. The masks are an investment, sure. But if you plan on using one regularly, it's well worth it. We've talked to the experts, tested our favorites, and combed through the big wide web to gather all the information you need to know. Ahead, find the best at-home LED face masks available for purchase.
Overview
Deals on LED Light Therapy Masks
What to Look For in an LED Mask
It shouldn't come as a surprise that the big LED machines in spas and dermatologists' offices are going to be a lot more powerful than little at-home masks. But you're still going to need a certain level of LED light exposure to see results. "For an LED mask to be effective, it must be at a clinically relevant wavelength, and have a reasonable amount of irradiance or power," explains Dr. Tanuj Nakra, MD, FACS and co-founder of AVYA Skincare. These numbers should be available through the manufacturer or on the product page.
"Every color corresponds to specific wavelengths. These ranges are great to reference because if the device you're looking at lists a different nanometer that's not in range, or mentions a different color, it's not going to help you achieve your skin goals," explains board-certified esthetician Erica Marie. She explains that blue light should fall within 445 to 490 nm, green light should fall within 490 to 570 nm, yellow light should fall within 570 to 590 nm, red light should fall within 620 to 780 nm, and white light should fall within 700 to 1000 nm.
While there are dozens and dozens of LED face masks on the market, only a handful have FDA approval. "The search for a safe and effective device begins with making sure the device is FDA approved," says Dr. Nakra. "You can check this for yourself."
While you might prefer an LED mask that goes on like a pair of sunglasses, others might want something that straps them in—it's really personal preference. That said, some features are non-negotiable, like the number of LED lights and their distribution. "When it comes to the number of LED lights in the device, the more the better. In order for the lights to penetrate directly into the cells, they need to be close together and there needs to be a lot of lights, at least 100 or more," explains Dr. Marie. "You also want the lights as close together as possible to get the best results."
Is LED Therapy Safe?
After years of avoiding the sun's UV rays in the service of healthy skin, treating your face with light can feel counter-intuitive. But facialists, dermatologists, beauty editors, and the American Academy of Dermatology all agree: Generally speaking, LED light treatments are safe and effective treatments, since they don't use UV rays.
A couple of caveats, however: You should be careful about using LED face masks alongside skincare that makes your face sensitive to light, like retinol or Accutane. "Prescription drugs, including antibiotics, diuretics, and even some over-the-counter medications such as St. John's Wort can cause sensitivity to LED light therapy," explains Dr. Nakra. "Rare eye conditions including certain retinal diseases can be exacerbated by LEDs as well. If you are unsure, check with your doctor or dermatologist about whether your medication can cause light sensitivity (photosensitivity)."
You'll also want to exercise extra caution when it comes to blue light. "Using it longer than 20 minutes can cause pigmentation to worsen or appear," says Marie.
Best At-Home LED Face Masks
Every at-home LED mask on this list has been specifically chosen by Marie Claire's Beauty Editor, Samantha Holender (hi, hello, yes it's me) and Marie Claire's Beauty Director, Deena Campbell; or has been hand-selected by a board-certified dermatologist. Each and every one leverages LED technology that is clinically proven to deliver results, feels comfortable when being worn, and is highly rated by reviewers. While the *best* at-home LED mask for you will depend on your specific skin concerns, personal preference, budget, and skin goals, you'll be able to find an option that delivers, ahead. For a more personalized recommendation or if you have any concerns, check with your board-certified dermatologist.
The Benefits of LED Therapy
At-home LED therapy devices are less powerful than the treatments you'd get at a dermatologist's office, which means you can use them safely, but it'll take longer to see visible results. The result you'll see however depends largely on the type of light therapy you're using. Most of the LED face masks on our list use either red (anti-aging) or blue light therapy (anti-bacterial) to treat a plethora of skin woes, but there are also different wavelengths—including white, yellow, amber, and green—that might be featured in your product. "Combining more than one wavelength helps you get the best results," says Marie. "Your skin is always changing so it's nice to have options."
The Benefits of Red Light Therapy
Red light is going to be the most popular color you'll find in LED masks, in part because its benefits are so wide ranging. "Red LED lights emit energy that travels deep into the skin, and stimulates the molecular pathways inside the cells and mitochondria to produce more collagen, reduce inflammation, and reduce redness," explains Dr. Nakra. "It has also been shown to increase collagen and elastin synthesis and therefore reduce the appearance of fine lines and wrinkles," adds Dr. Anetta Rezsko, a New York City-based dermatologist.
The Benefits of Blue Light Therapy
Unlike red light therapy, blue light therapy "has shorter wavelengths and works best for acne-prone skin," says Dr. Reszko. It reduces the frequency of new breakouts and treats existing ones courtesy of a two-step process within the layers of your skin. First, she says, blue light "decreases the androgenic hormones in the sebaceous glands," which in layman's terms means your skin will produce less oil. Less oil equals less clogged pores. Then comes step two: The destruction of bacteria. "Blue LED lights have a high power to treat bacteria on the skin, specifically P acnes, the bacteria that causes acne," adds Dr. Nakra.
The Benefits of Green Light Therapy
The opposite of red on the color wheel? Green, which is why green light therapy is going to be a saving grace for anyone with unwanted redness or rosacea. "Green LED light penetrates into the intermediate layers of the skin and are absorbed preferentially by minute blood vessels that can cause facial redness and rosacea," explains Dr. Nakra. The result? A more even skin tone. Marie adds that green light "targets dark circles and pigmentation" by preventing excess melanin from being produced.
The Benefits of Yellow Light Therapy
The benefits of yellow light are going to be somewhat similar to those of green light. While you typically won't find a device with exclusively yellow light therapy, it may be one of your options. "Yellow LED light penetrates into the superficial layers of the skin," explains Dr. Nakra. Marie adds that by doing this, it's able to stimulate blood flow and reduce redness, rosacea, and the appearance of broken capillaries.
The Benefits of White Light Therapy
"White LED light contains all visible wavelengths, and can be beneficial in treating some types of depression—especially seasonal affective disorder," says Dr. Nakra. "When used in the mornings, white LED light treatments can also help enhance wakefulness and regulate normal circadian rhythms." That's not all though. Marie explains that it also comes along with tightening benefits and reduces inflammation.
How to Incorporate LED Therapy Into Your Skincare Routine
You can use LED light therapy masks either in the morning or at night, depending on the results you're looking for. Dr. Reszko says that using a LED face mask in the morning will improve your skin's appearance by "increasing the glow and overall appearance of the skin."
However, using a LED device at night will "calm down skin inflammation resulting from daily exposure to skin irritants like pollution, especially in people with sensitive and rosacea-prone skin," she says.
Regardless of when you decide to wear your device, remember that consistency is key if you want to see results. Use the face mask of your choice roughly three to five times a week for around 10 minutes.
Which LED Masks Are the Most Comfortable?
The most comfortable at-home LED for you is going to be largely personal preference. Because they are heavier devices, chances are they are going to feel a little weighted—it just depends where that weight is distributed. A rubber or silicone option will have less rubbing on the skin, a sunglass-inspired mask will likely cause a little ear irritation, and a behind-the-head strap will require you to sit still.
How Long Does it Take to See Results From LED Therapy?
Like most skincare solutions, it will take some time before you see the substantial long-term effects of using an LED light therapy mask at home. Dr. Reszko asserts that "most clinical improvement of the skin is noticeable after four weeks of treatment with three sessions per week."
Meet the Dermatologists
Celebrity news, beauty, fashion advice, and fascinating features, delivered straight to your inbox!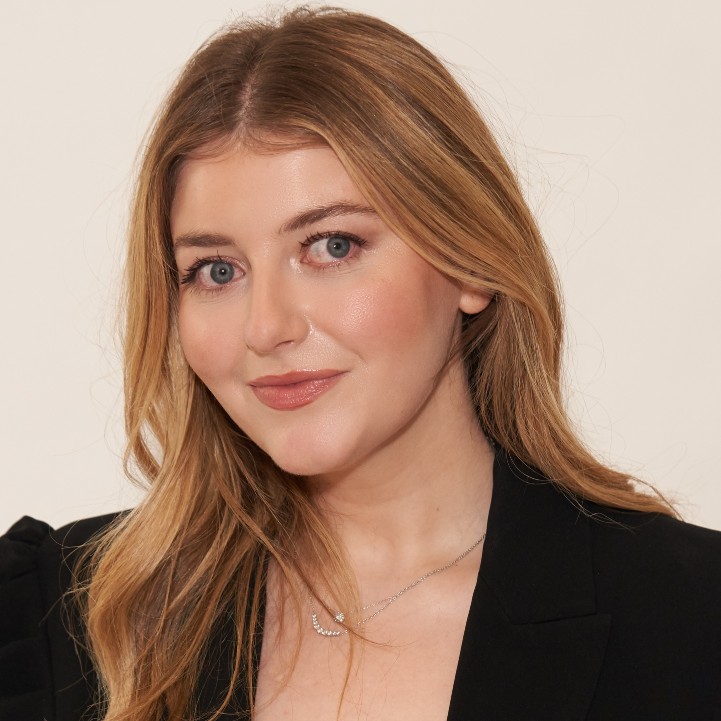 Samantha Holender is the Beauty Editor at Marie Claire, where she reports on the best new launches, dives into the science behind skincare, and keeps up with the latest trends in the beauty space. She has previously written for Us Weekly, Popsugar, Makeup.com, Skincare.com, and Philadelphia Wedding. Follow her on Instagram @samholender.