15 LED Light Therapy Masks Worth Every Penny
Masking at home: So hot rn.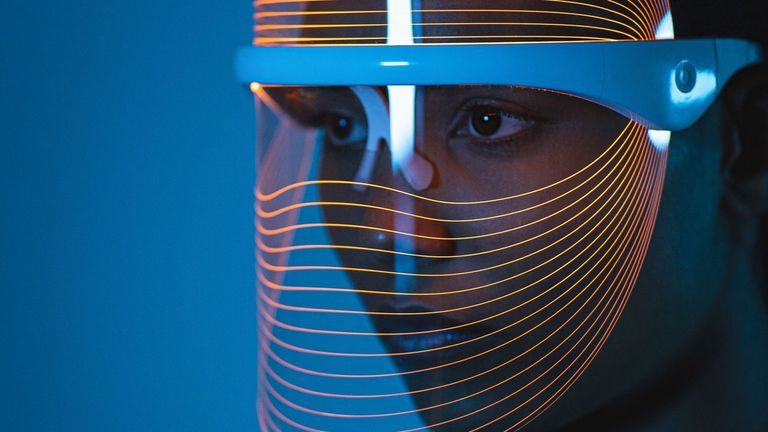 (Image credit: Getty Images/Westend61)
By Tatjana Freund , Taylore Glynn published
When people talk about "the future of skincare," I don't think any of us predicted something quite so futuristic. Whether you're a serial Instagram scroller or just have your thumb on the pulse of the newest, coolest skincare innovations, you've probably heard a little something about LED skin therapy. In the past, these fancy treatments were only available under the practiced hand of your aesthetician for in-office treatments. Now, this luxury is available for you to use at your leisure when your skin is in the mood for something fancy.
What does LED light therapy do?
LED light therapy is actually a NASA technology that was adopted by the skincare community, thanks to its ability to heal wounds and tame inflammation. Blue light frequencies are typically used to treat acne, while red light is used for anti-aging concerns. At-home devices are less powerful than the treatments you'd get at a dermatologist's office, which means you can use them safely but it may take longer to see visible results.
Is LED light therapy safe?
After years of avoiding the sun's UV rays in the service of healthy skin, it can feel counter-intuitive to purposefully treat your face with light. But facialists, dermatologists, and beauty editors agree: LED light treatments are safe and effective treatments for your complexion. If you're curious about the LED face masks that will up your skincare and Instagram game, read on for some of the best on the market.
Tatjana Freund is a Beauty Commerce Writer, covering makeup, skincare, and haircare products and trends. She's a fan of vodka tonics and creepy Wikipedia pages.