The 15 Best LED Face Masks for Light Therapy At Home, According to Beauty Editors and Experts
Masking at home: So hot rn.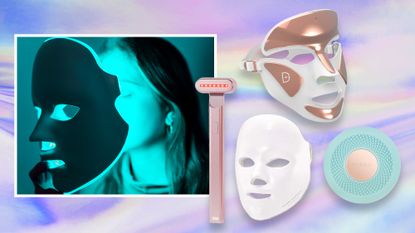 (Image credit: Future)
I try beauty products for a living—the good, the bad, the life-changing. Naturally, I have a heck of a lot of favorites. But the most transformative of them all? The best at-home LED face masks, a.k.a light therapy masks. These anti-inflammatory, anti-aging, acne-fighting light therapy treatments—which were once only available under the practiced hand of a dermatologist—leverage blue light, red light, yellow light, green light, and on occasion, white light to target skin concerns in the short-term (an at-home session takes about 10 minutes) and the long-term.
The masks are an investment, sure. But if you plan on using one regularly, it's well worth it. We've talked to the experts, tested our favorites, and combed through the big wide web to gather all the information you need to know. Ahead, find the best at-home LED face masks available for purchase.
Overview
Deals on LED Light Therapy Masks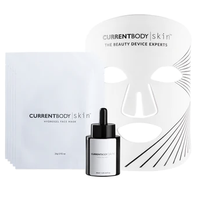 Currentbody Skin LED Light Therapy Face Mask, Black Friday Special LED Kit $490 $399 at Currentbody
This Black Friday special set is a great value for anyone looking to dip their toes in LED light therapy. The mask helps to decrease the look of fine lines and wrinkles while giving the skin a brighter appearance.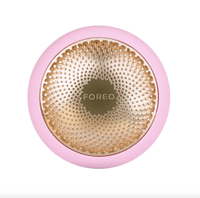 FOREO UFO™ 2, $299 $150 at BlueMercury
Half off at Bluemercury right now, this pocket-sized LED device is small but mighty. It has healing, cooling, and vibrational settings to suit your mood—and your skin's needs.
What to Look For in an LED Mask
It shouldn't come as a surprise that the big LED machines in spas and dermatologists' offices are going to be a lot more powerful than little at-home masks. But you're still going to need a certain level of LED light exposure to see results. "For an LED mask to be effective, it must be at a clinically relevant wavelength, and have a reasonable amount of irradiance or power," explains Dr. Tanuj Nakra, MD, FACS and co-founder of AVYA Skincare. These numbers should be available through the manufacturer or on the product page—below, we dive into what to look for for each color.
"Every color corresponds to specific wavelengths. These ranges are great to reference because if the device you're looking at lists a different nanometer that's not in range, or mentions a different color, it's not going to help you achieve your skin goals," explains board-certified esthetician Erica Marie. She explains that blue light should fall within 445 to 490 nm, green light should fall within 490 to 570 nm, yellow light should fall within 570 to 590 nm, red light should fall within 620 to 780 nm, and white light should fall within 700 to 1000 nm.
While there are dozens and dozens of LED face masks on the market, only a handful have FDA approval. "The search for a safe and effective device begins with making sure the device is FDA approved," says Dr. Nakra. "You can check this for yourself."
While you might prefer an LED mask that goes on like a pair of sunglasses, others might want something that straps them in—it's really personal preference. That said, some features are non-negotiable, like the number of LED lights and their distribution. "When it comes to the number of LED lights in the device, the more the better. In order for the lights to penetrate directly into the cells, they need to be close together and there needs to be a lot of lights, at least 100 or more," explains Dr. Marie. "You also want the lights as close together as possible to get the best results."
Best At-Home LED Face Masks
Every at-home LED mask on this list has been specifically chosen by Marie Claire's Beauty Editor, Samantha Holender (hi, hello, yes it's me) and Marie Claire's Beauty Director, Deena Campbell; or has been hand-selected by a board-certified dermatologist. Each and every one leverages LED technology that is clinically proven to deliver results, feels comfortable when being worn, and is highly rated by reviewers. While the *best* at-home LED mask for you will depend on your specific skin concerns, personal preference, budget, and skin goals, you'll be able to find an option that delivers, ahead. For a more personalized recommendation or if you have any concerns, check with your board-certified dermatologist.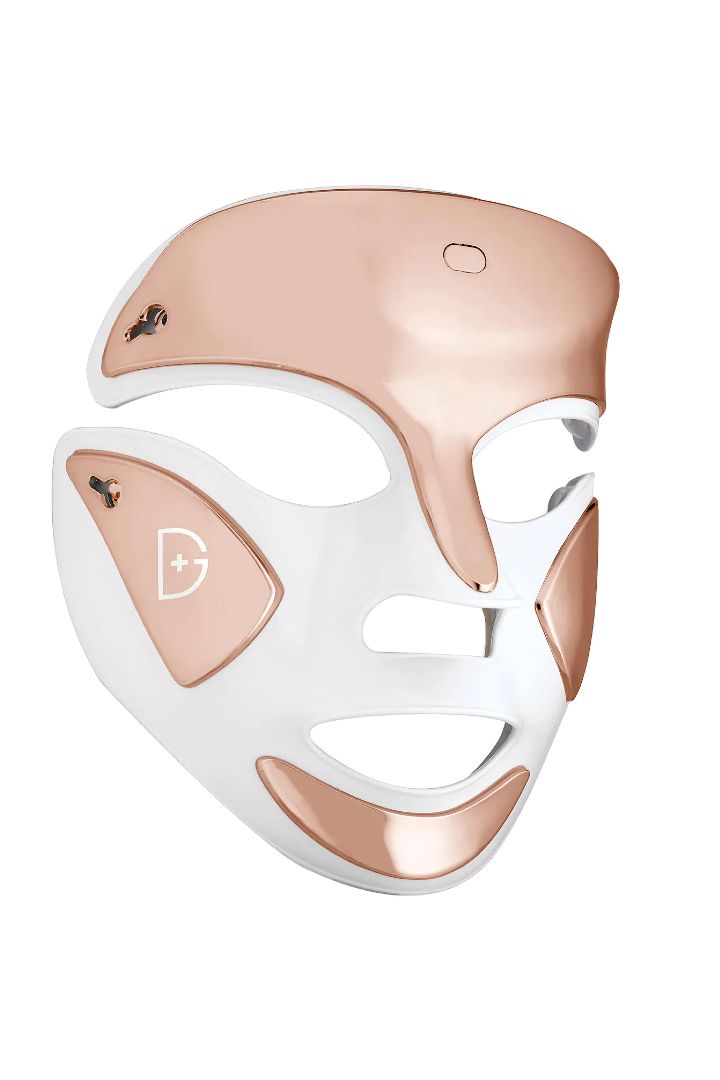 The Best Overall At-Home LED Mask
Dr. Dennis Gross Skincare DRx SpectraLite™ FaceWare Pro
"My hormonal breakouts are persistent. Every month I'm guaranteed to see one or two, but the blue light in Dr. Dennis Gross' LED mask is the truth. It targets the bacteria and reduced redness after five uses. I have to admit, the mask scared my toddler at first, but now I'm called, "Superhero Mommy" and it's the best compliment ever." — Deena Campbell, Beauty Director
Pros: Easy to use; Professional-grade; Dual-action lights (red and blue)
Cons: Expensive; Bulky
Customer Review: "I've had this since December 2020 and absolutely love this product. I use as recommended every day for three minutes...it's on an automatic timer. I don't do botox anymore. I was definitely skeptical, but the proof is in my skin. It's also cleared up some acne that usually is a problem with my skin. Very well worth the price." — Sephora
Specs: FDA-approved, 162 LED lights, two light colors, automatic shut off
The Fastest Working LED Mask
TheraFace Mask by Therabody
When TheraFace entered the LED face mask category, they did so with their own twist. Taking a cue from the percussive therapy attachment on their famed TheraFace, they made a point to incorporate the same vibrational therapy in their 648-light LED mask. It features red light, infrared light, and blue light to help with pigmentation, acne, and reducing signs of aging.
Pros: Effective
Cons: Expensive; Heavy
Customer Review: "The documentation claims you will see visible results in as little as 8 weeks for fine lines and wrinkles, but I can actually tell a slight difference in my "crow's feet" already. I never knew light and vibration could have such an impact. The mask is comfortable while wearing it and the included eye shield means you can still see and go about your business while wearing it if you so desire. For me, the vibrating massage is the absolute best part as it eases tension and even has helped with my headaches." — Neiman Marcus
Specs: 648 LED lights; FDA-approved; three light colors
The Most Affordable LED Face Mask
Solaris Laboratories How To Glow 4 Color LED Light Therapy Mask
With blue, amber, green, and red light, this affordable face mask is multi-purpose at its core. With the flip of a switch, you have the ability to boost circulation, treat acne, boost collagen, and bring back a healthy glow. Use the wireless LED mask three to five times a week for 15 minutes, and you're bound to notice results.
Pros: Affordable; Multi-beneficial; Wireless
Cons: Not as powerful as others
Customer Review: "Highly effective! I notice a difference in my skin every time I use this product. I used it this morning and my skin was noticeably less red and appeared brighter and tighter. Compared to other similar products in the market, this is great value. Easy to use and good battery life." — Revolve
Specs: Four light colors; Wireless; Not FDA-approved
Best LED Face Mask for Acne
Whenever I sense that a juicy red pimple is going to take up residence on my face, I grab LightStim's handheld LED device. Its small and compact design makes it ideal for targeted treatment. Plus, it leverages blue light, which has been shown to kill acne-causing bacteria, as well as red light, which can be beneficial at reducing inflammation. I promise, using this religiously will significantly reduce the lifespan of your pimple—and prevent new ones from popping up.
Pros: Good for acne; Targeted treatment; Compact
Cons: Can't multi-task while using
Customer Review: "I purchased this a year ago and have been using it on and off and I can honestly say that this is a really good investment to make. I always reach for it when I get cystic or inflammatory acne and it really does help. It does help the acne go down and helps with the inflammation." — Revolve
Specs: FDA-approved, 36-LED lights, 9-Volt power cord, five year warranty, two light colors
Comfiest LED Face Mask
This mask from Omnilux—which Dr. Reszko refers to as "one of the pioneers of light-based devices"—is designed to fit your face better than other options on the market. It straps on across the back of your head for a snug fit that will feel comfortable while you wear it for each of the 15-minute treatments. She also notes that Omnilux designs "office and professional-grade light sources," so every at-home spa night will feel expert-approved.
Pros: Comes with a head strap for comfortable wear; Professional grade
Cons: Needs to be plugged in to outlet during use; Bulky
Customer Review: "I will never be without this mask! I use it four to five days a week and whenever I have a headache. Not only did it get rid of my fine lines and wrinkles, but it definitely got rid of any crepiness and sagging I had. It also made my skin clearer and brighter." — Omnilux
Specs: FDA-approved, 633nm (red) and 830nm (near-infrared), 132 LEDS, rechargeable battery
Best LED Face Mask for Redness
MZ Skin Light-Therapy Golden Facial Treatment Device
Like most LED masks, this fancy gold mask emits classic red and blue lights to address aging and acne. But it also has a little something extra-extra: It's also designed to feature yellow and white light. What do they do, you ask? Well, yellow wavelengths are going to treat redness and increase circulation; it's great for anyone dealing with rosacea. White wavelengths can help repair wounds to the skin, meaning this is an excellent post-treatment tool.
Pros: Variety of lights; Customizable
Cons: Bulky; Expensive
Customer Review: "It is expensive, but once used more than about three times you have saved the amount you would have spent in a clinic. I love the fact it has the four color lights to choose from and a timer." — CurrentBody
Specs: FDA-approved; two year warranty, five light colors
The Best LED Face Mask for Uneven Skin Tone
CurrentBody Skin LED Light Therapy Mask
With Carey Mulligan, Kayley Cuoco, and Kristin Davis among the mask's fans, it shouldn't be a shocker that this product delivers big-time results. Part of the efficacy is rooted in the fact that flexible material ensure the red and infrared lights hit and treat every contour of the face. As a result, it's more effective for improving skin tone, texture, and the appearance of fine lines.
Pros: Form-fitting; Easy to store; Powerful
Cons: Doesn't have lights placed by upper lip or upper forehead
Customer Review: "I've been using light therapy for quite some time and this is the best mask I've come across. The bulbs are super bright, the mask is flexible and adjustable. Bonus is that once charged you can wear it anywhere without being tethered to a wall plug. I only wish it had blue light with it!!" — CurrentBody
Specs: FDA-approved, two light colors, comfort goggles for eye protection