Debby Ryan Has Some Brilliant Things to Say About Domestic Violence
An insightful chat with one of Hollywood's biggest rising stars.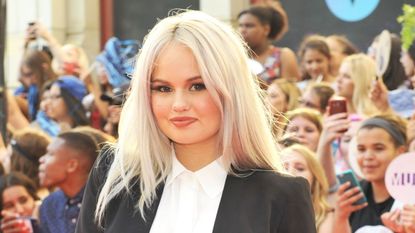 (Image credit: Archive)
When Debby Ryan speaks, you want to listen. Not just because her voice is has a cool rock 'n' roll rasp, but because nothing she says is the usual celebrity fluff. She takes her time, thinks about her stance, and conveys it compellingly. In short, she's smart AF. So it's no surprise that the former Disney Channel star is the ambassador of a campaign to get women to think—and speak—differently about domestic violence.
Consider these terrifying facts: One in three teens experience abuse in a dating relationship. One woman is beaten by her husband or partner every 15 seconds in the U.S. One in four women will experience domestic abuse in their lifetime. And domestic abuse is the leading cause of injury to women between the ages of 15 and 44 in the United States—more than car accidents, muggings, and rapes...combined.
So together with Mary Kay, Debby Ryan is urging her fans to build awareness and support for healthy relationships on social media by posting a picture of themselves with the hashtag #DontLookAway. We caught up with the 22-year-old starlet to talk about the cause, strong women in Hollywood and beyond, and her career icons.
Marie Claire: You're pulled in a million different directions and are surely approached by different organizations all the time. What made this cause stick out to you?
Debby Ryan: Mary Kay has really been incredible, and this cause is really close to the heart. I've seen everyone deal with this subject—whether they were abused or they know a friend or a family member that's been abused—and it's really impactful. It's a hard pill to swallow, and I don't think enough people are talking about it. And when we do talk about it, we kind of have amnesia. We forget about it immediately, and then we just chalk it up to something that's a one time thing. So this message is really important and it's really special to be a part of something that's really changing lives. We've done some incredible stuff and I want to do all I can.
MC: When it comes to "abuse"—we often see that term and get scared that the actions that we endured don't "count" because they weren't severe enough. And it can often be scary for young women to speak out—what's your advice for women who are nervous about saying something?
DR: I would just say that every single woman deserves love and relationships that make them stronger. You're right, it's so hard to feel like you can talk to someone, *anyone* about certain things, wondering if certain things you went through are okay or not okay or even just talking to someone period, because you just need to express that this happened to you. But I want girls and women to know that there's always someone they can reach out to, even if it's anonymously. On the website LoveIsRespect.org, which is a partner of Mary Kay, you can see resources in your community and information that can help you process and reach out. You can call someone, and also text someone, just to know that you're not alone and you can come to a place where you're given love and strength to really be able to stand up for yourself and say "this happened." I hope more women see, at least eventually, that a healthy relationship isn't anything that breaks you down. A real, healthy relationship is about empowerment and love and that should be standard—but it isn't.
MC: You've grown up in the public eye—in front of a screen. How have you stayed so grounded? Do you ever struggle with it?
DR: It's definitely two things. A) I was conscious of what others did—the common mistakes that people my age and people who are in this industry made, and I just didn't do those things. B) I have amazing family and friends. That's really it. It's definitely not something that just stays that way. Every day is a reminder of what I need to do to be the best person; the best me.
MC: Who do you look to in this industry? Who are your career icons?
DR: I love people like Tina Fey and Amy Poehler, people who create and write their own stuff—especially when there's just not enough cool, interesting characters out there. They really bring this humor and intelligence and heart to their projects—and it's not just catering to like, an idea of what a funny woman is. They really show people that it's cool to be smart and driven and strong, but that doesn't have to mean hard. They're so fun. And then you have the Ron Howards of the world that I admire—those that started as one thing and then became another thing, just by doing what you love to do and working really hard. I want to be able to do that.
MC: Talking about strong, driven women—there's a ton of talk about the pay gap in Hollywood, especially with Jennifer Lawrence going on record and being vocal about it, with others saying that it's not the way to go. What do you think of everything going on?
DR: I think young women should be vocal whenever about the things that affect them. With the pay gap in Hollywood, I think it's very easy to say—"oh, what are they complaining for? They're making millions of dollars." But by having a woman in the industry do this, it's easier for others to see it. It's easy to translate that on a smaller scale, and it's great that people are seeing that they should ask for what they're worth. It shouldn't have to be a fight to get that, but it is. And it's nice that we're seeing that change and that women—or anyone, really—are seeing that it doesn't make you a bad person or hard to work with. It's important that women see you should be sticking up for yourself on every level—whether it's pay or relationships or whatever. And I really think with Jennifer Lawrence saying something, it's really also encouraging this movement, especially for young people. Speaking out about these types of things is hard as a woman, but being a woman and *young* and speaking out is even harder. It's hard to be taken seriously. But I think we'll see that things are starting to change, that we're starting to really have important conversations and listen to other points of view.
MC: Is there something you think people don't know about you? Or something you love to do?
DR: I'm always doing something new. I took a fencing class recently—that was awesome. And I do a lot of my own athletic work or stunts. For a lot of things, they'll hire a stunt double—for most things, really—and you know, I grew up watching James Bond and Star Wars and I just love that kind of action. I love trying to see if *I* can actually do it. I also am in a band—The Never Ending—and I've been writing a lot more music and just writing in general, like on my blog. It's crazy to see people having tattooed my lyrics on their body, and quite frankly writing is just an outlet for my voice and getting it out there. I started producing with my brother, and it just became this thing. Writing about heartbreak and failing in love and being in love—at this age, there's a lot. But I really hope to find my own voice really in the next 5 to 10 years.
MC: How would you describe your style?
DR: Diversified. I want to be able to walk a red carpet and look great but also be able to shred onstage and move. So I tend to go for comfort over anything—I like menswear-inspired stuff but I also like getting glam once in awhile. Whatever I wear, I like it to feel very strong and very unique.
MC: Are there any beauty products you can't live without?
DR: I love Bare Minerals, and for me, it's all about the cat eye liner. I use a bit of tinted moisturizer—Mary Kay has a great one—because I like the fresh look. A strong brow and really great mascara and oil blotting papers are musts.
MC: What's on the radar, project-wise?
DR: I'm coming out with a children's series, and I'm so proud of that. And I've been doing a series for YouTube that will come out in 2016, which I think will be really cool.
Follow Marie Claire on Instagram for the latest celeb news, pretty pics, funny stuff, and an insider POV.
Celebrity news, beauty, fashion advice, and fascinating features, delivered straight to your inbox!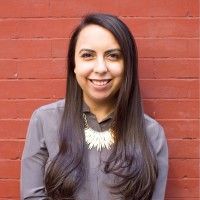 Samantha Leal is the Deputy Editor at Well+Good, where she spends most of her day thinking of new ideas across platforms, bringing on new writers, overseeing the day-to-day of the website, and working with the awesome team to produce the best stories and packages. Before W+G, she was the Senior Web Editor for Marie Claire and the Deputy Editor for Latina.com, with bylines all over the internet. Graduating from the Medill School of Journalism at Northwestern University with a minor in African history, she's written everything from travel guides to political op-eds to wine explainers (currently enrolled in the WSET program) to celebrity profiles. Find her online pretty much everywhere @samanthajoleal.