Emilia Clarke Is Tired of Being Asked About Playing a "Strong Woman"
"I get very frustrated."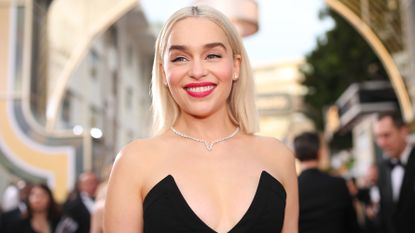 (Image credit: Christopher Polk/NBC)
With the iron throne in sight and a couple of dragons up her sleeve, Daenerys Targareyn is undoubtedly one of the most badass onscreen women that television has to offer right now. But her IRL counterpart, Game of Thrones actress Emilia Clarke, (opens in new tab) is done with questions about the trope of "strong women" and roles for them in the acting world. Don't panic, though—her reasoning for dismissing the term actually makes a lot of sense.
Emilia, whose portrayal of the Mother of Dragons has scooped her three Emmy nominations, revealed to Variety (opens in new tab) earlier this year that she views the term of "strong women" as being loaded with hidden sexism, and she's not here for it.
Condemning the endless use of the term in her Game of Thrones interviews, the actress said: "Enough already of the 'strong woman', please. Let's just be women. I'm going to tell you how it feels to play a woman—the end, that's it. Take the 'strong' out of it, find another adjective, dammit. I'm just playing women. If it's not strong, what is it? Are you telling me there's another option, there's a weak option? You think a lead in a movie is going to be a 'weak' woman?"
Instead, Emilia offered her interviewer some preferred alternatives."'How does it feel to play a female lead in a big blockbuster movie?' Or 'How does it feel to play someone with power in that position?' I mean the list goes on." She continued: "I get very frustrated with that in particular, because you don't get 'strong men', unless you mean 'physically strong men'."
Daenerys wouldn't ever stand for this shit, and neither does Emilia.
Lucy Wood spends most of her time writing about celebrity news, reading books, and waiting for the glorious day that she have enough millions for a pet sloth. She also has a YouTube channel on the go where she pretends to know things about fashion and life advice.