Crazy Rich Asians Star Gemma Chan Joins the Royal Court in Mary Queen of Scots
Actress Gemma Chan will appear in next month's 'Mary Queen of Scots,' in which she plays Bess of Hardwick. You know her as Astrid on 'Crazy Rich Asians.'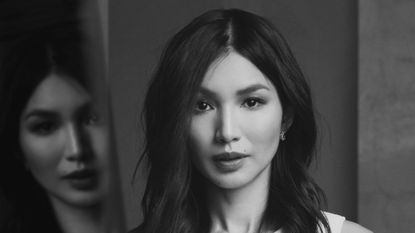 (Image credit: GRAY HAMNER/DAY REPS)
Gemma Chan—you probably recognize her as Astrid from this summer's smash hit Crazy Rich Asians—stars alongside Margot Robbie and Saoirse Ronan in the highly anticipated Mary Queen of Scots about the contentious reigns of the titular character and England's Elizabeth I, in theaters December 7th. Here, Chan talks with Marie Claire about the film, working with female directors, and that rumored CRA sequel.
There's so much fighting over women's bodies in Mary Queen of Scots. It feels...
Familiar. Every scene is about power. You see two women trying to [wield it] in different ways. Mary embraces her feminine side and Elizabeth is almost trying to be like a man. It's so relevant right now. How much weight does a woman's voice carry compared to a man's? We've seen that so starkly revealed.
It's interesting that this is a British period film—they're traditionally very white—but the cast is quite diverse.
I would never have expected to get cast in a film like this even five years ago. I was warned when I left drama school that a lot of the U.K.'s film and TV output is period drama, and there was absolutely no way [I'd get roles]. I said yes to this partly in defiance of what I'd been told. On the stage, it's a lot more accepted. I think Hamilton was described as "America then" played by "America now." This is "England then" portrayed by "England now." It's about time.
You play Bess of Hardwick, a member of Queen Elizabeth's court. Do you think we'll ever see a nonwhite Elizabeth?
You know, if John Wayne can play Genghis Khan, who knows? Watch this space.
What was it like having such a women-centric cast and crew for this film and the upcoming Captain Marvel?
Working with two female directors in the last year—Josie Rourke for Mary Queen of Scots and Anna Boden for Captain Marvel—you really do feel an energy difference. No screaming, no dick-swinging. Just working together to get the best out of the scene.
Crazy Rich Asians begins with a scene of vile racism in '80s England. How does that track with your experience at that time as a British person of Asian descent?
I was relatively lucky that outright racism toward me wasn't frequent. But statistics of hate crimes against Asians are alarmingly depressing. I think there's an issue with how history is taught. [For example,] I wasn't aware that 140,000 Chinese men were part of the Allied effort in World War I. They've been literally airbrushed from history: There was a huge mural painted in Paris to commemorate the forces that contributed to victory, but when the Americans joined the war there wasn't room, so they painted over the Chinese.
Rumors are swirling about a Crazy Rich Asians sequel focusing on your character, Astrid.
I don't know much other than that they're working on the script. I would love for there to be an exploration of her backstory. There's a lot if they want to go there!
This article originally appeared in the Holiday 2018 issue of Marie Claire.
RELATED STORY
Celebrity news, beauty, fashion advice, and fascinating features, delivered straight to your inbox!