Reinventing Rebecca Romijn
She used to be the cool blonde on the runway; now she's the hot transsexual on Ugly Betty. Rebecca Romijn is in love again and having the most fun of her professional life.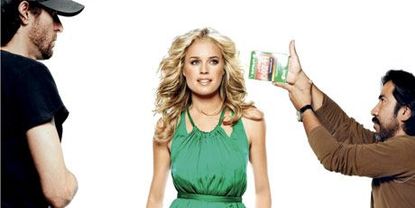 (Image credit: James White)
Rebecca Romijn, casually attired in a black knee-length sweater, black leggings, and black boots, her hair up in a ponytail, is loping around the Raleigh Studios set of the miraculous little hit show Ugly Betty, a comedy about life at a fashion magazine. Describing the episode she's working on, in which her character, a glam transgender woman named Alexis, finally gets some sugar from a hot Brazilian named Rodrigo, she grows giddy, and I think I know why. Acting prospects for a genetic marvel like Romijn, 34, a towering blonde who did hard time as a model, are iffy at best; her kind is frequently relegated to eye-candy cameos and gawk-worthy oddities, like her role as the shape-shifter Mystique in X-Men, which found her in head-to-toe blue body paint. A challenging part in a well-written series is the holy grail, and she's attained it.
"I'm sort of always thinking about the show," she says, before we climb into her "groovy little Prius" and head off to dinner. "Hour-long TV is no joke. It tests you as a human being. It makes you a stronger person, but it's really crazy." Recently, she smacked up the Prius driving home from work at 6:30 a.m. "I was deliriously tired, and I got lost on the back lot trying to find my way out," she explains. "And I found myself wedged between a gate and a wall, and I just sat in my car and cried."
Tonight, without incident, she manages the five-block drive to Lucy El Adobe, a legendary Mexican restaurant on Melrose where the likes of John, Bobby, and Teddy Kennedy, Jack Nicholson, Joni Mitchell, Jerry Brown, and Linda Ronstadt have slurped down the guacamole. She squeezes her leggy self into a booth under autographed pictures of Drew Barrymore and Andy Garcia and orders a Dos Equis. Romijn tells me she didn't think twice about accepting the role of Alexis. For more information on Rebecca Romjin and Ugly Betty, visit ABC.com
"I don't know-it felt perfect for me," she says. "The only thing that made me nervous was that I have a couple friends who are transgender, and it's a really sensitive subject for them, obviously, so every choice that I make, I think about them. I would never, ever, ever want to insult or offend. The role is going to open itself up to people's jokes-I mean, that's just the way it is. But I want to make everybody aware that I am not the unofficial spokesperson for the transgender community."
Quite simply, she knows she's been given the chance to play a revolutionary character on prime-time television, and she's going for it."I've had a lot of people ask, 'How does it feel to be a man?' My response is, I'm not playing a man," she says. "I'm playing a woman, and Alexis loves being a woman. And so do I! And she's very girly. And so am I! But she's also really lonely. That's where we're different."
Romijn dips a chip in the guacamole then redips it in the salsa. Quirks can be so reassuring in perfect women. When she winds up on lists like VH-1's 100 Hottest Hotties and People magazine's 50 Most Beautiful People, Romijn takes it with a major grain of salt. "What does that mean? Did they really go and look at every single person in this world? I don't think so. Ha ha!" I suggest a more appealing designation for her: the least neurotic person in the world. Romijn considers that. "I guess I can be a little neurotic sometimes, but can't everybody?" she asks. "You know what? I'm not into big drama. I try and stay away from that. I think life throws enough curveballs that you shouldn't make such a big deal out of everything. You just have to sort of roll with the punches."
Romijn grew up in Berkeley in the 1970s. Her hippieish parents weren't poor-poor, but it was a fairly humble upbringing. "We went to Value Village and garage sales-we were big flea-market people," she says. Even by Northern California standards, her folks were pretty liberal; her relaxed, Dutch father, a furniture and toy maker, sometimes answered the door in the nude. Romijn reportedly smoked her first joint at age 10 with friends of her parents and decided it wasn't for her. Her parents divorced when she was 7 but lived across the street from each other for six more years, until Romijn's mom, an English teacher, moved to a sketchy part of Oakland. Her idea of fun in those days? Diverting, laugh track-laden sitcoms like The Facts of Life, The Brady Bunch, and Three's Company. "I love uplifting television," Romijn says. Other loves included "Prince, the Beastie Boys, and Wet n' Wild lipstick, cuz it was 99 cents at Bill's Drugs."Romijn did a short stint at the University of California at Santa Cruz before a friend hooked her up with a modeling agency-three weeks later she was living in Paris and making serious money. She strutted the catwalk for three years, appeared on numerous magazine covers (but turned down Playboy), and was anointed "the face" of Liz Claiborne and Tommy Hilfiger-all of which left her restless and bored. Acting was the next challenge.
By 1997, despite exploring her sense of humor in episodes of Friends and Just Shoot Me, she found a dubious niche in things like the X-Men movies, an unfortunate 2002 remake of Rollerball, and Brian De Palma's thriller Femme Fatale, which included a sapphic make-out session and some shockingly X-rated dialogue. When you're a blonde bombshell, that's pretty much how the world likes to see you. "I tend to get a lot of scripts for the 'dirty, sexy, nasty, dangerous girl,'" Romijn says. "People think I'm some oversexed wild woman. And I'm not."
It's to her credit that, in 2006, she found her way back to what she does best, comedy-first in the short-lived sitcom Pepper Dennis, then in Ugly Betty. No wonder Romijn's got a thing for actresses like Lucille Ball and Goldie Hawn, who, she says, "have been able to do comedy in spite of how sexy and beautiful they are."
But if Romijn has found her métier, she is also realizing, with some annoyance, that she'll never quite lose the model-turned-actress moniker. "They never call Harrison Ford 'carpenter-turned-actor,'" she notes. "The fact that I made a name for myself doing that did kind of start me at a less-than-zero position. But it also challenged me. It dared me to prove them wrong."
Romijn and her fiancé, Jerry O'Connell, an actor on Crossing Jordan, live in the hills of Calabasas, CA, in a house that used to be a brothel. She lived there with her first husband, John Stamos, whom she met backstage at a fashion show when she was 21. They divorced in 2004. Romijn makes it clear we won't be discussing him. "Yeah, that was a different life," she says with some finality.But O'Connell-that's another story. "I mean, he's my best friend, and he's the most charismatic person; he's sparkly, and he's got this giant joyful face that I just love to look at. We have so much fun together, and he's hysterical."
They play badminton; they barbecue; they tend the vineyard that they recently planted; they swim in the pool that took five years to put in that Romijn says she's "gaga over." They also ride around on a tandem bike, "which is honestly great couples therapy," she says. "There's all sorts of trust issues that are happening when you're the one in the back-you can't steer, you can't brake, and you can't see ahead of you; all you can do is pedal. It requires coordination, communication, and compromise. The first couple of times, he was doing dumb boy stuff-he was going off little jumps, and I was like, 'You know what? If you make this scary, I will not do these rides with you.'" But now they're in sync: "We have a headphone splitter, and we make bike-riding playlists."
But it's not nonstop bliss chez Romijn/O'Connell. They've each got their idiosyncrasies, and that's taken some getting used to. Consider O'Connell's BlackBerry obsession. "We had been traveling for, like, five weeks," Romijn says. "And he had just been texting away. So I told him I was kicking his friends off of our vacation. And I took the BlackBerry, walked into the kitchen, put it in the sink and turned on the water, then crossed my arms and watched it die. And he walked in and goes, 'What are you doing?!' And he pulled it out and spent the next five hours taking it apart and drying every single little piece with a hair dryer. He eventually got it to work again, except for the texting part. And I was like, 'Good! That was the only part that was bothering me.'" Was he angry? "Honestly, no. He was like, 'I can't even get mad at you because there was something kind of awesome about it.'" Then there are the hours O'Connell will put in watching sports on TV. "The way it sounds makes my skin crawl," Romijn says. "It's the graphics, the interstitial music-dung-dung-dom-dong, rarrrgh! I find it so awful to listen to. My brain just shuts off when I hear somebody talking about it. It just sounds like 'wonk-wonk-wonk.'"
She pauses, takes a bite of her chicken enchilada. "He also just revealed himself to be a pretty serious gamer, which I did not know," Romijn says. "Video games. I actually just came home the other night, and he had his laptop next to him on the couch, and he'd obviously been like that for the past three hours. We're all allowed to have guilty pleasures-I unwind watching crappy reality shows; he gets to play video games. But I came home, and he had his laptop open next to him, and he was in a chat room asking some pimply 12-year-old in Japan how to get to the next level of some game he was playing."
I ask Romijn, who calls herself an "easy cry," if she's in therapy. "Yes. I love it," she enthuses. "Everybody in my family went to therapy; I grew up so therapist-savvy. The first few I went to, I actually knew how to work them a little bit. Ha ha! Even when I went to couples therapy a few years ago, I knew what to say to get the therapist on my side. So I had to find one who was two steps ahead of me. And this woman-I love my therapist. She can read me like a book." Romijn orders another Dos Equis.
I tell her I'd read somewhere that she only drinks on weekends."Oops," she says. "Today's Saturday, right? No, Wednesday . . . oopsy!" I give her a pass-the girl's earned it. She's taken her shot, made her mistakes, learned from them-and now here she sits: in love, on a hit show, and still gorgeous as ever. As she finishes her enchilada, Romijn, I think, is reading my mind. "I've always sort of been a hustler," she laughs. "I've worked my butt off. And I feel like I. Have. Paid. My. Dues."
Celebrity news, beauty, fashion advice, and fascinating features, delivered straight to your inbox!