Ed Sheeran Opens Up About His Secret Struggle with Substance Abuse
He says he has his music and his girlfriend to thank for saving him.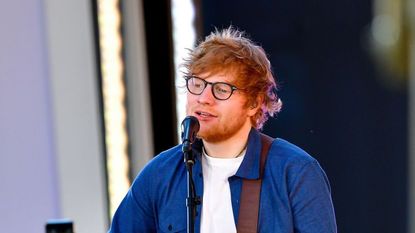 (Image credit: Archives)
During a recent interview on The Jonathan Ross Show, which will air this Saturday, Ed Sheeran opened up about the dark side of acclimating to his newfound fame when he first got started in the music industry. In the interview, Sheeran revealed he faced a secret struggle with substance abuse, and his unhealthy behavior almost threatened his music career.
"I think you need to, when you get into the industry, adjust to it, and I didn't adjust because I was constantly working on tour," Sheeran said in the interview, according to People. "All the pitfalls that people read about, I just found myself slipping into all of them. Mostly, like, substance abuse." Despite his constant touring and growing fan base, Sheeran was facing a personal struggle behind the scenes of his performances, and he says it almost got the best of him.
The singer-songwriter is currently on tour promoting his latest album (pronounced divide). Sheeran, who recently postponed his tour dates in Asia after being hit by a car while riding his bicycle, took a year off to focus on himself before the LP's release in March. "I started slipping into it, and that's why I took a year off and buggered off," Sheeran said.
"I didn't really notice it was happening," Sheeran said on Ross. "It just started gradually happening, and then some people took me to one side and were like, 'Calm yourself down.' It's all fun to begin with; it all starts off as a party, and then you're doing it on your own and it's not. So, that was a wake-up call and taking a year off."
But Sheeran also revealed that his passion for his music and his girlfriend, Cherry Seaborn, were what helped him get his life back on track. "I focused on work, and I can't work under the influence; I can't write songs under the influence; I can't perform under the influence—so the more I worked the less [that happened]," Sheeran said. "I've worked my whole life to get to where I am, and you can't lose that over something that you do in your spare time."
As much as his passion for music helped keep him from falling deeper down a dark hole, Sheeran also added that his girlfriend is to thank for helping him fight his battle against substance abuse. "We live together now, and I think that was a real help grounding me," Sheeran added. "I was a 25-year-old in the music industry on tour, so I just needed someone to balance me out."
Celebrity news, beauty, fashion advice, and fascinating features, delivered straight to your inbox!