The New Guard: Rashida Jones
Make way for Tinseltown's new shot callers. A generation of whipsmart, gutsy young women is rewriting the rules of the game in TV and film. They are diverse, outspoken, and unapologetic in their mission to seize the spotlight and shatter some glass ceiling. Smash away, ladies.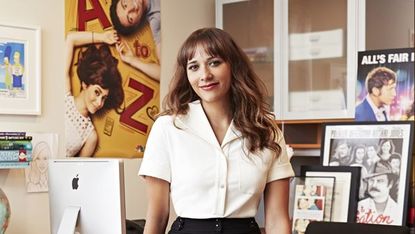 (Image credit: Dan Monick)
Marie Claire Newsletter
Celebrity news, beauty, fashion advice, and fascinating features, delivered straight to your inbox!
Thank you for signing up to Marie Claire. You will receive a verification email shortly.
There was a problem. Please refresh the page and try again.
VANITY SHINGLE, for the uninitiated, is a production company overseen by a famous actor that gives a studio first dibs on whatever crazy ideas he or she happens to conjure up en route to the gym or day spa. It's a venerable Hollywood status symbol—right up there with an infinity pool or a signature fragrance—and an easy way for a studio to keep a prized talent content and engaged.
Which is why the announcement last year that Rashida Jones—the lovely, unassuming, eminently sensible actress best known for playing lovely, unassuming, eminently sensible characters on The Office and Parks and Recreation—had signed an agreement with Warner Bros. to develop television comedies and dramas was met with the industry equivalent of a gentle pat on the head. The trades dutifully made note of the deal, and everyone promptly moved on.
Only this was no vanity project. Jones, 38, and her partner and best friend, Will McCormack, had already cowritten the smart 2012 indie anti-romance Celeste & Jesse Forever, starring Jones, and Warner Bros. saw real potential. Together, the pair founded their own production outfit, dubbed Le Train Train (slang for "the daily grind" in French), which is currently in the midst of a major Hollywood hot streak. Of the nine programs they've pitched to networks so far, all have been snapped up for further development. True, only a precious few may make it past the pilot stage, but the frenzy of sales represents an unheard-of batting average for a fledgling company. On October 2, their first series, the rom-com A to Z, premiered on NBC in a cherished Thursday-night time slot. They've got two more shows with solid chances of debuting early next year.
Jones is characteristically modest about the feat. "We've been really, really lucky," she says. "We have a show on the air, and that's insane. It never happens. I think we surpassed expectations, which now, of course, makes our job a little bit harder."
In a town crowded with overprivileged scions, Jones is exceedingly mindful about surpassing expectations. Her mother is Mod Squad actress Peggy Lipton; her father is legendary producer and composer Quincy Jones, who also executive-produced The Fresh Prince of Bel-Air. Jones attended the elite Buckley School in Sherman Oaks, California—her schoolmates included Kim Kardashian, Paris Hilton, and Nicole Richie—where she stood out for her academic diligence and participation. "I was in every activity," she recalls. "I got really good grades; I was a mathlete. I wouldn't say I have mastery in any one thing, but I'm pretty good at a bunch of stuff."
Later, while attending Harvard, she fell into a depression and turned to the performing arts for relief, writing for the college's musical comedy club, Hasty Pudding Theatricals, and appearing in a production of For Colored Girls Who Have Considered Suicide/When the Rainbow Is Enuf. After that, she was hooked.
Her success was hardly a sure thing. "I wanted to be noticed, I wanted to be respected, and I felt jealous when other people had the opportunity," Jones confesses. "But I'm so happy that it took so long for anybody to really give me a long-term job, because it made me appreciate what it's like to be an out-of-work actor."
It also imbued in her an interest in exerting more control over her career. "As an actor, you're kind of at the bottom of the pile. You rely on everybody else to allow you to do what you do." That's why, though she stars in the title role of Steve Carell's police satire Angie Tribeca, which premieres on TBS early next year, she's wary about relying on acting as her primary source of income. "The business is tough on women," she says. "I don't want to think of the way I look as some commodity that's slipping away."
The sentiment is, perhaps, a more diplomatic reproach of her industry—and celebrities who exploit their sex appeal to get ahead—than the comments she made last year on Twitter, when she called out certain unnamed pop icons for basically letting it all hang out: "This week's celeb news takeaway: she who comes closest to showing the actual inside of her vagina is most popular," she wrote, tacking on the hashtag: #stopactinglikewhores.
The backlash was intense. Jones was accused of sanctimony and "slut shaming." But she remains unrepentant. "Let it be said: I believe in a woman's right to express her sexuality … but are you really being empowered by your sexuality, or do you just want to be liked, and is it just an easy way to get attention?" she asks. When it's pointed out that former schoolmates like Kardashian owe their celebrity in part to sex tapes, she insists she doesn't blame them for it. "It's not their fault that they're famous because of it," she says. "My problem is putting them in the same category with anybody who has worked their asses off to cultivate their talent. It just makes me sad. Why are we so obsessed with socialites and girls who are amateur sex-tape stars? Can we also be obsessed with women who have changed the world and are really, really smart?"
Jones' goal is to inject more nuanced portrayals of women into the zeitgeist. Like her charming NBC series A to Z, a deftly plotted chronicle of a blossoming love affair between Cristin Milioti (How I Met Your Mother) and Ben Feldman (Mad Men). "It's like every woman in a movie has to be perfectly adorable, and her life is a mess … and only when a man comes in does everything really fall into place," she says. "I think the more iterations of a woman that exist, the better. Even if they're bad, if they're good, if it's ugly, if it's messy—it just is better for everyone to see all of it."
Images by Dan Monick
Related:
Celebrity news, beauty, fashion advice, and fascinating features, delivered straight to your inbox!