Meet the 7 Musicians Poised to Take Over Your Playlists
Get to know the freshest faces on the scene.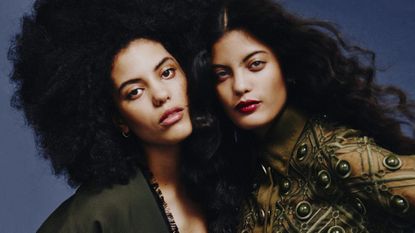 (Image credit: Harry Carr)
Marie Claire Newsletter
Celebrity news, beauty, fashion advice, and fascinating features, delivered straight to your inbox!
Thank you for signing up to Marie Claire. You will receive a verification email shortly.
There was a problem. Please refresh the page and try again.
Last year, women basically ruled the charts (hello, Beyoncé, Taylor, Nikki, and Ariana). This year: We predict the same, and we've got our eye on the next generation of big-deal talent. Meet seven gifted rising stars gearing up to rock our world.
The Throwback

Tinashe, 22

You know her as The L.A.-based R&B upstart whose killer dance moves and silky vocals on her debut, Aquarius, drew comparisons to '90s legends like Janet Jackson and Aaliyah.
Where my girls at "Music is missing women, and not just from an artist standpoint," she says. "I didn't see any women engineers or producers the whole time I was making my album. I find that a shame."
Traffic stop "Driving around L.A., I heard my song '2 On' on all three top radio stations simultaneously. That was like, 'Wow, this is crazy.'"
Show girls Tinashe (pronounced Tee-NAH-shay) sang on Kid Ink's "Body Language" and performed in his peep-show-themed video, shot in Atlanta. "We had to cast strippers," she says. "I'd never been to a strip club down there. They were literally twerking on the ceiling. You have to go with it."
Follow
@Tinashe
The Enigma

Banks, 26

You know her as The fashion-party-DJing, Coach-modeling, neo-Goth girl whose soul-baring lyrics and tough-to-pin-down electro R&B sound keep us perpetually intrigued.
But my friends call me "Growing up, people called me Banks," the San Fernando Valley–raised, L.A.-based singer says about going by her last name (first name: Jillian). "I wanted it to feel both female and male. My music is just human."
Call me maybe She invites fans to use her cell number posted on Facebook. "I'm taken aback by how personal the messages are," Banks says. "I get calls from prisons."
Inspiration roster She worships at the altar of powerful singer/songwriters like Fiona Apple and Tracy Chapman. Also, Eartha Kitt: "She is a goddess … she's like pure female fire."
Dream collab Drake.
Follow @hernameisbanks (or, you know, text her)
The Genre Benders

Lisa-Kaindé (left) and Naomi Díaz, 20

You know them as The Cuban-born, Paris-based twins of Buena Vista Social Club percussionist Miguel "Angá" Díaz. Recording under the name Ibeyi, the pair have been dazzling music-world insiders—and fans like photographer Bruce Weber—with their haunting songs (think Yoruba prayer chants and minimalist keys over hip-hop beats) and arresting videos.
Tell them apart "[Naomi's] more impulsive; I'm quiet," says Lisa-Kaindé, who sings and plays piano. "She's electricity; I'm water."
Line, please Once Lisa-Kaindé forgot her lyrics onstage in Hamburg. "Instead of asking me, she asked my mom in the audience," says Naomi. "I wanted to die right there. I'm here for a reason. Seriously?"
Now playing Their newly released debut album, Ibeyi.
Follow
@IbeyiOfficial
The Indie Queen

Bethany Cosentino, 28

You know her as The awkwardness-embracing, cat-obsessed, L.A.-based lead singer of surf-rock duo Best Coast.
Loud speaker "I don't believe in censoring yourself on Twitter," says the outspoken Cosentino. "I talk [a lot] about women's rights and reproductive health. I have a voice, and if I'm not using it, then what's the point?"
Hedi-ready "I got an e-mail one day that said, 'Do you want to do a shoot with Hedi Slimane? He's a big fan.' He came over and shot photos of me hanging out in my backyard. I was texting my friend, like, 'I'm freaking out, what do I wear?' "
Budget ballin' "I splurged on this vintage Chanel duffel bag and want to stuff it with my supercheap Forever 21 clothes. Maybe the bag will start coming onstage with me?"
Look out for Best Coast's third album, California Nites, out in May.
Follow @best_coast (or, for Bethany's cat, @Snacksthecat)
The British Invasion

Hannah Reid, 25

You know her as The spotlight-shy frontwoman of U.K. electro-pop trio London Grammar, whose otherworldly contralto put their 2013 debut, If You Wait, in a category all its own.
Rules of fight club "They're like my brothers," she says of bandmates and former University of Nottingham classmates Dan Rothman and Dot Major. "We fight. But they tend to be short arguments that end up with one of us making a cup of tea. It's very British."
Pro tip When they opened for Coldplay, lead singer Chris Martin told her, " 'You need to find out what your limit is and stick to it.' He also said, 'It's OK to have tension when making an album because a violin doesn't make noise when there's no tension in the strings.'"
Singing the blues "The first song I wrote on the guitar—I was a teen—was about my first boyfriend, who had just dumped me. Oh God, how awful is that?"
Follow
@HannahfmreidLG
The Siren

Jessie Ware, 30

You know her as The Ed Sheeran–collaborating Londoner belting out ultra-sultry love songs with an impossibly powerful set of pipes.
Choking hazard Nervous about singing on the Today show last fall, she "got this thing called Entertainer's Secret that lubricates the vocal chords. But I sprayed too much, so by the time I had to sing, I was drowning. It was quite detrimental."
Voice of a generation Her stint at U.K. newspaper The Jewish Chronicle in her 20s taught her a thing or two. "You only have a certain word count," she says of songwriting. "And I do love a good deadline."
Back it up "I've learned what works for me from shoots. I have quite a small waist compared to my big arse. High-waisted trousers saved my life."
Look out for A stateside tour opening March 31 for her 2014 sophomore album, Tough Love.
Follow
@JessieWare
This article appears in the April issue of Marie Claire, on newsstands March 24.
You should also check out:
10 Popular Songs That Are Actually Feminist Anthems
Our 15 Favorite Music Couples Throughout the Years
Celebrity news, beauty, fashion advice, and fascinating features, delivered straight to your inbox!