Comedian Cameron Esposito Explains Why Period Jokes Are So Funny
Because, duh.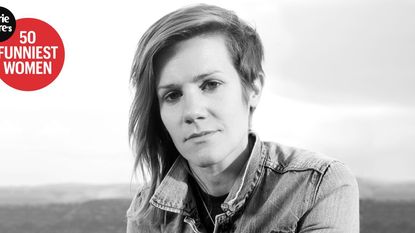 (Image credit: Archives)
Standup comic Cameron Esposito set a self-proclaimed record this year: she made The Greatest Period Joke of All Time. And she was right: It went viral. Here's why it made the Internet laugh so hard.
Marie Claire: So what makes a period joke so "taboo"?
Cameron Esposito: The number of times I have seen a microphone become a penis on a comedy stage—yet, we're still fighting to just be able to talk about our bodies as if they exist. Chelsea Peretti has a period joke about if guys had their periods we would hear about it constantly. But—and there's not a man who lives in my house because I'm a giant lesbian—I think that straight girls, for some reason, still hide this from dudes. It's something that you can't talk about with your partner because you think you're too disgusting need to, like, sleep in a tent in the woods. Come on! We need to get over our inhibitions between each other especially if we are in committed partnerships, but even if we're just making out. Here's the thing: Women totally fart and we do lots of other things and we need to be honest about it.
MC: And what makes it so damn funny?
CE: Standup is more personal than it's ever been, and by that I mean that a comic tells a joke about their specific life and it is not necessarily about, like, airplane food or whatever, it's about this happened to me. But even in that zone to get taboos to work, it's even better if it's a taboo that actually affects you. Like a dude getting up and talking about periods, that's where you would lose me because I don't know if you know what the heck you are talking about. But a woman getting up and talking about it—and there are more female members in the audience now than ever before. There's this new generation of female fans and surprise! women will consume content made for them. It's a post-Bridesmaids world.
MC: How do you make a "taboo" funny?
CE: Anything can be funny. But you can't joke about something without being aware of the weight of what you're talking about.
MC: Any other taboos that make great joke material?
CE: Pornography—women should talk about pornography more because I think there is a really weird misconception that women don't consume pornography and I don't understand why we are continuing to allow that. Even "sexperts" say things like, "Men are more visual and women imagine after listening to the 50 Shades Of Grey audio book."
A version of this article appears in the August 2015 issue of Marie Claire on newsstands July 21.
Marie Claire email subscribers get intel on fashion and beauty trends, hot-off-the-press celebrity news, and more. Sign up here.
As deputy editor, Jen oversees Cosmopolitan's daily digital editorial operations, editing and writing features, essays, news, and other content, in addition to editing the magazine's cover stories, astrology pages, and more. Previously, Jen was a senior editor at Marie Claire. Before that, she worked at GQ.