Marvel Heroine Jessica Henwick Is Just as Badass in Real Life
Know what "bushcrafting" is? The Iron Fist and Defenders star is here to explain.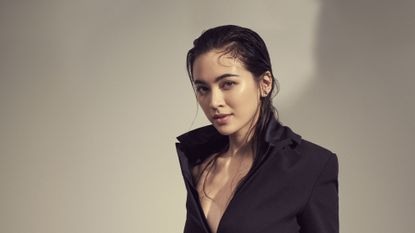 (Image credit: Courtesy)
When you play the awesome (read: cage-fighting) Colleen Wing on Netflix's Marvel's Iron Fist—and the follow-up series, Marvel's The Defenders, later this year—there's only so much downtime to work with. Here's how Jessica Henwick spends hers.
Age: 24
Lives in: London
You know her from: Star Wars: The Force Awakens (2015) and Game of Thrones (2015)
What do you do in your downtime? "Bushcrafting. It's about learning the old ways: foraging, fishing, and building a shelter in the woods. I grew up in the English countryside, raising ducks and chickens. I was a real wild kid, spending much more time outdoors than I ever did indoors."
Go-to getaway? "When I'm traveling, I like extremes. It's nice for me to go to Canada in the mountains where it's snowing or to Cambodia where it's stifling. I really want to do Machu Picchu and backpack around New Zealand."
Craziest adventure? "I went snorkeling between tectonic plates in Iceland's Silfra fissure in the winter. You have to wear thermal layers and a wet suit and what's called a "teddy-bear suit" so you don't die of hypothermia. My lips still went blue. That was an experience that I will carry with me for the rest of my life—so beautiful and so quiet."
Fantasy life? "If I could choose any video-game universe to live in: Pokémon. I had Pokémon Blue on the old-school Game Boy Color. I'd be a very good Pokémonmaster."
Guilty pleasure? "I am addicted to the TV show Survivor. I would love to go on that show, except I think it's possibly quite damaging to an actor's career to reveal your truest self. My agents would kill me."
Follow her: @JHenwick
This article appears in the July issue of Marie Claire, on newsstands now.
Celebrity news, beauty, fashion advice, and fascinating features, delivered straight to your inbox!
Molly Fitzpatrick is a writer from New Jersey who lives in Queens.