Quite Possibly the Creepiest Roommate Story Ever
And the title for Worst Roommate goes to...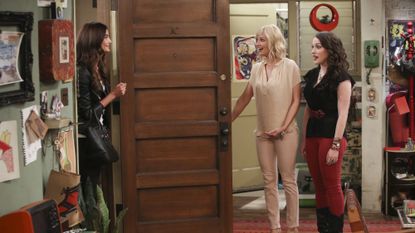 (Image credit: CBS Photo Archive)
Marie Claire Newsletter
Celebrity news, beauty, fashion advice, and fascinating features, delivered straight to your inbox!
Thank you for signing up to Marie Claire. You will receive a verification email shortly.
There was a problem. Please refresh the page and try again.
Like Max Black from the sitcom 2 Broke Girls, I had been nervously itching to make a few life changes, particularly after my roommate ditched me to move from NYC to Queens to marry her boyfriend. I met Angelique, an exotic, well-traveled blonde through an ad she'd placed in the New York Times advertising her apartment. Minus starting a cupcake business, I thought we'd do well together.
The night before I moved into the pre-war, two-bedroom, beautifully furnished doorman apartment on East 57th Street to be Angelique's roommate for the astounding price of $500 a month, I had a bad dream.
In my nightmare, a wicked witch flying around on her broomstick was chasing me cackling at my fear and frustration. On closer look, I saw that the terrifying witch was Angelique, the German-born, fifty-something-year-old former beauty queen, who owned the apartment. I woke up shaking. My gut told me to call her and cancel the agreement, but I told my gut to shut-up.
In our interview, she'd mentioned that her condo was one of the spoils from a messy divorce years ago, and then asked me if my parents lived nearby. When I said that they did she told me that she preferred having tenants who didn't have close relatives nearby, because, "families interfere." I thought her response was odd, but I desperately needed a new place in the city and there was no way I'd consider moving back home again. I relished the freedom I had being out from under my parents' thumb. She asked if I had a boyfriend, and I sadly revealed that I hadn't had one since college, four years ago. Angelique said I seemed sweet and naïve; and offered me the slot on the spot.
Angelique was a fading Heather Locklear. Though she was clearly once a looker, now her face was puffy, with slight frown lines. White-blonde hair framed her high cheekbones and too-tanned, weathered skin. She kept the lights dim. I thought at the time, it was to save money.
In her prime, she told me, in her heavy accent, with an ever-present drink in her hand, she was a model and she even managed to unearth old magazine clippings from foreign publications as proof. Her hangouts were NYC perennials like Elaine's and Michaels. She was so beautiful, she said, her former husband actually ran across the street to first meet her when the light was green.
I was in awe of her and her history with the other sex (I hadn't exactly ever cut a swathe through men myself), and didn't mind chatting with her when I got back from my lowly administrative job at MGM. (My only access to glamour was that I came in early once to find Ted Turner sitting at the reception desk, taking calls).
After the first week, she started complaining, wine glass in hand, about how unsatisfied she felt with her life, how there were no men to date, how her father never loved her. I tried to participate in the conversation, but I hardly had any relevant answers to her drunken questions, and had no idea how to advise her on men. I made up excuses to leave these "chat sessions" by pleading exhaustion and saying I had to get up early the next morning, while repeating, "I'm sorry, I have to go now." Even after I closed the door, she kept talking to me.
Weekends I'd get a breather, because she'd head off to the Hamptons to work on her "art". My parents would visit me every Sunday; my mom brought roasted chicken that I would eat for dinner during the week. One weeknight my dad brought an air conditioner to my room he installed on the windowsill. Suddenly, Angelique appeared on the periphery of my room, dressed in a negligee, shamelessly stretching in front of my father (she practiced yoga), to better display her body. He acted as politely removed as Don Draper would when faced with an undesirable paramour. "Daddy," she said, in what she thought was a provocative manner, "you are so nice to your daughter. I wish my daddy had been as nice and handsome as you."
Soon afterwards I started noticing items had been moved on my night table and had changed place in my closet. I told my father, and he suggested I put a tiny slip of paper in between the doorframe where it met the ceiling. Sure enough, the piece of paper was on the floor when I got back from work. I felt so much stress that I had trouble sleeping through the night. This did not help my appearance at the office, where I was bleary-eyed and jumpy.
I figured that I could look for a new pad in the fall, in a month when it would be easier, and could tough it out till then.
One day Angelique met me at the door when I got home, berating me for not giving her phone messages (I didn't even have access to her answering machine). Then, my mother's roast chicken started disappearing from the refrigerator. First, it was one piece, then it was two; then the entire chicken disappeared. I asked Angelique if she had eaten my chicken, and she started screaming that I ate her food and that I was stealing from her. "You only keep liquor in the refrigerator, I told her. There isn't any food to steal even if I wanted to take it."
"If you think I'm stealing from you, why don't you call the police?" she said. So I did.
A burly NYC police officer came to our door looking for the perp. "What did she steal?" he asked wearily, poising with pen on his paperwork.
"She stole my roast chicken."
"What?" he asked.
"She stole my chicken.
"Well, officer, I didn't know the cops around here were so sexy, or I'd try to get arrested all the time," Angelique said, making direct eye contact. Then she announced she would be in her bedroom if he wanted to interrogate her further, and flounced out of the room.
The officer put his pen down, looked kindly at me and said, "Listen, I can't file a charge because of chicken." But I'd watch out for her, can't you smell the liquor on her breath? She's probably an alcoholic. Do you have family in the area?
"Yes," I said.
"I'd find another place to live if I were you," he told me. "These situations never get better, and you seem like a sweet kid."
I called my parents and my mother drove over and we loaded up all the clothing and jewelry I could carry. I slept fitfully that weekend in my parent's two-bedroom co-op.
Dad rented a moving truck and Monday we drove up to my street to collect the rest of my belongings. The traffic was slow for a Monday. I'd had a feeling that she might not let me in, or might have even changed the locks, and this time I trusted my gut.
When we got up to the floor, Angelique was taking her usual cigarette break in the hall, with the door wide open. The minute she saw us she ran to the door to close it. My dad stuck his foot in the doorframe to prevent her from shutting it, but she kept pushing, trying to get his foot out of the way. They struggled like that, until my dad managed to thrust open the door. Angelique backed away and started to cry as we entered. "Why, why are you doing this to me?" she asked him.
"Angelique, you have been behaving badly, drinking and stealing from my daughter," my dad said. As he moved the clothing out, I kept glancing at the huge, antique decorative knife on the table, wondering if she would be crazy enough, or drunk enough to make a grab for it. My intuition said she would, so I kept my body right between her and the knife, and stayed that way the entire time.
She turned her attention back to my father. "Daddy," she plaintively mewled, fueled by the scotch she was consuming rapidly. "Talk to me." My dad ignored her.
As I was leaving, she spoke to me for the first time that day.
"Why are you being like this?" she said. "I thought you were so sweet."
As I left the building, I told the doorman, "I'm moving out. She's crazy, and an alcoholic." The doorman looked compassionately at me and said, "I'm not surprised. You were her 10th roommate this year, and most of them weren't from the United States.
"By the way," he said, " she changed the locks last Friday."
As I exited the building safe once again in the bosom of my family, I realized that this time my parents and the home life I couldn't wait to escape was my salvation.
And I learned to never look an apartment gift horse in the mouth. If it's too good to be true, it is.
Celebrity news, beauty, fashion advice, and fascinating features, delivered straight to your inbox!