Girls Allowed: Meet the Upstart Women Storming Late Night TV's Boys' Club
It's *officially* ladies' night.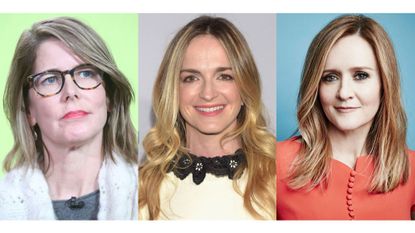 (Image credit: Future)
Marie Claire Newsletter
Celebrity news, beauty, fashion advice, and fascinating features, delivered straight to your inbox!
Thank you for signing up to Marie Claire. You will receive a verification email shortly.
There was a problem. Please refresh the page and try again.
It is inevitable that amid the cheers conferred upon Samantha Bee, now the lone female host on all of late-night television, media watchers will crank out their requisite state-of-the-industry pieces pondering why she's flying solo out there. The pundits will wring their hands, the fans will throw up theirs, and the rest of us will cross our fingers hoping that Bee, who debuted TBS' Full Frontal in February, doesn't muck it up, since we all fear that if she does, it might be a long time before a woman gets another shot. (No pressure, Bee.)
Because for all the buzz surrounding women in comedy these days, it would seem that success and influence in late-night TV remain frustratingly out of reach. In the past two years, an astonishing six hosting gigs went up for grabs: Late-night lions Jay Leno and David Letterman called it quits; Jon Stewart left Comedy Central's Daily Show, while Stephen Colbert decamped for Letterman's spot on CBS; Jimmy Fallon vacated his late-late-night post to fill Leno's; and Craig Ferguson retired from his after-hours show on CBS. None of their successors were women. Not to mention the famed writers' rooms on these shows, which, to this day, despite growing scrutiny and criticism, are still populated mostly by men. Who could blame a funny girl for thinking that, once prime time fades and the clock strikes 11 p.m., the party's over for her?
But that would be a misreading of subtle changes happening behind the scenes of late-night television. On the surface, it might look like the broadcast niche time forgot: Even now, in the age of disruption, there's the host in his suit and tie, the couch for coddling celebrities, the desk from which to preside over his fiefdom. Even the mug remains a late-night mainstay. But with the advent of DVRs, these shows can no longer count on dedicated audiences tuning in at the appointed time, let alone for a full hour. Sure, all those quips and wisecracks in the opening monologue still matter—all told, the three network hosts, Jimmy Fallon, Jimmy Kimmel, and Stephen Colbert, garner more than 8 million viewers every night, while cablers Conan O'Brien, Trevor Noah, John Oliver, and Larry Wilmore accrue another couple million—but increasingly, late-night hosts rely on bits and sketches replayed on YouTube to capture younger eyeballs. Think Fallon's "Lip Sync Battle" or The Colbert Report's "Better Know a District"—stand-alone clips designed to go viral, to be seen and shared, posted and reposted by millions. The net result is that while late night's posse of mostly male writers still remains supremely influential, it's the producers whose stock is on the rise. And that's good news for women, who have traditionally flocked to those jobs. "I think people don't necessarily understand how a television show works on a daily basis. A writer is something people can understand. And producer is a title that is wide-ranging," says Meredith Bennett, executive producer of The Late Show with Stephen Colbert. "It's like somebody in the corporate world saying, 'I'm a vice president,' which is like, 'What is that?'"
There are, generally speaking, two kinds of late-night producers: those who supervise the unsexy scut work required to broadcast a show—everything from hiring a crew to liaising with network executives—and those who oversee more creative matters. While women have tended to fill the administrative roles, increasingly they're joining the more creative ranks, too. Pay close attention to those funny, usually star-studded clips that appear on your Facebook feed the morning after a late-night bit strikes gold. Though writers tend to reap all the glory, it's typically the segment producer who shoulders the work to make the magic happen, scouting the locations, casting the personalities, and basically pulling the levers that make the segment click. And more than ever, they are generating the ideas for these segments and pitching them, too. At Fallon, six of his seven segment producers are women; at Colbert, two out of four are women. A glance at the credits for John Oliver reveals two out of three. (HBO wouldn't confirm.) "They're not physically writing the jokes, but they are absolutely creative, and shaping the comedic voice of the show," adds Bennett.
"Every single minute of this show has comedy in it. So obviously, you're in charge of the comedy for a percentage of the show," says Nicole Savini, Colbert senior segment producer. "Yes, you get help from writers, and Stephen, who could do everything by himself with his eyes closed. Every single part of the show, I don't think one person did it. The producers aren't just executors. But even in the process of executing things, you're making creative decisions all the time."
Take a segment featuring Scarlett Johansson, who appeared on Colbert's show the week it debuted on CBS back in September. Savini combed through countless television interviews looking for a uniquely Colbert angle that was also fresh. Most interviews with the actress focused on her bombshell looks. Wouldn't it be fun, Savini thought, to turn that on its head and get her waxing philosophical? Savini ginned up a concept, even wrote some lines, then pitched Colbert, who green-lit the idea. The result was "Big Questions With Even Bigger Stars," a recurring segment that has also starred Tom Hanks and Bryan Cranston.
At The Tonight Show, Fallon's segment producers Sarah Connell and Stephanie Merkin were goofing around in their office when they realized that they were terrible at doing impressions. Thus was born their idea for a new segment called "First Impressions," in which Fallon has to guess which celebrities his guests are impersonating (very badly). Make no mistake, the influence of these female segment producers—and, more important, the sensibilities they bring with them—has already left a tangible mark on the shows they work for. Sara Taksler, a producer for The Daily Show with Jon Stewart (and now with his successor, Trevor Noah), played a key part in conceptualizing and writing a segment on campus sexual assault two years ago. "I do have a reputation for pitching stories about a lot of women's issues, I would say: abortion, contraception, occasional rape story," she said on the Daily Show podcast, adding that it took her a month of investigating news pieces, looking for the right sound bites.
"There are tons of women in production, it's true," notes Samantha Bee, who says she made a concerted effort to staff her show with women. (Promos for the show read: "Watch or you're sexist.") Bee's head writer, Jo Miller, is a woman, and four out of eight writers on the show are women. Most of her research and production teams are also composed of women. A widely circulated critique of The Daily Show, starring Jon Stewart and in which Bee was a correspondent, took the show to task for its "woman problem." But the post overlooked the growing clout producers—specifically female producers—exert. "I will say when the gaze kind of turned to The Daily Show and how there weren't visible women and there were no women in the writers' room," says Bee, "it was very dispiriting to the myriad producers who are female working at The Daily Show, whose hard work goes into making that comedy, who really tangibly contribute to the humor and point of view of the show. So it is dispiriting to ignore those people completely."
Talent bookers, historically the pink ghetto of late-night shows, are also enjoying increased clout. At CBS' Late Show, Colbert made it clear early on that he wanted a different kind of show, one where conventional movie stars would share airtime with intellectuals and business leaders. Translating that highbrow mandate into something mainstream has been the challenge of co-executive producer Emily Lazar, herself a former booker, who now oversees the bookings department as part of her role. Her imprimatur is reflected in the eclectic, groundbreaking mix of guests, from Silicon Valley icon Elon Musk to presidential contender Jeb Bush. Not that she only books guests. When novelist Jonathan Franzen was invited on the show, Lazar pitched the idea that Franzen should read Colbert a metaphorical children's bedtime story (Franzen wrote the story, a version of "Little Red Riding Hood" that was a metaphor for the plight of small booksellers against Amazon). "Stephen pretty much gives me a lot of freedom to put on the show who I want," says Lazar. "If I have any questions—sometimes I think, Hmmm, is this person too much of a cliché? Is that person too hackneyed? Is that person too shallow? Can that person have a 10-minute conversation?—I will ask him. But we book 15 people a week; sometimes whole weeks go by when I don't ask him about anybody."
None of this is to say that late night couldn't use more women in writers' rooms, but even there, too, strides have been made. Not long ago, the default explanation for the wholly uneven ratio of men to women was that there just weren't enough women applying for these gigs. "When I first started this job going through [comedy-writing] packets, I remember going through about 300 packets, and roughly 40 were from women," remembers Jimmy Kimmel Live! co-head writer Molly McNearney.
That might have been true even five years ago, but no longer. Robin Thede, a writer for Comedy Central's The Nightly Show with Larry Wilmore, says that when she was staffing her writers' room, a third of all writing submissions came from women. That had a lot to do with outreach: inviting women to apply who've shown an ability to write jokes on Twitter; putting the message out to agents and managers. At Bee's Full Frontal, head writer Jo Miller took it one step further, creating submission packets with detailed instructions on how to write for late night. "I tried to give them just a little mini course in how you write for a show like ours, to help level the playing field a little bit," she says. "When you get on to the final rounds and you're picking your best writers, a thing that makes your writers good is experience. Well, the people who have had a chance to get the experience are men. So that's how that cycle perpetuates itself." The result was that half of the writers who submitted were female.
"I think our first challenge is giving women confidence, just to know that they can have these jobs and succeed in these jobs," says McNearney, who started at Jimmy Kimmel Live! as an assistant, then worked her way up the production side before making the jump to writer. (McNearney is now married to Kimmel.) "Because, truth be told, as a kid, I didn't ever think that this was a job for a woman. We have only seen predominantly male hosts. And the more women we have in these fields, the less scary it is. This is a normal job for a woman." 
This article appears in the April issue of Marie Claire, on newsstands now.
Celebrity news, beauty, fashion advice, and fascinating features, delivered straight to your inbox!