This Startup Has a Whole New Model for Helping Survivors of Domestic Violence
The startup FreeFrom is helping survivors recover financial freedom.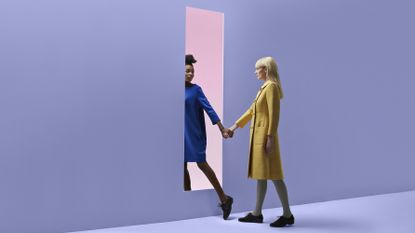 (Image credit: Klaus Vedfelt)
For two years, Sarah* lived in a shelter after surviving an abusive relationship, selling homemade greeting cards made from discarded arts and crafts supplies to help get back on her feet.
She now runs her own card-making business, and has sold out at every market she's participated in within the last eight months.

One in four women experience domestic violence in their lifetime, and Sarah is one of them. And, like a startling 98% percent of other domestic violence crimes, Sarah's abuse, which was emotional, physical, and sexual, was financial as well.
Financial abuse, though not as well-known as other kinds of abuse (the stigma around talking about money has even sank its teeth here), is when an abusive partner takes complete control of all finances in the relationship. It catalyzes a harrowing chain of events that can lead to catastrophic results for victims: abusers cut off their partner from all income, then take out credit cards in their partner's name, racking up thousands of dollars in debt. With destroyed credit in addition to other aspects of an abusive relationship, it can be difficult for the victim to find a job, or keep one (The National Coalition Against Domestic Violence found that up to 60% of victims lose their jobs due to reasons stemming from abuse). It's a billion-dollar, worldwide problem: The victims of intimate partner violence lose a total of eight million days of paid work each year, and the cost of intimate partner violence exceeds 8.3 billion per year.
Sonya Passi has been working to aid survivors of domestic violence since she was 16. As CEO and founder of FreeFrom, a startup aiming to help survivors of domestic violence gain financial independence, she has seen economic exploitation too often. "One survivor I met only ever had a couple of dollars in her purse at any one time," she told MarieClaire.com. "When she asked her partner for money to purchase tampons, he replied: 'According to my calendar, your period isn't for another two weeks — so either you're lying to me or you're going to have to figure something else out.'"
Without resources, it can be difficult if not impossible for victims to leave their situation. If they do, they usually have little money to set up their new life, and are often drowning in debt. One survivor, now a FreeFrom client, told us she was left in over $60,000 worth of debt due to her situation. Another was living solely off of government support: "I need funding from the government to pay childcare for my two children. When I don't have to rely on this funding, I will truly feel that I am financially free."

Proving that domestic fraud occurred is no easy feat. A survivor needs a police report stating that 1) you were a victim of domestic violence and 2) the abuser committed identity fraud. Though seemingly simple, the paperwork is nearly impossible to obtain.
"I've never known a survivor who was able to get a police report that said both of those things," says Passi, who hypothesizes that a combination of limited police resources and a survivor's hesitation to process a formal police report (which could be traumatizing) could be at play.
FreeFrom is working on legislation that would eradicate the need for these documents and instead use an advocate letter to prove domestic fraud, which they plan to roll out on a state-by-state basis (the original, Pre-Trump intention was to push it federally).
In the meantime, most domestic violence assistance plans are focused on emergency services, like helping survivors out of abusive homes and into shelters, and to obtain restraining orders. These are all crucial steps for a survivor's safety, but don't help much in creating a future. Many women and families return to their abusers (according to the National Domestic Violence Hotline, a woman will leave her abuser an average of seven times before leaving for good) because they don't have the means to survive independently.
FreeFrom is hoping to change that. The nonprofit helps survivors build new lives and plan for the future by helping them win compensation (pro bono), build and repair credit, and start their own businesses. FreeFrom also rolled out a self-help service in January for survivors in California that helps users (over 60,000 in the first six weeks) pursue a compensation plan without needing a lawyer. Last year, via their entrepreneurship program, FreeFrom helped 24 survivors start businesses, all of which made a profit in the first month that they launched. Perhaps more rewarding: 10 months later, none of those clients had returned to their abuser.
Yesterday, the non-profit launched an online store that lets you shop gift boxes completely comprised of survivors' entrepreneurial product lines. That creator earns 70% of all profits of the box; the remaining portion helps pay the survivors who ship and pack the gift, and to support other women entering the program. Currently there are three boxes available online, with plans to expand the shop next year.
Though the funds they make from their businesses certainly help put survivors back on track, the entrepreneurial experience does something even better for their self-worth — often for the first time, these survivors have total control and can be their own boss. Take it from Sarah: "I feel like a super woman," she says.
*Name has been changed to protect the survivor's privacy.
Celebrity news, beauty, fashion advice, and fascinating features, delivered straight to your inbox!
Megan DiTrolio is the editor of features and special projects at Marie Claire, where she oversees all career coverage and writes and edits stories on women's issues, politics, cultural trends, and more. In addition to editing feature stories, she programs Marie Claire's annual Power Trip conference and Marie Claire's Getting Down To Business Instagram Live franchise.