The Lady Detectives of Delhi
A growing group of unlikely spies emerges in India.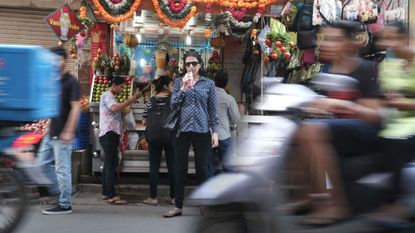 (Image credit: Jack Picone)
Marie Claire Newsletter
Celebrity news, beauty, fashion advice, and fascinating features, delivered straight to your inbox!
Thank you for signing up to Marie Claire. You will receive a verification email shortly.
There was a problem. Please refresh the page and try again.
Akriti Khatri is on a stakeout in a bustling neighborhood in New Delhi. On this hot Sunday afternoon in August, shoppers are bargaining for clothes and household goods at open-front stores. Khatri buys a watermelon smoothie from a juice vendor and tucks herself against a wall to avoid the cars and motorized rickshaws clogging the street. The chaotic location is ideal. "It's easy to blend in and secretly watch my target," says Khatri, a private detective whose eyes, hidden behind sunglasses and a curly dark bob, are fixed on a nearby modern apartment block. "With luck, I will catch the love cheat on-camera coming out of the building with his mistress."
Khatri, 31, who exudes a mixture of fearless energy and sharp humor, is one of a growing number of Indian women taking the country's male-dominated private-eye industry by storm. She runs her own agency, Venus Detective, with offices in India's capital, Delhi; Bangalore; and three other major cities. The sleuth and her team of 20 full-time, mostly female field agents launch daring undercover operations to expose illicit love affairs, dating fraud, corporate corruption, and other ills of modern Indian society. In the process, they turn traditional female roles upside down. "We often disguise ourselves as maids, vegetable vendors, college girls, or cosmetics saleswomen to infiltrate homes and offices," says Khatri, who rides a motor scooter during surveillance jobs. "It's risky, but so far we've never been caught. Targets rarely suspect women of being professional spies."
Delhi-born Khatri opened Venus Detective in 2011 after learning the trade at another P.I. firm straight after college. A science graduate with an MBA, she was drawn to the profession "out of sheer curiosity," she says. "I always loved collecting information about people. It was like a hobby. When I was a student, it took me 30 minutes to get across campus because I stopped to get the gossip from everyone I met." Dubbed "Delhi's Nancy Drew" by national newspaper the Hindustan Times, Khatri has seen demand for her services boom as the country modernizes at a breakneck pace. She receives 80 to 100 calls a week, mostly about matters relating to love and marriage.
Many of Khatri's clients are women who want to find out if their partners are cheating on them, or are keen to know if a prospective husband has any hidden deal-breaking habits. "Indian women are becoming much more independent with their own jobs and social lives, especially in big cities," she says. "They don't tolerate men who deceive them or who don't meet their expectations." Her client today, a woman in her late 20s who suspects her advertising- executive husband is having an affair with a colleague, is typical. The woman's husband has started coming home late and always taking his smartphone to the bathroom. "She has a young child, but she says she'd rather be a single mom than put up with an unfaithful husband," says Khatri. "This view was unheard of in my mother's generation."
Hiring a private detective not only empowers women to take control of their lives, she adds, it also helps them to avoid mistakes in the first place. Two female clients broke up with their respective boyfriends after Khatri discovered that one man's math was so bad, he couldn't count banknotes, and the other had lied about his family home having an indoor toilet (as she learned when she pretended to be lost in the neighborhood and asked to use it).
For centuries, arranged marriages have been the norm in India, with each partner vetted by family members and local connections. The role of informal detective was often taken by barbers who traveled from village to village, gathering intel about a person's suitability while cutting hair. "They'd find out whether the bride was respectable, whether the groom was financially stable, and whether both came from decent families," says Khatri. But now, with couples increasingly meeting on Facebook and Instagram and on dating apps like Tinder, the demand for private detectives is skyrocketing. (There are no formal figures for the growth in investigative agencies, but India's Association of Private Detectives and Investigators [APDI] says it counts around 350 firms as members, up from fewer than 20 a decade ago.) The Internet has created "relationship chaos" in the country of almost 1.3 billion people, Khatri says, causing far greater shock waves than in, say, the U.S., owing to India's deeply traditional attitudes. "People are falling for strangers online who often make up tall stories about their identities or credentials," she says. "There's much more uncertainty and confusion, as well as conflict with older generations who don't like their children's choices." Extramarital affairs, too, are on the rise because of the ease of dating and messaging apps. "Love in modern India has become a war zone."
Fees for Khatri's investigations run from around 25,000 rupees ($380) for a premarital check, which takes about 10 days, up to 500,000 rupees ($7,500) for complex cases that can span months, like corporate fraud or missing persons. Because private investigation is not a legally recognized profession in India—the authorities tolerate such work as long as detectives don't break any laws, such as illegally obtaining phone or e-mail records—there are no identifying signs outside her office. Most clients find her via her website and newspaper advertisements.
Venus Detective's headquarters are on the third floor of a smart- looking office building in a business park in Noida, an industrial- corporate "mini-city" on the outskirts of the capital. In the large, airy room, Khatri's youthful team of admin and technical staff wear preppy shirts and casual pants or dresses and sit in cubicles taking calls and monitoring investigations on laptops. "Everything is digital these days," Khatri says. "To protect our clients' privacy, we don't keep any physical evidence lying around."
There's rarely any shortage of evidence. In around 40 to 50 percent of premarital cases, for example, the person Khatri is investigating has invented or concealed personal details—in the rush to join India's increasingly prosperous middle class, it's tempting to fake a few things to meet the right spouse. In infidelity cases, there are practical reasons to have hard evidence of wrongdoing. "In an arranged marriage, families on both sides are involved, and it's difficult to divorce or separate without causing a major dispute," she explains. "But if the client can say, 'My partner has been unfaithful and here are the photos and hotel receipts to prove it,' the families cannot argue with them."
Some also lie about their caste, India's ancient social hierarchy rooted in the Hindu religion. "Caste is critical to some traditional families," Khatri says. "I get many calls from parents who are worried their offspring are dating someone from a lower caste. Even if the couple is deeply in love, the family will stop at nothing to break up the romance." Parents ask Khatri to snare their child's partner in a "honey trap" to make it look like they are double-dating, or to fabricate evidence of a partner's unsuitability. "I always refuse," she says. "I draw the line at anything unethical."
Others deceive on a much grander scale. Khatri and her staff call these "OMG" cases. A recent example involved an Indian couple based in America. "The wife hired me to find out why her husband was spending so long back in India," she says. "We discovered he had three other wives in this country, each with their own house and kids that he'd fathered." In another OMG case, a Delhi woman wanted to know why her live-in boyfriend kept sneaking out of the house in the middle of the night. "He told her he couldn't sleep and was getting fresh air," says Khatri. "It turned out he was hiring out his sexual services for cash to an older woman in the neighborhood two or three times a week."
Perhaps not surprisingly, Khatri, who is married with a 2-year-old son, says a big part of her job is counseling distressed clients. "One of the first things I ask people is whether they're prepared to learn the truth and what they intend to do with the information we dig up," she says. Sometimes the answers surprise her, like the woman who hired her but planned to do nothing with the proof of her husband's infidelity. "She was just going to keep it as insurance," Khatri says, "in case her husband caught her cheating on him."
Confirmation that a spouse has been having an affair doesn't always end badly. One of Khatri's clients, a 30-year-old Delhi resident named Shweta who does not want her last name published, says hiring a private detective saved her 5-year-old marriage, at least for now. After the birth of their first child, Shweta and her husband stopped communicating, and as the distance between them grew, she began to suspect he was seeing someone. "I hired Akriti, and she caught him red-handed checking in to a hotel with another woman," she says. "When I confronted him with the evidence, he broke down and apologized. He has treated me like a queen ever since."
Being unfaithful works both ways, of course, and growing numbers of Khatri's clients are men who want to check up on their wives and girlfriends. Whatever the gender of her clients, she believes female private detectives have the upper hand. "Women feel more comfortable telling their problems to another woman," she says, "while men think that I will understand the mind-set and behavior of their wives."
Baldev Puri, general secretary of the Delhi chapter of the APDI, agrees. While exact figures for the number of female private detectives don't exist, women are joining the profession in rapidly increasing numbers—and outdoing their male counterparts. "They make excellent investigators, in many cases far superior to men," says the veteran detective, who has run his own agency for 30 years. "They are highly perceptive, they know how to get access in every situation, and they're very organized." Around 15 member agencies of the APDI are owned and run by women, he says, up from "only three or four nationwide" a few years ago.
He is such a champion of female sleuths that he encouraged his daughter to join the business. At 23, Tanya Puri is the youngest female P.I. in the country to run her own agency, Lady Detectives India. "I started working with my father from around the age of 15 and discovered I had a talent for details and observation," says Tanya.
She landed her first big case as an 18-year-old college student studying media and communications. "My father was asked to investigate a student whose parents thought she was seeing someone in secret," she says. "It was easier for me to follow her without being noticed." Tanya tailed the girl after classes on Delhi's metro and by rickshaw, and was shocked to find that she was working part-time in a high-class brothel. "She looked the same as me, so I didn't expect her to be involved in some kind of sex racket," Tanya says. "It was an early wake-up call never to make assumptions."
Since starting her agency last year, Tanya has hired half a dozen female investigators. "We call ourselves the Girl Squad, because we are all the same age and very ambitious," she says. But, given that the work often involves being out late on Delhi's streets, which are notoriously unsafe for solo women, Tanya always puts safety first: "We work in pairs at night, and sometimes with a male agent." She is acutely aware of the problem of violence against women, and along with the usual extramarital affairs and background checks, she often takes on domestic abuse cases. "We can't help directly in criminal cases, but we can provide photos or video footage that victims of violence can give to their lawyers to use," she says.
For some, private detective work is an escape from otherwise mundane domestic lives. Chetana Mittal, 31, gave up her job as a receptionist when she married and had a child, and she took up a part-time job selling cosmetics door-to-door after her son started school. Khatri, a neighbor, recruited her two years ago. "She asked me if I could do some snooping for her inside a target's house using my cosmetics sales as a cover," says Mittal. "It sounded much more challenging than being mainly a housewife."
That first case involved finding out about a prospective groom on behalf of the parents of his bride-to-be. "His mother confided in me while she was trying out face creams. She told me he suffered from a lot of health problems, including bad asthma, and was in danger of losing his job because he had to take so much time off," says Mittal. "His mother needed a sympathetic ear. I felt sorry for her, but it was vital information because he hadn't been honest with his fiancée."
A few weeks ago, Mittal worked undercover as a maid for a high-society couple in their mid-20s. The wife suspected her husband of hiring expensive escorts when she was out of town. "I disguised myself as a frumpy maid, wearing mismatched clothes and gaudy makeup. The wife pretended to hire me to cook and clean for her husband while she went away on a trip," says Mittal. "In the morning, I'd get to work and discover unpleasant signs of extramarital activity on the bedsheets and in the bathroom bin, as well as evidence of big parties."
Mittal keeps her work a secret because of her husband. "He's very traditional and wouldn't approve," she says. "He didn't even like me working as a receptionist before we got married." Mittal understands the irony of deceiving her husband but says it can't be helped. "I guess I'm a double-double agent," she jokes.
According to Khatri, there have been few occasions of being exposed on the job. "We're very careful, and we have the advantage of being more invisible as women," she says. "But if someone catches us taking a photo or being somewhere we shouldn't, we just play dumb and giggle and say we made a mistake. It works every time." In fact, the job involves long periods of waiting when nothing much happens, especially during surveillance. Tanya says that while her father was training her, he made her stare at the wall for hours at a time to strengthen her ability to remain patient.
Regardless, both Khatri and Tanya say they prefer direct human observation to using some of the high-tech options on the market. Perhaps reflecting how nervy modern India has become, local websites advertise numerous spy gadgets, including cameras hidden in bottles of air freshener, soda cans, sari fabric, and car-key remotes. But the only equipment either of them uses regularly is a smartphone to take photos and videos, and record conversations. They occasionally use hidden cameras inside people's homes with the permission of their clients.
Despite spending their days on the frontline of India's murky world of romantic lies and deception, both women say they still believe in love. Tanya is engaged to a Delhi lawyer who is proud she's a private detective. "He thinks it's exciting and boasts about it to all his friends," she says. As for Khatri, she and her banker husband have been married for three years. "When I was single, my grandmother told me to lie about my job to find a husband. She said that being a private detective was too threatening to men," she says with a laugh. But Khatri knew from experience that lying was unwise. "He has no problem with my job," she says of her husband. "I even try to recruit him to help me with financial fraud cases when he has time."
In the near future, Khatri hopes to open India's first school for female private detectives to train more women in the art of sleuthing. "Some people in this country think this is not suitable work for women," she says. "We're proving them wrong. It's the kind of job that shows women can be anything we want to be."
This article appears in the November issue of Marie Claire, on newsstands now.
Celebrity news, beauty, fashion advice, and fascinating features, delivered straight to your inbox!