Exclusive: Way of Gray's Sophie Gray Speaks Out About Being Sexually Harassed Online
When comments turned sexual, she knew she had to stand up for women everywhere.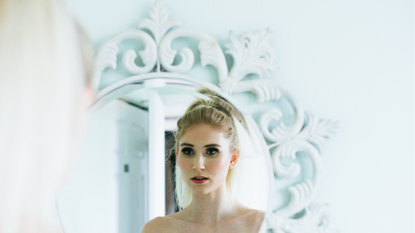 (Image credit: Courtesy of Sophie Gray)
I don't have much to complain about in life: I have two dogs, a loving boyfriend, and a career built upon empowering women to love and accept themselves. Through my website and social media channels, I teach women different ways to break free from their insecurities. I share my ups, downs, and aim to add a dose of "realness" to the feeds of those who follow me. For that reason, you'll find tons of makeup less selfies, pictures of me stuffing my face, and snaps of my dogs as you scroll through my profile.
Over the four years I've spent sharing my life via social media, I have been incredibly fortunate to receive more love than hate. Yes, I have triggered nasty words from others. I have been criticized for having lash extensions or wearing makeup while I talk about the importance of self love. I have had my body judged as if I were a mannequin in a store window. The list of the negative comments is lengthy, but I've never allowed them to affect me. I know they come from a place of insecurity and fear.
But even the most hateful words didn't prepare me for what happened on April 17th. On my accounts, I regularly post rants (called Sophie Thinks Thoughts) about the importance of accepting yourself just as you are. On Monday, I decided to try something new for me. I ventured into the unknown of Instagram Live.
My inspiration for the video came as I was getting ready for the day. My post-shower hair was air drying and my face was broken out. I thought this was the perfect moment to talk about fully embracing your insecurities. Within moments of streaming, verbal attacks from numerous accounts began rolling in. But the comments weren't focusing on my eyelashes. It wasn't women tearing me down.
"Show me your tits."
"You're a whore."
"Take it off!"
I was being sexually harassed.
RELATED STORY
I tried to kindly reminded those watching the video that it was for women insecure about their bodies, not for sexual enjoyment. But as the comments continued, my kindness wore off and profanities were dropped. I cut the video short. I was completely thrown off. I couldn't even remember what I was talking about.
Once the video ended I noticed something: I began to blame myself.
"Sophie, it's because you were wearing a low cut top. No wonder. You need to go and change before going out today. They wouldn't have said those things if you were covered up."
Hold the fucking phone.
Absolutely not. This was not my fault. I could have done the video naked and the comments I was receiving would still have been unwarranted.
This time, I couldn't shrug off the hateful words. Instead of blocking the accounts and deleting the comments I had to say something. Because this problem isn't one of jealousy—it stems from the belief that certain people are simply sexual objects. I couldn't bite my tongue because day in and day out, people experience much grander incidents of sexual harassment and assault. I didn't sit silently because 1 in 6 women (opens in new tab) are victims of rape or attempted rape.
The experience I had, while traumatizing, was simply the tip of the iceberg when it comes to the sexual harassment others experience.
And it is simply not okay.
While sexual harassment is nothing new, the virtual world is making it easier than ever. Countless instances of sexual harassment against women and those in the LGBTQ community are found all over the internet. This is not okay because one's purpose on earth is not only for sexual gratification. It's not okay because one's responsibility isn't to "show [their] tits" when asked.
RELATED STORY
The sexual objectification of women results in tragedies like rape, yes, but it also affects women in much subtler ways. Societal stereotypes lead women to believe—consciously or subconsciously—that they have to look a certain way, act a certain way, live a certain life to be worthy of sexual attention.
We're told we must have flawless skin, size 00 hips and DD breasts, shaved legs, perfectly maintained hair, and a designer wardrobe. We try to live up to these unrealistic expectations, but it's exhausting. No wonder self-esteem is so low (opens in new tab).
We're told we need to be someone other than ourselves to be deserving of love.
I am here to tell you that this is a lie.
I am here to tell you that you can expose your body in anyway you want. You can flaunt it all on social media or not. You can express your sexuality in whatever way you see fit.
You are deserving of your own love and acceptance simply because you showed up for life.
You are worthy, regardless of the size of your jeans.
You are enough, just as you are.
Follow Marie Claire on F (opens in new tab)acebook (opens in new tab) for the latest celeb news, beauty tips, fascinating reads, livestream video, and more.