Samira Wiley Is the Trailblazer 2019 Needs
The Handmaid's Tale actress wants to reshape Hollywood, one role-originally-intended-for-a-white-guy at a time.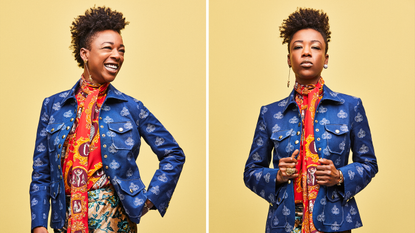 (Image credit: Allie Holloway)
The 18th floor of the Sunset Media Tower boasts a glittering view of Hollywood below. But when Samira Wiley walks into our appointed conference room, she sits with her back to the window and politely asks if the muted flatscreen in the corner could be turned all the way off so she can concentrate on our conversation. This kind of focus isn't really surprising, though. The 32-year-old Wiley has been steadily, meticulously rising through the television ranks for the last six years, ever since first landing the role of fan favorite Poussey Washington on Netflix's Orange Is the New Black, which won the cast three consecutive Screen Actors Guild awards. "I was cast in that role only four months after my 25th birthday," she says. "It was like a belated gift."
Since then, the Juilliard School grad has been a recurring guest star on Will & Grace as Karen's girlfriend and won an Emmy for playing Moira, the rebellious childhood best friend of Elisabeth Moss's June, on Hulu's The Handmaid's Tale, which returns for its third season June 5. But right now, Wiley wants to talk about her most recent birthday, for which she received a gift perhaps even better than a TV role: Cheddar Bay Biscuits from Red Lobster. "I never really go to chain restaurants anymore, but I really wanted to, so we did," she says.
That "we" she's referring to includes her wife, OITNB writer and producer Lauren Morelli, with whom she lives in L.A. and just celebrated a second wedding anniversary. Their relationship is seriously couple goals. Morelli's Instagram even documented the recent Red Lobster experience with a photo of a jubilant Wiley captioned, "I have never seen her happier. This is not an ad."
"I try to learn new things about my wife every day," Wiley says. "Married couples I admire, who've been together for decades, say it works for them."
One of those couples is Wiley's parents, reverends Christine and Dr. Dennis W. Wiley, both Baptist pastors whose support and encouragement Wiley credits with her success. They're also fierce champions for LGBTQ rights: Earlier this year, Dennis delivered testimony before the House Judiciary Committee in support of the Equality Act, which would amend the Civil Rights Act of 1964 to prevent discrimination based on sexual orientation or gender identity. "It was emotionally overwhelming to watch," Wiley says. "Seeing him up there, putting our family's history on display unashamedly, made me just as proud of him as he is of me."
Wiley understands that she's lucky in that regard; nearly 68 percent of homeless LGBTQ have cited family rejection as a reason they ran away. She's proud Morelli is on the board of the Trevor Project, which offers support to young members of the LGBTQ community in crisis. "We support the lifesaving work they're doing for LGBTQ youth," says Wiley. "It's so important." Plus, Wiley believes there's value to being a "possibility model" for LGBTQ kids. "My platform allows me to transmit things that people otherwise might not be receptive to," she says, and then she lights up when she remembers the first time she felt represented on screen. "I was obsessed with who, to me at that time, was the only actress that existed: Angela Bassett. She was honestly the reason I dreamed I could have the career I have today, and my biggest wish is for someone to see themselves in me and dream a little bigger."
For Wiley, that means playing characters that tread new territory. "It's important for me to expand the public's perception of what a black woman can be—because she can be an-y-thing," she says, emphasizing each syllable. Her upcoming role in Bios, a sci-fi movie slated for 2020 in which she stars alongside Tom Hanks, is a perfect example. Her character was originally written for an older white male: "He was initially a John Wayne, saves-the-day-and-gets-the-girl kind of guy," she explains. "But I went in and showed them it was actually me they were looking for. I refuse to exist in a box."
But it's her role in The Handmaid's Tale that's been most formative for Wiley as an actress and activist. "Being a black, queer woman who gets to play a black, queer woman is invaluable," she says. "It's proof that progress is being made." Though she admits she grapples with the parallels between the fictional world of Gilead and modern-day America, with all their manifestations of xenophobia, racism, and misogyny, she refutes any criticism that the show is nothing more than counterproductive "trauma porn." "One thing that helps me get through the heavy themes of the show is my belief that the story is ultimately going to be one of hope, triumph, and overcoming the chaos," she says. "I believe that for the show, and I also believe that for America."
And when it all becomes too much, Wiley says, she seeks comfort in those she calls "safe people," like her mother and her wife. "Checking in with Lauren keeps me accountable to myself," she says. "When we talk on the phone, she's like, 'Did you eat? Are you hydrated? How did you sleep? Did you call your mama? Study any of your Bible verses?'" Wiley sees the questions as a nudge to turn her laser-like focus to her own self-care. "Sometimes I feel as though my life is larger than I am," she admits. "I have to remind myself that I'm human and need maintenance."
The third season of Hulu's The Handmaid's Tale premieres June 5.
Shop the Story
Photographed by Allie Holloway
Styled by Sam Spector
Hair by Linh Nguyen at See Management using R+Co
Makeup by Deanna Melluso at See Management using Dior
A version of this article appears in the July 2019 issue of Marie Claire.
RELATED STORY
Marie Claire email subscribers get intel on fashion and beauty trends, hot-off-the-press celebrity news, and more. Sign up here.