I Became Homeless on Purpose
For half a million Americans, homelessness isn't a choice. For Kristen Hanes, it was a strategy.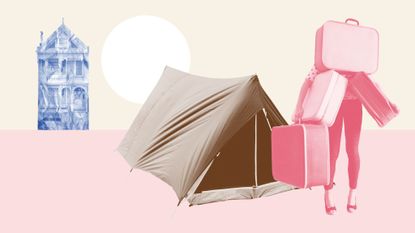 (Image credit: American Artist)
Marie Claire Newsletter
Celebrity news, beauty, fashion advice, and fascinating features, delivered straight to your inbox!
Thank you for signing up to Marie Claire. You will receive a verification email shortly.
There was a problem. Please refresh the page and try again.
I looked around my apartment in the hills of Mill Valley, an upscale neighborhood north of San Francisco, and wondered what the hell I was doing. In just 24 hours, I'd be out of here. It wasn't the moving that scared me, it was where I was moving to—or rather, where I wasn't. By the next day, I'd be without a bed. A kitchen. A bathroom. I'd have a tent and a Toyota Prius. I walked out of my $1650-a-month studio apartment and tried not to look back.
I know that being able to choose to leave is a privilege. For the more than 500,000 Americans who are homeless today, living on the streets is not a choice—it's a circumstance they have to survive. There are more than 6,000 homeless people in the Bay Area alone, and 3,000 of those are children, living in cars, church basements, shelters, or tents. That's enough kids to fill 70 classrooms. It's a sobering statistic, and one that made me realize I couldn't take my own financial health—or my many blessings—for granted.
Rent in the Bay area is out of control: It costs more than $3,300 for a one-bedroom apartment in San Francisco; it's not unusual to pay more than $1,000 to rent a room in a house. To afford a two-bedroom apartment, you'd likely have to make a $216,000 salary, which is ridiculously high—unattainable for most. My boyfriend Tom crunched the numbers: If I could live rent-free for one year while keeping my full-time job as a radio news reporter, I'd be able to pay off my lingering debt.
Tom's idea was interesting, but could I actually pull it off? Where would I shower? Where would I go to the bathroom? Where would I sleep? Questions hundreds of thousands of people have to ask themselves every day, but that I couldn't fathom.
"You can stay with me," Tom said, meaning his tent on Mt. Tamalpais. "We'll camp or sleep in the Prius. We'll get a storage unit and you can put your stuff in there."
So that's what we did. I packed my boxes, strapped my bed to the roof of his car, put my life into a shipping container. I kept my childhood mementos in plastic bins and my clothes in suitcases.
Tom and I joined a gym in San Francisco, which would serve as a living room. I went there every morning to exercise, shower, and work on my computer. In the evenings, we'd hang out on couches in their lounge. On weekends, we'd go backpacking in Yosemite or Lassen National Park, thankful for, if nothing else, the freedom our lifestyle afforded.
At first, we mostly stayed in campgrounds. I felt very safe—until I didn't. It was a weeknight and Tom and I were the only people around. We were lying in the tent after a dinner we'd grilled over the campfire. We'd played music under the stars. We felt happy and relaxed. Then a group in a loud diesel truck descended on the grounds. We looked at each other, eyes wide, as they began marching up the hill to a campsite near us.
Tom called out, "Hey, can you guys keep it down? It's after quiet hours."
They scoffed at us, calling us names. Tom called the cops, who came, gave a warning, and left. But it only made things worse.
We heard footsteps outside the tent, loud voices conspiring, "We should pull them out of there!" Expletives followed. Tom once again called the cops, telling them we were being threatened and that we needed help.
With the police on the phone, we put on our shoes and waited, crouched by the door. When a car drove past, we used the engine's rumble to mask the sound of us unzipping the tent. We ran down a nearby trail in the dark, in our pajamas, not daring to use a flashlight. It was 1 a.m. We waited in the woods until the police arrived, who kicked the group out for good. After that, though, I was afraid to pitch a tent. More and more we slept in the car, protected by metal and glass.
We parked in marinas, at the storage unit, and in the gated parking lot of my office. I remember being awoken at 3:30 a.m. as the morning news crew arrived and how jarring it felt to hear their voices bring me out of dreams. But the work parking lot was safe and free. We stayed there a lot.
RELATED STORIES
In the marinas we'd admire the sun setting behind the sailboats, their ropes clanging in the breeze. At one, we noticed a guy in a pick-up truck doing the same thing as us: He'd pull up late, recline the front seat, and doze off. It was a reminder that we weren't alone—that there were many people in our shoes, who couldn't afford the lives they'd been trying to have.
One guy paid $700 per month to pitch a tent on top of a garage and use the amenities inside the main house. Another listed the tent in his backyard for rent, hoping to attract a Silicon-Valley-type looking for temporary housing. I read a news story of a Google employee who moved into a box truck and lived in the parking lot for months. And another about a man who built a box in someone's living room and paid $400 per month to live in it. And then of course there are the thousands who live on San Francisco's streets—the people who try to get some sleep under freeway overpasses or under blankets on hard cement, struggling every day in one of the richest cities in America.
As the months went by, I watched my debt diminish. But our lifestyle was hard in ways I hadn't anticipated. We lived in secrecy, afraid of being caught by police in the middle of the night or of being found out by friends and colleagues.
It was daunting enough that after just four months of living in the car and the tent, I started looking for a way out. I found a houseboat in Sausalito, a shared living situation that would cost me $1450 per month. By then, I felt like I could afford it. Tom had found a sailboat to live in and restore. He bought it with cash after saving so much money on rent.
Moving my belongings into my new room, I realized I'd learned a lot by going homeless. I had developed an aversion to clutter and excess. I thought carefully about every item before I bought anything. Did I really need it? Did it have a long-term place in my life? If the answer was "no," I wouldn't spend the cash. I also grew to appreciate cleanliness and organization—you can't leave stuff everywhere when you live in the back of a car.
And when I was laid off from my job seven months later, I knew I could handle it. I gave away even more stuff, put the rest of my belongings in my mom's garage, packed my car with suitcases full of clothes and moved onto my boyfriend's sailboat—another small space, just 150 square feet.
I've lived on the sailboat for a year now, pursuing a career as a freelance writer, and I love it. It's only a few hundred dollars per month, one of the cheapest rents you can find in the Bay area. I love cooking on our two-burner gas stove as the sea-salt breeze wafts in through the windows. I love being financially free, debt no longer weighing me down. I love anchoring the boat off a forested shoreline, feeling like I'm deep in the wilderness, knowing I could find a way to survive anywhere if I had to.
Follow Marie Claire on Facebook for the latest celeb news, beauty tips, fascinating reads, livestream video, and more.
Celebrity news, beauty, fashion advice, and fascinating features, delivered straight to your inbox!