Megan Abbott Wants You to Feel Everything
With the premiere of her TV series "Dare Me" on December 29, the novelist-turned-showrunner is taking her knack for humanizing the dynamics of gender, rage, and power beyond the page.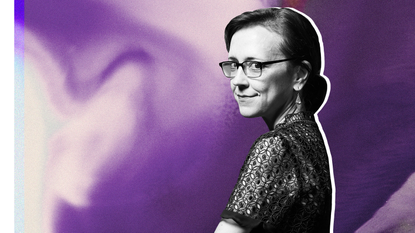 (Image credit: Stocksy)
The small town in Dare Me, the coming-of-age murder mystery series premiering December 29 on USA Network, is familiar. There's an observant protagonist, Addy Hanlon, whose eyes are set on life after high school. There's a defunct tire factory, one Hanlon says shut down when she was "a kid. I used to hear the chug-chug all day long, and then one day it just stopped... Everything just stopped." There's a wealthy booster with a Cheshire grin and plans to solve the town's economic woes through the development of a massive stadium. There are high school cheerleaders, girls climbing on top of one another, quite literally, to gain the affections of their new coach, Colette French, and a brazen captain, Beth Cassidy, who's unafraid to question the coach's authority. But, unlike most stories about all-American towns and their shiny-eyed teens, there's a sheen of darkness captured through a feminine lens, a lurking danger that ultimately leads to a murder.

Making that combination work—the jumble of nostalgia, desire, power, gender, and violence—is Megan Abbott's specialty. She's the co-creator, co-showrunner, and executive producer of the series and the author of the 2012 book that inspired it. Dare Me was her sixth novel, and she's published three more since. Hard-boiled fiction and film noir—Abbott's studies as a Ph.D. student at NYU in the early aughts—spawned her first era of novels (Die A Little, 2005; The Song Is You, 2007; Queenpin, 2007; and Bury Me Deep, 2009). Her following novels (The End of Everything, 2011; Dare Me, 2012; The Fever, 2014; You Will Know Me, 2016; and Give Me Your Hand, 2018) are about the formative experiences and relationships of our teen years.
"As adults, we're all haunted by our adolescence in one way or another," she says, nestled at a corner table at the Whitby Hotel's whimsically designed bar in midtown Manhattan, safe from the bite of the mid-November air. "We're always looking for ways to go back and figure it out. That's how you decide who you are." Abbott sips a glass of sparkling wine, a toast to that morning's release of the show's second trailer. She's trying to do more of that, celebrating successes no matter the size.

And there is plenty reason to cheer. It took years for Dare Me to make it to the screen. The project started in 2013 with Fox 2000, where Abbott says it was being developed as a PG-13 movie with Bring It On meets Heathers vibes. Ultimately, the studio pulled the film. Then the HBO years began. Abbott says the premium cable network was interested in a pilot with a focus on teenagers—Dare Me was competing with Euphoria. The latter won. When Dare Me finally landed in front of USA executives in January 2018, the timing was right. "It was a moment when all this dark female stuff and young female stuff was happening," says Abbott, referencing Sharp Objects and Big Little Lies. After six years of development, Abbott thought, Yes! That's it!
Though Abbott's work itself isn't inherently political, the mission feels like a form of activism: Create a space where women's ambition isn't dismissed, it's explored. In society, she says, women are not supposed to be "angry or be the boss or take control of things or talk too much or be shrill. But if you don't do those things, you're kind of trapped in this passivity. The repressing of all these feelings should be expressed because they're going come out in other ways." In Dare Me, that repression ultimately leads to violence.
Abbott grew up in Grosse Pointe, Michigan, a waterfront enclave just outside of Detroit where she says she never truly fit. Her father was a political science professor at Wayne University and her mother a fiction writer. (She also has an older brother, who's now a prosecutor in the area.) They lived near the freeway, and she still remembers the weight that the types of clothes you wore carried at her high school; she was always the one in all-black amid a sea of Polo shirts and Coach bags. "I did not belong in suburban Detroit. From as early as I can remember, I wanted to move to New York. It seemed like all the art was there," Abbott says. "I wanted a bohemian place to talk about books and movies. It was a yearning to leave, which is in Addy on the show: How do I get out of here?"
That appetite for escape fueled a bout of risk-taking. "In the Midwest at that time, there was nothing to do except get in cars with strange boys with enormous amounts of alcohol, driving to Detroit or going to some party. I just wanted to feel things," she says. "To me, that feeling is so beautiful, that yearning. And it's such an age for all of that. You're disillusioned every day about what you imagine these things will be like: what sex will be like, what going to a grown-up party will be like, what this drug will be like. It's never what you think."
Most of Abbott's work juxtaposes teenage restlessness and ambition, the complicated ways young women behave when their big dreams and reality collide. In Dare Me, she writes: "There's something dangerous about the boredom of teenage girls." Such a statement could seem overwrought, but instead reflects a far too pervasive national fear about our girls. If we control them, tell them what to do, keep them busy, they can't get in trouble. They'll be safe. But we know that's not true, that plenty react to rules with rebellion, their primal urges released. Who wasn't more than a tiny bit wild in their teens, the ache of more—the same one Abbott felt—pounding in their chests?
The medium of the novel has allowed Abbott to dissect the societal structures that take away young girls' and women's agency—the structures that dismiss or belittle their interests. "In terms of ways of telling these stories about women and power and desire, [crime fiction] just opened up all these doors," she says. As a novelist, Abbott is the sole proprietor of each story and gets to dictate what's important, what relationships are meaningful and which are mere asides. When it came time to take Dare Me to the screen, though, the straight white male canon reared its head. Many interested studio execs said Addy needed a romantic interest, which made Abbott laugh. She has a romantic interest—two, in fact: Beth and her coach, Colette. "It was something baked so deep in the culture, it surprises you when it comes up. [The executives] were okay with all this fluid desire and fluid sexuality, but then these old notions popped up." Ultimately, Abbott fought hardest to keep the relationship dynamics unchanged. "At that age, friendships and female mentorship set the stage for everything. They can build and destroy you at the same time," she says. She went with USA because, there, a male love interest for Addy was never a requirement.
Many of her characters live loud lives, but Abbott herself prefers a quiet one. She resides in Queens, in the one-bedroom apartment she's been in for close to 15 years. "I prefer to be here as much as possible. [Los Angeles] is a company town," she says, nodding to her eerie Instagram aesthetic: "Look at Queens, there's trash everywhere and strange mannequins." Years after she dreamed of living in New York, Abbott still can't get enough of the variety and storytelling it offers.
Ahead of my interview with Abbott, I asked friends in the book publishing industry for insight and got a similar response from all: She's so nice. Abbott's relatability and accessibility stems from her Midwest upbringing, yes, but also her very real imposter syndrome. Three more of her novels are currently in development with Hollywood studios, yet Abbott jokes that they "smuggled" Dare Me on air, as if its success were due to the cultural moment we're having and not her vision. "I'm a lot more comfortable admitting what I don't understand or know, which is its own kind of power," she says. Abbott has been going to a therapist for the past seven years; even while on-set in Toronto, she never missed a session thanks to Skype. "Anyone who writes in any capacity, you're really trying to understand people better. Therapy does so much for that," she says. "You try to have this larger picture of everybody and reflect on yourself and slow down everything. I don't know what I would do without it."
Abbott is using her platform to give other women opportunities and create her own brand of change. The co-showrunner of Dare Me is a woman: Gina Fattore, who produced Dawson's Creek, Californication, UnReal, and Gilmore Girls. She was matched with Abbott when the series was in development at HBO, and the two first met via Skype, then over avocado toast in L.A., where they bonded over books, particularly those by Elena Ferrante and Jane Austen. Of the series' eight writers, including Abbott and Fattore, all but one are female. Steph Green, an Oscar-nominated director whose credits include Watchmen, The Americans, and Billions, shot the pilot. In fact, seven of the season's 10 episodes were directed by women. The pilot's director of photography is Zoe White, who worked on Handmaid's Tale, and Dagmar Weaver-Madsen is the DP for the series. And, of course, the show's three leads are women: Willa Fitzgerald (as Colette French), Herizen Guardiola (as Addy Hanlon), and Marlo Kelly (as Beth Cassidy). Even the male actors on-set noticed the difference more women with decision-making power made. "[They] joked about how it was a good lesson for them, like, 'Oh, this is the husband-nagging scene, as opposed to the wife-nagging scene.' The gender flip of it all was so delightful," says Abbott.
Perhaps the greatest lesson Hollywood has taught Abbott is that sometimes it's okay to relinquish control. In the weeks leading up to the filming of Dare Me, Abbott joined cast members at cheer camp, where they learned choreography and stunts for the show. During one of the workouts, she suddenly found herself as a "top girl," the cheerleader tossed to the peak of the pile. "It happened so fast. I never would have agreed to it," Abbott says. "They put me up there and it was amazing. You see how strong they are."
To not freak out, she had to roll with it, which is exactly what she's doing with the other novels she currently has in development. So long as Dare Me is on the air and Abbott is its co-showrunner—and she continues to write novels—Abbott doesn't have the bandwidth to take on more film projects. "There is a relief in knowing I can't do all these things," she says. "What they do with them? I can let it go."
She pauses for a moment, her celebratory champagne flute still balanced between her fingers. "And I still have the books," she says with a smile. "They can't change the books."
For more stories like this, including celebrity news, beauty and fashion advice, savvy political commentary, and fascinating features, sign up for the Marie Claire newsletter.
RELATED STORIES