The 2020 Books You Should Add to Your Reading List
Exciting new and upcoming releases to order today.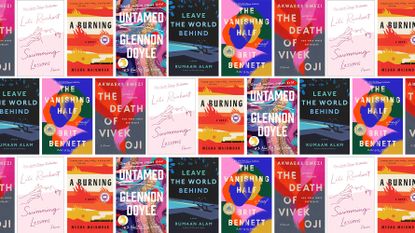 (Image credit: Design By Morgan McMullen)
Somehow we've made it to the end of 2020. Despite being a trash year overall, it's still been an amazing year for books. Fiction seems to be the most compelling genre—see: Emily Henry's Beach Read and Brit Bennett's The Vanishing Half—as we attempt to immerse ourselves in another world to escape the current political climate and COVID-19 crisis. Then there are the purely therapeutic books, like Lili Reinhart's Swimming Lessons and Maggie Smith's Keep Moving, that encourage us to practice more self-love. Ahead, a list of the 2020 book releases we loved the most.
1/105
'Long Bright River' By Liz Moore
The opioid crisis is plaguing our country. Liz Moore brings the crisis to light in a twisty mystery where one of two inseparable sisters addicted to drugs goes missing. Oh, and that just so happens while a string of murders are happening in their Philadelphia neighborhood.
Available January 7, 2020
2/105
'Topics of Conversation' By Miranda Popkey
If you loved Lisa Taddeo's Three Women, you'll appreciate Miranda Popkey's debut novel, Topics of Conversation. The book is formatted into a series of conversations between fictional women who discuss everything from motherhood to loneliness to anger and guilt.
Available January 7, 2020
3/105
'We Wish You Luck' By Caroline Zancan
It's nearly impossible to describe the premise of Caroline Zancan's We Wish You Luck. Just know that a group of students want to take revenge on their professor, and this is their story.
Available January 14, 2020
4/105
'Followers' By Megan Angelo
Megan Angelo's debut novel traces the stories of three women, unexpectedly connected, who find themselves on the brink of high-profile success while discovering what their follower counts really means for their goals and dreams. It's a deep dive into the social media dominance we currently live within with lots of dark and hilarious turns.
Available January 14, 2020
5/105
'Uncanny Valley' By Anna Wiener
When Anna Wiener was in her mid-20s, she left her book publishing job in New York City for a data startup in Silicon Valley. What she didn't realize is that she'd find herself in a falsely progressive world masked by company ski vacations and in-office speakeasies. In her memoir, Wiener documents the rise and fall of her Silicon Valley dream.
Available January 14, 2020
6/105
'Love Her or Lose Her' By Tessa Bailey
New York Times bestselling author Tessa Bailey writes a juicy rom-com about a couple who seemingly grows apart instead of growing together—forcing one of them to establish a marriage boot camp and the other to expose a big secret.

Available January 14, 2020
7/105
'Open Book' By Jessica Simpson
Every person nostalgic for the early 2000s will fall in love with Jessica Simpson's juicy memoir, Open Book, where she talks about everything from her relationship with ex John Mayer to how she convinced people to take her seriously while building an epic career.
Available February 4, 2020
8/105
'The Other Mrs.' By Mary Kubica
Mary Kubica's The Other Mrs. tells the chilling story about a woman named Sadie who moves from Chicago to Maine with her husband. All seems well...until her next door neighbor is murdered and she's one of the whispered-about suspects.
Available February 18, 2020
9/105
'Here For It' By R. Eric Thomas
One could argue that ELLE.com columnist R. Eric Thomas is one of the funniest people on the internet, and now he's blessing the world with his debut book, Here For It: Or, How to Save Your Soul in America, filled with humorous essays about growing up and feeling like an outsider.
Available February 18, 2020
10/105
'The Girl With the Louding Voice' By Abi Daré
U.K.-based novelist Abi Daré makes her debut with an emotional story about a 14-year-old Nigerian woman determined to get an education and escape the fate of a child marriage her father forces her into with a local man.
Available February 25, 2020
11/105
'Anna K: A Love Story' By Jenny Lee
Marie Claire's March #ReadWithMC pick, Anna K, certainly doesn't disappoint. Jenny Lee's modern YA retelling of Leo Tolstoy's Anna Karenina follows rich kids in New York as they navigate everything from sex and relationships to drugs and depression. Expect to be reminded of Gossip Girl.
Available March 3, 2020
12/105
'The Henna Artist' By Alka Joshi
In Alka Joshi's The Henna Artist, 17-year-old Lakshmi escapes her rural village to Jaipur and becomes a henna artist to the wealthy, discovering secrets and challenges along the way.
Available March 3, 2020
13/105
'Writers & Lovers' By Lily King
Lily King, the bestselling author of Euphoria (2014), knows exactly how to combine love, grief, creativity, and balance. A young prodigy who loses her mother must confront how to channel her ambition again...all while finding herself in love with two men at the same time.
Available March 3, 2020
14/105
'The Night Watchman' By Louise Erdrich
Based on the author's grandfather, The Night Watchman takes place in 1953 as Thomas Wazhashk fights against the consequential treatment of Native Americans after a bill threatens to take away their land.
Available March 3, 2020
15/105
'My Dark Vanessa' By Kate Elizabeth Russell
This isn't your cliché trope about a high school student-teacher relationship. Kate Elizabeth Russell brings forth all of the emotion and complexity when Vanessa discovers almost two decades later that her first love has been accused of sexual abuse by a former student.
Available March 10, 2020
16/105
'Untamed' By Glennon Doyle
Untamed is a beautiful memoir from activist, speaker, and bestselling author Glennon Doyle that explores the true lessons of motherhood, family, and divorce.
Available March 10, 2020
17/105
'In Five Years' By Rebecca Serle
Rebecca Serle's New York Times bestselling novel, In Five Years, is Marie Claire's April book club pick. Read an exclusive excerpt here, then dive in with us throughout the rest of the month. You'll devour it.
Available March 10, 2020
18/105
'The Herd' By Andrea Bartz
Anybody obsessed with the exclusivity of private women's clubs, typically accessible only to the elite, will appreciate Andrea Bartz's latest thriller, The Herd, about what happens to the members of (fictional) NYC–based THE HERD when its glitzy founder vanishes without a trace.
Available March 24, 2020
19/105
'The Honey-Don't List' By Christina Lauren
<!