Cristin Milioti and Billy Magnussen Play 'How Well Do You Know Your Co-Star?'
The Made for Love actors breezed through our trivia challenge.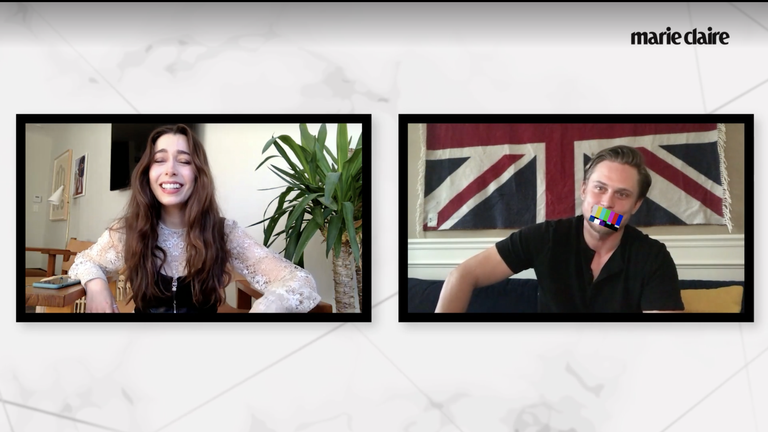 (Image credit: Future)
Cristin Milioti and Billy Magnussen recently took Marie Claire's challenge "How Well Do You Know Your Co-Star?"and they breezed through it so effortlessly you'd think the HBO Max actors were both implanted with data-sharing microchips...Sorry, too on the nose?

But, really, the stars of Made for Love smashed the trivia game, easily answering questions about each others pets and previous acting gigs. They even shared anecdotes about the ways they've supported each other's careers over the years. It's not highly surprising the duo are so in sync. They've known each other for more than 10 years, and playing estranged husband and wife Byron Gogol and Hazel Green in the new HBO Max show was their third time acting together—they both worked on the 2012 film The Brass Teapot and also in the 2017 Black Mirror episode "USS Callister."
"We really trust each other," Milioti says of her on-screen chemistry with Magnussen. "He's such an incredible scene partner. And I feel like—not only because we know each other so well, but [because] we're both theater kids—we both have a similar, 'let's try it a 1000 different ways and really find it' [attitude]."
Watch their sweet friendship unfold in the video above, and catch up on the full season of Made for Love, streaming on HBO Max now.
RELATED STORIES
As Marie Claire's senior news and culture editor, Neha oversees all things entertainment, pop culture, and current events from TV shows and movies we can't stop bingeing to celebrities we can't stop 'shipping. She loves a hot-take, has an extensive knowledge of award shows, and knows the astrological signs of everyone in the royal family and the 'Friends' cast. Before joining Marie Claire, she held positions at Glamour, Brides, Condé Nast, and Mashable, and is a graduate of the Columbia School of Journalism.