Happily (N)ever After With Cristin Milioti
The Made for Love actress is rewriting what it means to be a woman in Hollywood—one dementedly funny role at a time.
Marie Claire Newsletter
Celebrity news, beauty, fashion advice, and fascinating features, delivered straight to your inbox!
Thank you for signing up to Marie Claire. You will receive a verification email shortly.
There was a problem. Please refresh the page and try again.
You can almost hear the sounds of delight Hollywood execs probably made when stumbling upon Cristin Milioti: the discovery of a quirky millennial's Sandra Bullock. That Milioti's unassuming charm and approachable beauty could help resurrect the '90s rom-com era. (Viewers love approachable women, after all.)
And just as vividly, you could imagine Milioti—not unlike her Made for Love counterpart, Hazel, does in the opening moments of her new HBO Max show—giving those industry insiders a big, ol' middle finger.
Because if Sandra Bullock gave us happy endings, Cristin Milioti gives us twisted endings.
"I like getting to fly my freak flag and really go for it," Milioti tells Marie Claire, boiling down the essence of her on-screen personas.
She's curled up in the corner of her Brooklyn apartment in an oversized armchair. Her black Fiona Apple sweatshirt peeks out beneath her brunette waves. She's thoughtful. Perceptive. Paragraphs could be devoted to her facial expressions (and have been, just Google her) that are so wildly communicative she could likely sustain a lucrative side hustle modeling for Apple's emojis.
That exacting emotive quality is what cinches Milioti's latest television venture, Made for Love. In the series, based on a novel by Alissa Nutting (Nutting also co-created the show), Milioti's Hazel, suspicious of her VR-bolstered reality, becomes a woman on a violent mission to survive. Her powerful, abusive, tech billionaire husband Byron Gogol (a not-so-subtle reference) has implanted an all-seeing prototype microchip in her brain, forcing her to turn to her estranged, sex-doll-obsessed father (Ray Romano) for support. It's a comedy.
And it's just demented enough for Milioti.
"I love film and television and theater that doesn't adhere to anything that's come before it and is willing to fall on its face," she explains. "Maybe because I feel like life is like that, a little bit. [Life] really does go in all these wild directions—incredibly joyful, incredibly dark...I am really attracted to things [as an actor] that play with boundaries and where you get to explore a lot...with this [show] you think it's this sci-fi thriller, and it is, and also it's a dark comedy. And also it's about how desperate we are to be seen by one another."
The role appealed to Milioti—she signed on after reading the pilot—because of the "spectrum of emotions," from flawed to funny, Hazel displays at any given moment. "She's just acting from some sort of animal, visceral [instinct]."
The show's premise doesn't necessarily reinvent the wheel (or computer chip, in this case). Plenty of titles have investigated the ramifications of pushing AI to morally ambiguous ends. But Milioti found the plot especially intriguing because of its satirical commentaries on the intersections of technology, the patriarchy, and trauma.
"Someone in my life, I remember talking to her really early on in production, she was like, 'Do you think the chip is the patriarchal chip that we're all born with?' And it kind of blew my mind," she said, adding, "If you want to get real allegorical you could say [the chip is living with] trauma. The thing that's always with you and that colors your worldview."
Unsurprisingly, playing a woman with a microchip implanted in her brain has reinforced her already Luddite-leaning tendencies.
She recently took a retreat to Massachusetts where she left her phone in a drawer for three days ("my brain [was] sort of falling down in a great way."). She's even considering investing in a Light Phone (think: a flip phone circa '99 with no apps or access to Internet) after seeing a friend take the plunge.
"I'm sort of terrified by technology," she says. "I understand how incredible it is, and I understand all of its merits, and I'm appreciative of all of its merits, but there is something about the way it affects our brains and affects our ability to listen and take in information and listen to ourselves and our own thoughts. There is an element to it that does sort of feel like a chip in your brain—you're always aware of it. I have found that in the last couple years there is a little voice in my head that is always telling me to document something because then you can share it with people. And there's a difference between documenting something so that you have it as a memory…and then there's this other thing which becomes this need to prove that you're alive through this awful little screen. I just find it so hollow." (The actress was a late-comer to Instagram, with her first photo appearing in early 2019.)
Made for Love isn't the first time Milioti's worked on a project about the more dystopian and less humane aspects of technology. Her part as Nanette Cole in the fourth season of Black Mirror remains one of her most critically acclaimed. "Black Mirror felt like the first time that I really took the reins [in my career]," she says. "I'd been searching for something like that for a really long time."
Through the lens of digital DNA cloning, the 2017 Netflix episode examines male abuses of power with Milioti's character leading the charge against workplace creeps. In the wake of the Harvey Weinstein allegations, and amidst the #MeToo movement, the plot struck a particular chord for viewers, but it's easy to wonder how much of Milioti's personal experiences fed into her character development. In a 2020 interview with Vulture, the actress recounted a situation early in her career when auditioning for The Sopranos where she felt "uncomfortable," "scared," and "embarrassed."
She now recalls another one of those unsettling casting instances from when she was younger. "I was in no position to turn stuff down, but there was an audition that came my way to play the love interest of, like, a 45-year-old. And I was 25. I was like, 'These people can choke.'"
Despite a few "death rattles of the old guard," Milioti does feel that "the tide is turning" in the industry. And for herself. She feels a sense of agency and autonomy that she didn't have access to previously and is really getting roles now (or is now able to choose roles) that reflect the wit and substance she appreciates.
"It's no secret that for as long as Hollywood has existed, until very recently," she says, "the majority of things was through the male gaze and invested in the male character…[so] I grew up sort of always being attracted to those men's roles. Because they were the most dynamic, and they got to do the most stuff."
While she's inching closer to the versatility in her career that she always craved—one best described through Micheal Keaton's achievements: "He was someone who had his foot in so many different genres: to be able to do Batman and Multiplicity and Birdman."—it's hard not to notice a similar theme in all of her projects: love. Fated, unrequited, unwarranted, doomed, or otherwise.
Her resumé features recurring roles on mainstream rom-com sitcoms like A to Z (canceled after one season) and The Mindy Project. She's been cast as the woman stuck, quite literally, in a man's world: Black Mirror; Palm Springs. She's oftentimes the girlfriend or the wife (Fargo; The Wolf of Wall Street) or the capital-M Mother (How I Met Your Mother). Two of her projects even have the word "love" in the titles: Modern Love; Made to Love.
But despite the industry or media's best efforts to label her a rom-com actress ("I have an allergy to a genre of any kind") Milioti offers a different perspective on her oeuvre.
"Something I loved about Palm Springs, which I know is considered a rom-com, but to me felt more existential than romantic," Milioti says. "And then, Modern Love, felt to me it was more about a woman's relationship with herself. Made for Love, I know it is about relationships, but again, to me, it felt like when I first read it that it was a woman trying to find herself. And Black Mirror did, too. To me, they all feel like [projects about] a woman trying to find herself. None of them feel like they're about relationships. And I'm also like, relationships are the main things in our lives. Love and connection are the biggest pillars of being alive as a human on Earth. So I don't know how you find a project that doesn't have that as an element."
Her projects rarely have the trite happy ending that's often come to define the rom-com genre (particularly of decades prior). Milioti's "Mother" on the CBS series dies. In Broadway's Once, Milioti played one half of a couple that ultimately didn't end up together. The ending of "USS Callister" is perhaps a happy one but definitely not because of a relationship status.
Milioti much prefers an "ambiguous" conclusion anyways—she thinks it's more reflective of the real world where things are "grayer." She wonders if watching (and obsessing over) The Third Man as a child with her dad has anything to do with that: "There is no 'everything tied up in a bow' [in that movie]."
As for what comes next for her, it's hard to say. She was meant to do something on Broadway before COVID-19 shutdowns. She's been sporadically working on music. She wants her next on-screen project to be "wildly different" than anything she's done before. She says she loved the process of being a producer—of "creating the aesthetic of the whole thing"—so she hopes to continue doing that. And she might try her hand at writing again. (She worked on a pilot five years ago.)
"I haven't really written anything since," she says. "I found that really empowering, but I also found it sort of excruciating, too."
At the moment, she's just trying to navigate the "spiritual earthquake" that the pandemic has brought about. But she's itching to re-experience life in New York City. "One of my favorite things used to be to the playlist I would compile to just walk to the subway and ride the subway to then get to dinner. The sort of feeling that anything could happen and that anything was possible…You see so many worlds on the subway, and it also reminds you of being a human."
She goes on, painting a scene of a quintessential, pre-COVID, NYC evening.
"The chilly walk-up to a theater, with music blasting, and then you see your friends and you all hug, and you all get a drink inside, and then you sit together. You go out afterwards, discuss what you've seen. Then you all pile into a cab together and begin to navigate, 'Who gets dropped off first?' Then you're laughing, and the windows are down, and you're speeding past all these people, and hearing snippets of conversation."

It sounds a bit like the start of a glorious rom-com. But if Milioti's at the helm, just don't expect it to end with "happily ever after."
Stylist: Shiona Turini | Styling Assistant: Annisah Medinah | Hair: Ryan Richman | Makeup: Loren Canby
---
Watch the first three episodes of Made for Love on HBO Now (with new episodes streaming April 8 and April 15).
Celebrity news, beauty, fashion advice, and fascinating features, delivered straight to your inbox!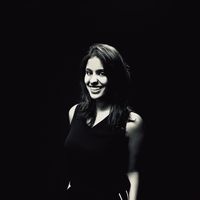 As Marie Claire's Entertainment Director, Neha oversees and executes strategy for all editorial talent bookings and culture coverage across the brand's print and digital entities, including covers, celebrity profiles and features, social takeovers, and video franchises as well as handles talent relations for MC's flagship summit, Power Trip. She's passionate about elevating diverse voices and stories, loves a hot-take, and generally hates reboots. She's worked in media for more than 10 years and her bylines about pop culture, film & tv, and fashion have appeared on Glamour, Vanity Fair, GQ, Allure, Teen Vogue, Brides, and Architectural Digest. She is a graduate of the Columbia School of Journalism.