Sha'Carri Richardson Tests Positive for Marijuana Before Tokyo Olympics
The sprinter star will no longer be able to compete in the individual 100-meter dash at the Olympics.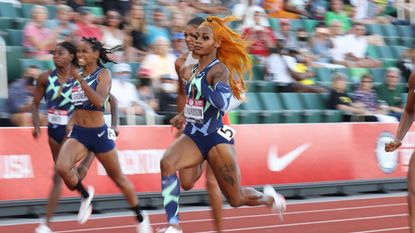 (Image credit: Andy Lyons)
Sha'Carri Richardson, who won the women's 100-meter dash at the U.S. track and field Olympic trials in Oregon, will not be able to compete for an individual gold in her signature race at the Tokyo Olympics: The 21-year-old sprinter tested positive for marijuana, which the World Anti-Doping Agency considers a performance enhancing drug and thus a prohibitive substance. The agency announced the positive test result early Friday morning.
In the Olympic trial finals, Richardson ran a blazing 10.86, nabbing the top of three coveted spots on the U.S. team. One of the fastest women in the world right now (and, the most stylish: she races with long, bright orange hair and bold acrylic nails), she was the U.S.'s gold-medal hopeful in the 100-meter dash. But the positive test result means Richardson is banned from competition for 30 days. Though she will be eligible to compete on July 27, a few days before the track and field Olympic events begin on July 30, her qualifying trial time has been void. This means she will not compete in the individual 100-meter dash. She still could compete in the 4x100-meter relay, if chosen. (The U.S. team will pick four women out of six contenders to compete.) Richardson has accepted the suspension. (Note: marijuana is legal in the state of Oregon, where the trials took place, so Richardson did not break any laws by using it.)
In an interview with NBC, Richardson claimed she used the drug to help cope with the unexpected loss of her biological mother, who died while the sprinter was at the trials. She says she learned of her mother's passing through a reporter. "It sent me into a state of emotional panic," she said in the interview. She also opened up about her own struggles with mental health and the pressure of performing on the world stage while processing personal trauma.

Watch the full interview here:
Sha'Carri Richardson (@itskerrii) joins us live for an exclusive interview to discuss the positive marijuana test that's put her Olympic future in limbo. pic.twitter.com/iVBp3zhvjaJuly 2, 2021
See more
Yesterday, Richardson tweeted "I am human."
Many on Twitter, including celebrities like Billy Porter and Gabrielle Union, are showing their support for Richardson and pleading that those in charge let her run:
Weed is great for many a thing but running faster isn't one of them. LET HER RUN!!! #ShacarriRichardsonJuly 2, 2021
See more
sha'carri mom just died in the middle of her competing for a place in the olympics . major situations happening at once in her life . she had every right to get high, drunk or whatever for her mental health . she didn't hurt anyone . i still support her . #shacarririchardson pic.twitter.com/y04iVfWVmJJuly 2, 2021
See more
Black women in sports have had it so rough this week. Between Serena, Simon Biles and now #ShaCarriRichardson whewwww!!! Sports news has me stressed out this week. pic.twitter.com/CWKi6NtET7July 2, 2021
See more
I'm human. I'm you, I just run a little faster. #ShacarriRichardson ❤️🏃‍♀️ #OlympicsJuly 2, 2021
See more
Amazing how fast y'all turned on Sha'Carri. Except it's not amazing. It's expected.July 2, 2021
See more
This story is still developing. We will update as we know more information.
Celebrity news, beauty, fashion advice, and fascinating features, delivered straight to your inbox!
Megan DiTrolio is the editor of features and special projects at Marie Claire, where she oversees all career coverage and writes and edits stories on women's issues, politics, cultural trends, and more. In addition to editing feature stories, she programs Marie Claire's annual Power Trip conference and Marie Claire's Getting Down To Business Instagram Live franchise.