Turning Tables: The Rise of Female D.J.'s
It's tough out there and well—these women are too.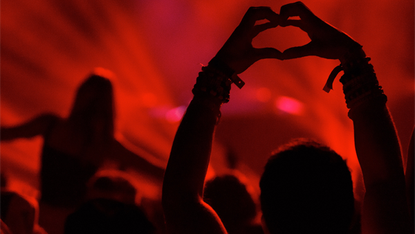 (Image credit: Getty Images)
Disc jockeying historically has been a male-only craft. While the profession is still predominantly run by guys, lately more and more women have been breaking through and taking away gigs from their male counterparts. In an industry that is fraught with rejection and low on success, making it as a female DJ is challenging, to say the least. MarieClaire.com caught up with three of the today's hottest lady DJ's—Mia Moretti, Michelle Pesce, and JES—to learn about their successes, their playlists, and how they continue to rise above it all.
Michelle Pesce, Courtesy of Marc Cartwright
Marie Claire: In such a male-dominated industry, what do you think is the hardest part about being a girl trying to succeed?
Mia Moretti: Challenging yourself to always be better and not comparing yourself to other people.
Michelle Pesce: People don't take you as seriously when it comes to the business side of things and then when you push back because you want more for yourself, you are looked at as being a b*tch.
JES: I think finding a niche for yourself in any creative field requires a few things to align. You need to have something that makes you a little bit different from everyone else in the field, and be in the right place at the right time.

Marie Claire: What advice do you have for women aspiring to be a DJ?
MM: Practice! You have to be a master of your craft, so whether you are exploring new genres of music, discovering new bands, listening to other D.J.'s, or simply practicing, do something every day to be better. You can never stop becoming the best at what you do.
MP: Get your turntables or CD-JS and learn with NO computer—learn with your ears and not your eyes! And, market yourself well and in a classy way. Yes, we are women, and in a male-dominated field that is a unique marketing point, BUT don't overdo it! Keep it sophisticated.
JES: I think it's very important to have a unique twist on what you do. That could come from the way you spin or from making your own productions. All too often when you see rookie D.J.'s, their sets are just back-to-back hits. You have to develop a style that goes beyond that so the audience will invest in the journey with you.
Mia Moretti, Courtesy of Guy Aroch for W Hotels Magazine
MC: Do you think you had to prove yourself more when you first started? What was that like? How did you do it?
MM: Yes, of course, you have to prove yourself every single night you work. But the most important part of proving yourself is impressing yourself, too. You will be your own worse critic, but don't be afraid to be your biggest fan, as well.
MP: Absolutely! I feel like I'm still proving myself. Taking the crowd on a journey—whether it's at a small bar or an after-party packed with movie stars—you read the crowd, take them on a journey, and once you get them, the dance floor is packed, there's energy in the room, and hands in the air. You know when you've proven yourself each night.
JES: I certainly had to prove myself when I was starting out but in the music business, you're only as good as your last song and that never really goes away. I always knew that I wanted to be in music so I pretty much tried everything I could to get my foot in the door. I would take any job that got me closer to where I wanted to be.
MC: If you weren't a DJ, what career would you have instead?
MM: I love coming up with creative alternatives to everyday problems. I think it's such a thrill to come up with a new way of looking at something, so it would be in a field where I can always do that.
MP: My other passion (besides music) is working against the captivity of animals, specifically elephants.
JES: If I had to pick another career I would probably be a photographer. Or, another passion of mine is horse riding and I would love to have a ranch and raise horses.
JES, Courtesy of Artist
MC: What's the best breakup advice you've ever received?
MM: Go back to being you—the woman that your significant other fell in love with—that strong, beautiful, independent woman. Nothing says revenge more than a girl that can pop back to being her badass self instantly. Don't let him or her steal your mojo. Take it right back and get on with your life.
MP: Success is the BEST revenge.
JES: Make a clean break. You need space to allow new things and people in to your life to fill the hole that your breakup has caused and staying busy with new challenges is a good way to start.
MC: How did you earn your first dollar?
MM: I was a buyer at a consignment store in California, Cheryl's Closet. That's where I learned about every designer, their price point, and their demographic.
MP: I was an ice cream scooper at Handel's in Youngstown, Ohio—one of the top homemade ice cream shops in the country!
JES: When I was very young my family used to spend summers on Fire Island—I started making paperweights and magnets out of the shells and glass, and painting them too. I used our house wagon as my store (there are no cars on the island so every house has a wagon to carry luggage to and from the ferry) and set off for the docks. I ran a very good business selling my ornaments to the summer renters getting off the ferry.
MC: What's on your most recent credit card statement?
MM: Airline tickets, a lot of excessive Italian dinners and Wilhelm hairpieces.
MP: TRAVEL!
JES: Airline tickets, a spa day at my favorite Korean spa in L.A., a few sushi dinners, and clothes—I love shopping online late at night!
MC: What's your favorite:
Swipe to scroll horizontally
| Mia Moretti | Michelle Pesce | JES |
| --- | --- | --- |
| Junk/Comfort Food: Spaghetti al Limone from Lil Frankie's | Junk/Comfort Food: Reduced fat Ruffles and French onion dip! | Junk/Comfort Food: Pizza |
| TV Show: Scandal | TV Show: Curb Your Enthusiasm | TV Show: Revenge |
| Beauty Item: Olay Makeup Remover Cloths and Vitamin C Oil | Beauty Item: My favorite makeup artist, Jessica Smith | Beauty Item: Crème de la Mer |
| Place to Shop: Barney's Co-Op | Place to Shop: Los Angeles! | Place to Shop: Diesel, for day-to-day and Alexander McQueen, for couture |
| Celebrity Girl/Guy Crush: Yoko Ono | Celebrity Girl/Guy Crush: This is always changing! Right now I'll go with Robyn and Jay Z | Celebrity Girl/Guy Crush: Ryan Gosling, Jared Leto, Adam Levine, Emilia Clarke (as a brunette), and my Yoga teacher |
| Biggest Splurge: R&Y Augousti Shagreen Mini Audiere | Biggest Splurge: My 'big girl' Saint Laurent purses and my house! | Biggest Splurge: Whisper Room |
| App: Around Me | App: Uber | App: Shazam |
MC: Share your favorite top 10 songs right now (on the radio, on your ipod, favorite to mix, etc.)
Swipe to scroll horizontally
| Mia Moretti | Michelle Pesce | JES |
| --- | --- | --- |
| ASTR - 'Operate' | Soho - 'Hot Music' | John Newman - 'Love Me Again' |
| Sam Smith x Nile Rodgers x Disclosure x Jimmy Naples - 'Together' | Prince - "Let's Go Crazy' | Passenger - 'Let Her Go' |
| Shalamar - 'Second Time Around' | Beyonce - 'Drunk in Love' and 'XO' | Imagine Dragons - 'Demons' |
| Chromeo - 'Come Alive' | Frank Ocean - 'Pyramids (Chi Duly Remix)' | BT, JES & Fractal - 'Letting Go (Antillas & Dankaan Remix)' |
| Breakbot - 'Fantasy ft. Ruckazoid' | Robyn - 'Dancing On My Own' | Tame Impalla - 'Elephant' |
| Class Action - 'Weekend (Larry Levan Mix)' | Inoj - 'Let Me Love You Down' | RAC - 'Let It Go' |
| Katy Perry - 'Walking On Air' | Drake - 'Hold On We're Going Home (TJR Refix)' | Pompeii - 'Bastille' |
| MS MR - 'Think of You (RAC Remix)' | Otto Knows - 'Million Voices' | Sam Smith - 'Money On My Mind' |
| The Dolls - 'Summer of 93 (Eli Escobar Remix)' | Lana Del Rey & Cedric Gervais - 'Summertime Sadness' | Ben Harper - 'She's Only Happy In The Sun' |
| Angel Haze - 'Drunk in Love' | Whitney Houston - 'I Wanna Dance With Somebody' | Ellie Goulding - 'Burn' |