Everything You Need to Know About the Amanda Knox Case
Refresh your memory before the Netflix documentary is available to stream.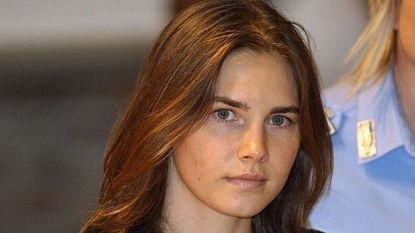 (Image credit: Getty Images)
Between OJ Simpson and JonBenét Ramsey, 2016 has been a bumper year for TV re-examinations of renowned criminal cases. Next in line is the trial of Amanda Knox, the Seattle-born study-abroad student who spent almost four years in Italian prison for the murder of her roommate, Meredith Kercher.
Netflix's new documentary, Amanda Knox, chronicles the murder trial and the surrounding media circus, which began from the moment Kercher's body was discovered in November 2007. After her arrest and conviction, Knox was vilified in the media for unmistakably gendered reasons—reports focused on her appearance and promiscuity, her "angelic" face as some kind of contrast to her supposedly overactive sex life. Knox was freed in 2011 following a successful appeal, reconvicted in 2014, then definitively acquitted by Italy's Supreme Court last March.
Here's a refresher on the key things to know about Knox's eight-year trial before you sit down with the doc this weekend.
THE CRIME SCENE
On Nov. 2, 2007, 21-year-old British exchange student Meredith Kercher was found dead on the floor of her bedroom in Perugia, Italy, partially clothed with her throat cut. She had been sexually assaulted and repeatedly stabbed, and her body was covered with a blanket.
Knox told police that she had returned to the cottage she shared with Kercher and two other roommates on the morning of Nov. 2, having spent the night at her boyfriend Raffaele Sollecito's apartment. She noticed several things that seemed unusual—the front door was ajar and there were specks of dried blood in the sink of the bathroom she shared with Kercher. "I assumed that perhaps Meredith was having menstrual issues and hadn't cleaned up yet," she wrote in an email to family and friends. "Ew, but nothing to worry about."
After she had showered, Knox became alarmed when she found unflushed feces in the toilet of the apartment's other bathroom and left the house immediately. She called her roommate Filomena Romanelli to tell her that she thought there had been an intruder, and returned to the house shortly afterward with Sollecito to look for signs of a break-in. After they found Kercher's door locked and a smashed window in Romanelli's bedroom, they called the local carabinieri (Italy's military police force).
The first officers to respond were not from the carabinieri but were instead more junior "postal police," who ultimately broke down Kercher's door and discovered her body.
HOW AMANDA BECAME A SUSPECT
Knox and Sollecito, an Italian computer science graduate who studied at the local University of Perugia, had only been dating for a week at the time. They had met at a classical musical concert Oct. 25. Witnesses on the morning of Nov. 2 noted that the pair were kissing outside the apartment—a detail that would become unexpectedly important later.
Knox and Sollecito were questioned by police three days after the discovery of Kercher's body. During her interrogation, Knox made a statement in which she admitted to being in the apartment during the murder and falsely implicated Patrick Lumumba, the owner of a bar where Knox worked part-time. Knox and Lumumba had been in contact on the evening of Nov. 1, when Lumumba texted her to say she didn't need to come into work that evening.
Knox later retracted the confession, stating that it had been forced out of her after hours of relentless and threatening interrogation by police in Italian, without a lawyer present.
"They lied to me, shouted at me, threatened me, they slapped me on the head twice," Knox would tell a court years later. "They told me that I would never again see my family if I could not remember what happened to Meredith that night."
Knox and Sollecito were taken into custody, and in July 2008, Italian prosecutors formally charged them with murder. Following a lengthy and feverishly publicized trial, both were found guilty in December 2009 and sentenced to more than 20 years each.
THE LEAD PROSECUTOR: GIULIANO MIGNINI
Leading the case against Knox and Sollecito was Giuliano Mignini, who has since become a controversial—and convicted—figure in his own right. Mignini had been charged with abuse of office in 2006, for allegedly wiretapping phones during his investigation of the renowned Monster of Florence case. He was found guilty in 2010 but the conviction was later overturned.
Mignini's conduct throughout the investigation of Kercher's murder was widely criticized. Many of the most bizarre theories about Knox's motive—including the idea that she was "demonic"—originated with Mignini. Following Knox and Sollecito's acquittals in 2015, Mignini was disciplined by the Italian Council of Magistrates for violation of correct procedure in the case.
THE THIRD KILLER: RUDY GUEDE
One question that still gets asked with surprising frequency is "if Amanda Knox didn't do it, who did?" There's a pretty clear answer to this, since drug dealer Rudy Guede was charged at the same time as Knox and Sollecito, and has been in jail for Kercher's murder since 2008.
Here's just some of the evidence against Guede: He admitted he was in Kercher's room on the night of her murder. His DNA was found on and inside Kercher's body, and on her purse. His bloodstained fingerprints were found on her bedding. He initially said that Knox was not at the apartment on the night Meredith died and later changed his story to incriminate her.
Guede was tried separately from Knox and Sollecito in a "fast-track" process, and was found guilty of murder and sexual assault in 2008. He's now serving a 16-year sentence.
THE DNA EVIDENCE
Guede's DNA was found all over the crime scene; Knox's and Sollecito's were not. As the defense would later point out, it is impossible to selectively clean up your own DNA while leaving another person's intact, because DNA is invisible to the naked eye. So it's not as if Knox or Sollecito could have scrubbed only their DNA from the scene.
A key piece of prosecution evidence was a clasp from Kercher's bra, which was found to contain traces of Sollecito's DNA—the only trace of either Knox or Sollecito found at the scene. The defense argued that the clasp should be inadmissible as evidence, because it was found 46 days after the initial investigation and had therefore been contaminated.
The other crucial piece of evidence was a kitchen knife seized from a drawer in Sollecito's apartment, which detectives claimed was the murder weapon. Knox's DNA was on the handle and evidence of Kercher's DNA was found on the blade. During the appeal, forensic specialists testified that the quality of the DNA sample from the blade was too small to be reliable as evidence and that the blade itself was incompatible with Kercher's wounds.
THE "SEX GAME" THEORY
One of the biggest mysteries in the case was, and still remains, the motive. Prosecutors in the initial trial—led by Mignini—claimed that Knox and Sollecito killed Kercher as part of a four-way "sex game" with Guede. According to their theory of the case, Knox was a sex-crazed "she-devil" (that's an actual quote from Lumumba's lawyer) who had surrendered herself to "lust, narcotic substances and the consumption of alcohol."
In support of this theory, the prosecution kept coming back to the aforementioned fact that Knox and Sollecito were kissing and cuddling outside the apartment after Kercher's body was found. Sociopathic behavior? Two scared kids taking comfort in each other? Who can say?
The media latched onto the image of Knox as a sexual deviant, with many Italian and British outlets running with the nickname "Foxy Knoxy" and detailing her sex life. It would later emerge that while in prison, Knox was tricked into revealing how many men she had slept with, after prison officials falsely claimed that she had tested positive for HIV.
THE ACQUITTAL
From the night of her first interrogation onward, Knox maintained her innocence, stating that she and Sollecito had been at his apartment on the night of the murder, smoking pot and watching Amélie.
In November 2010, the pair's appeal began. Forensic experts reexamined the bra clasp and kitchen knife, and concluded that neither provided enough evidence to link Knox or Sollecito to the crime. Court-appointed experts later testified that the initial investigation was so badly botched by police that the evidence should be ruled inadmissible.
On Oct. 3, 2011, Knox and Sollecito's murder conviction was officially overturned. "Even taken all together," the judge wrote, the evidence did not "prove in any way the guilt of Amanda Knox and Raffaele Sollecito for the crime."
Knox flew home to Seattle, Washington, the day after the ruling and held an emotional press conference upon landing at Seattle-Tacoma International Airport. "I'm really overwhelmed right now," she told reporters. "I was looking down from the airplane, and it seemed like everything wasn't real."
"What's important for me to say is just thank you, to everyone who has believed in me, who has defended me, who has supported my family."
But there's more. In March 2013, Italy's highest court , the Supreme Court of Cassation, ruled that Knox and Sollecito must stand trial again, rejecting their 2011 acquittal. Knox, unsurprisingly, did not return to Italy for the retrial, but Sollecito was present in court in November of 2013.
On Jan. 30, 2014, Knox and Sollecito were once again convicted of murder, with Knox's sentence increased to 28 years and six months. Prior to her reconviction, Knox told The Guardian: "I'm definitely not going back to Italy willingly. They'll have to catch me and pull me back kicking and screaming into a prison that I don't deserve to be in. I will fight for my innocence." Following widespread speculation, the US State Department confirmed that it would not extradite Knox to Italy.
Finally, on March 27, 2015, the Supreme Court of Cassation definitively overturned Knox and Sollecito's convictions. In a 52-page explanation, a panel of judges denounced "stunning flaws" in the original investigation, adding that the international media frenzy "certainly didn't help the search for substantial truth."
Follow Marie Claire on Facebook for the latest celeb news, beauty tips, fascinating reads, livestream video, and more.
From: Cosmopolitan
Marie Claire email subscribers get intel on fashion and beauty trends, hot-off-the-press celebrity news, and more. Sign up here.
Emma Dibdin is a freelance writer based in Los Angeles who writes about culture, mental health, and true crime. She loves owls, hates cilantro, and can find the queer subtext in literally anything.