Dial-a-Fatwa: This Female Hotline Answers Women's Questions About Islam
"Our basic message to Muslim women is that they often have much more power and freedom than they think."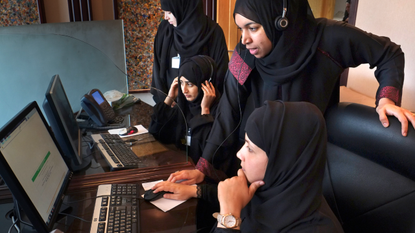 (Image credit: Dolores Johnson/The National)
"Can I divorce my husband if he's having an affair?" "What are the rules about abortion?" "Can I play sports without wearing a hijab?" These are some of the questions posed by women calling in to the Middle East's only "fatwa hotline"—a telephone help line staffed by Muslim female scholars aiming to educate women on their rights according to the genuine rules of Islam. The hotline, based in the United Arab Emirates and funded by the moderate UAE government, launched eight years ago, but it has seen a rapid increase in the number of callers in the past two years owing to the rise of jihadist groups such as Islamic State.
"There are many conflicting beliefs about what women can and cannot do due to religious hard-liners who want to restrict women's freedoms," says Sheikha Radia, one of the four full-time, paid female Islamic experts who answer the hotline's 200 calls per day.
The scholars listen to callers' dilemmas and then issue fatwas, or religious rulings, to help them know what to do. "We give advice based on the direct teachings of the Prophet Muhammad, which are based on fairness to women, so they can avoid fear and confusion," Radia explains. Many of the callers, who can choose to remain anonymous, are young women who want to pursue education and careers outside the home without violating the religious rules, while others call to ask about sex or other sensitive matters— questions they are too embarrassed to ask male religious leaders. "Nothing is taboo for us, because we understand women's issues," says Radia.
So, is it permissible for a woman to divorce a philandering husband? "It depends on the exact situation. Usually we don't condone divorce," she says. "But our basic message to Muslim women is that they often have much more power and freedom than they think."
This article appears in the March issue of Marie Claire, on newsstands now.